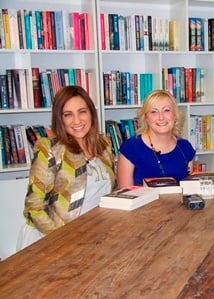 Here at Mamamia we think there is nothing wrong with romance fiction. Especially when it comes from best-selling author Zoe Foster who has also published Amazing Face, The Younger Man, Playing the Field, Air Kisses and Textbook Romance.
Zoe is one of our guests on this month's episode of The Book Circle, hosted by Cheryl Akle. She is also joined by Kathryn Fox and Sara James. They are all here to talk about their new books hitting the shelves this month, just in time for you to buy before your Easter break.
This post is brought to you by Big W.
The Wrong Girl – Zoe Foster
Sometimes you don't know what you want until someone else has it. Lily needs a break. A man break. She hadn't exactly meant to sleep with her friend, Pete, and she certainly hadn't expected him to confess his love – for another girl – the next morning. If men were going to behave like such pigs, well, she'd happily take some time out. Besides, her TV career requires all her attention right now. Jack Winters – the gorgeous new talent – is definitely proving a distraction, but Lily is determined to maintain her professional distance, even when Jack starts seeing someone completely inappropriate. It's only when Lily accepts that good things don't always come to those who wait and takes a leap into the great unknown that life starts making sense…From the bestselling author of The Younger Man and Amazing Face comes a funny, heartfelt novel about what happens when life, love, work and friendships collide.
 Fatal Impact – Kathyrn Fox
When a girl's dead body is found in a toy box, forensic physician and pathologist Anya Crichton joins the police hunt in her home state of Tasmania for the child's missing mother and sister.
Staying with her increasingly erratic mother, Dr Jocelyn Reynolds, Anya fears the long shadow of her sister Miriam's disappearance has finally driven her mother past the brink of sanity. But Anya soon discovers that Jocelyn is keeping a deadly secret.
When tests conclude a virulent strain of food poisoning was responsible for the child's death, the outbreak begins to spread. Anya pairs up with Internal Affairs detective Oliver Parke to unravel the sinister connections between the fatal epidemic, a covered-up study, the shady deals of a multinational corporation and the alleged murder of a local scientist. Anya has strayed into a high-stakes game so dangerous the players will kill to keep it quiet. With time running short, Anya must uncover the truth before she is silenced – permanently.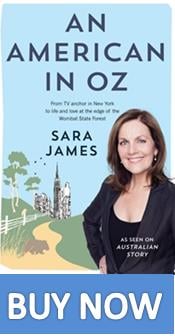 An American in Oz – Sara James
No one thought Sara James, a 30 Rock habitue and Manhattanite through and through, would move to Australia after a long and successful fast-track career reporting from around the globe. But move she did, when her Australian husband Andrew wanted to come home, in a journey that sees her morph from a big-city anchor and correspondent to a small-town mum living an Australian country life. It is an odyssey filled with drama and adventure, both personal and professional, intentional and accidental. We see Australia through New York eyes, and follow Sara's adventures as she faces head on the challenges of everyday life in a new country with two children, one of whom has special needs. We laugh with her as she drives on the other side of the road, grapples with the Australian vernacular and its penchant for understatement, and ponders the prevalence of local wildlife that could kill. We cheer for her when she sets up the NBC Australasian bureau at from her home in the Wombat Forest, reporting from a specially constructed sound booth in the garage, located between her husband's Mustang and the chook shed. Most of all, we see a mother, a wife and a reporter determined to create her own Australian memories, not one on loan from her husband. Warm, uplifting and inspiring, An American in Oz will steal your heart.
What books are you reading this month?