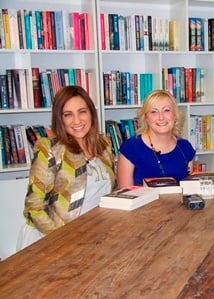 Here at Mamamia we think there is nothing wrong with romance fiction. Especially when it comes from best-selling author Zoe Foster who has also published Amazing Face, The Younger Man, Playing the Field, Air Kisses and Textbook Romance.
Zoe is one of our guests on this month's episode of The Book Circle, hosted by Cheryl Akle. She is also joined by Kathryn Fox and Sara James. They are all here to talk about their new books hitting the shelves this month, just in time for you to buy before your Easter break.
This post is brought to you by Big W.
The Wrong Girl – Zoe Foster
Sometimes you don't know what you want until someone else has it. Lily needs a break. A man break. She hadn't exactly meant to sleep with her friend, Pete, and she certainly hadn't expected him to confess his love – for another girl – the next morning. If men were going to behave like such pigs, well, she'd happily take some time out. Besides, her TV career requires all her attention right now. Jack Winters – the gorgeous new talent – is definitely proving a distraction, but Lily is determined to maintain her professional distance, even when Jack starts seeing someone completely inappropriate. It's only when Lily accepts that good things don't always come to those who wait and takes a leap into the great unknown that life starts making sense…From the bestselling author of The Younger Man and Amazing Face comes a funny, heartfelt novel about what happens when life, love, work and friendships collide.
 Fatal Impact – Kathyrn Fox
When a girl's dead body is found in a toy box, forensic physician and pathologist Anya Crichton joins the police hunt in her home state of Tasmania for the child's missing mother and sister.
Staying with her increasingly erratic mother, Dr Jocelyn Reynolds, Anya fears the long shadow of her sister Miriam's disappearance has finally driven her mother past the brink of sanity. But Anya soon discovers that Jocelyn is keeping a deadly secret.