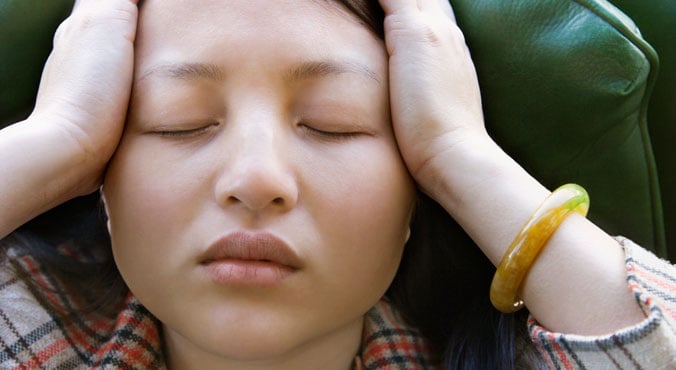 Image via Thinkstock
Tell me if this scenario sounds familiar.
You wake up in the morning, wondering how it possibly got to be 7am on another weekday again. How can it only be Wednesday? Why is the weekend so far away?
You launch yourself into your day anyway, powering through the morning with coffee, and pepping up your afternoon with peanut M&Ms, and trying to keep yourself away from the Diet Cokes and Redbulls.
But the exhaustion is there. Always creeping up on you, to the point where you wonder how reasonable it would be to actually get a caffeine drip installed in your arm.
You run from one commitment to another. You eat when you can. You drink water when you remember. You exercise when you're not too tired… which isn't all that often. You live for the weekend, because at least it means you will have five spare minutes to sit down and maybe have a meal where you can actually remember chewing your food.
You're always tired. You can't really remember the last time that you felt refreshed. Revitalised. Ready to wake up and attack the day with enthusiasm.
I've been there. I imagine we've all been there. So I consulted PT and qualified holistic lifestyle coach, Kirsty Welsh, about how to fix it.
Here's what we came up with.
1. Ask yourself: are you tired, or are you tired-tired?
The first step to fixing a problem is, understandably, figuring out what the problem is.
"Believe it or not, there are two types of tired – being tired, and being tired–tired," Kirsty explains.
Tired-tired is where you're feeling constantly exhausted, really unwell and can barely even fathom getting out of bed in the morning. Your body is run down to the point where your tiredness has become a much bigger problem, and it's been going on for weeks now.
If you can relate, it's best to go and see a doctor, as these symptoms could be related to something much more serious that needs a longterm fix – diabetes, chronic fatigue and iron deficiency are just some of the things you may need to be tested for.
The first kind of tired is your regular kind of burning-the-candle-at-both-ends tired. You're okay, just kind of running at 75% all the time, and you know you could feel better, but you just can't quite get there. This post can help with that kind of tired, so read on.
2. Drink more water
You may not realise just how much dehydration impacts on your energy levels.
"In winter, we just don't really tend to think about hydrating ourselves. We don't feel particularly dehydrated – after all, it's so cold and it's not really tempting to reach for a cold glass of water to get into your system. And yet we're more dehydrated than ever during winter, especially due to cranking up the heating," Kirsty explains.