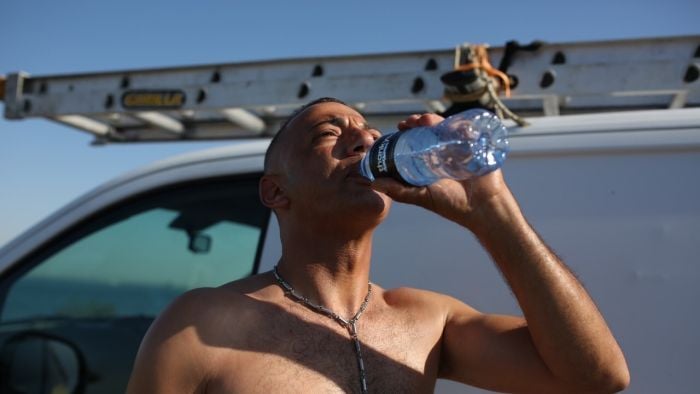 By Simon Royal
Workplace changes will be needed to deal with more severe heatwaves and other impacts of climate change, a public health official has warned.
With scientists predicting more frequent and intense heatwaves across south-east Australia, professor of public health at the University of Adelaide, Peng Bi, said work practices would need to adapt.
"During a heatwave, the 38-hour, nine-to-five week may not be the best thing, or the most healthy way to work," he said.
He said occupational health and safety laws needed a review to accommodate the changing climate.
"I reckon some regulations should be set up to get employers to pay [fresh] attention to the occupational health and safety of their employees," he said.
Professor Bi said Australian heatwaves were more likely to kill people than other weather extremes such as storms.
"Heatwave kills people more than the combination of all other natural disasters," he said.
After a 2009 heatwave, SA Health found ambulance callouts rose by 16 per cent and hospital emergency department admissions for heat-related illnesses were 14 times the average.
Swift burials during heatwave
One of the worst periods of extreme heat for south-east Australia, back in 1939, remains record-breaking for one Adelaide family business, Alfred James Funerals.
A record for the number of people the firm buried at that time has not been eclipsed to this day.
Managing director Graham James recalled the busy period.
"During the heatwave we handled 39 funerals in nine days, so it was double the normal level, " he said.
In an era before refrigeration was common, he said burials happened swiftly.
"It's really like 'die today, bury tomorrow'," he said.
"That was the way things were done in those days.