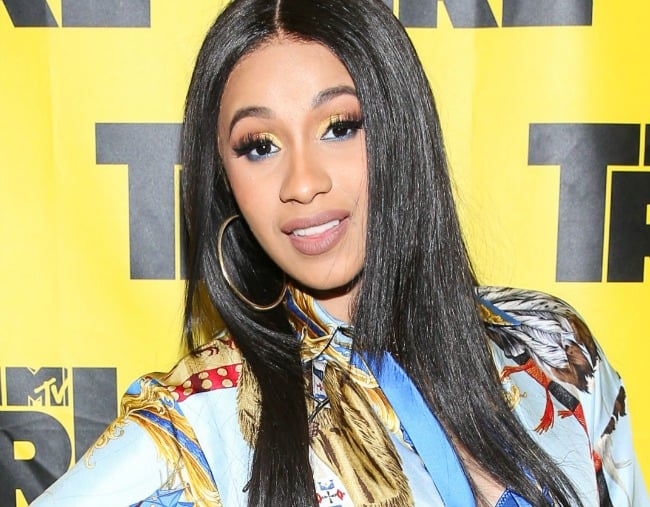 Who and what is a Cardi B?
Yes, the pop culture literate among us are nodding our heads and offering song suggestions, but if you're more of a cultural layman, you've probably scratched your head after seeing her name in multiplying headlines since January.
Maybe you've even made it a point to Google her name to find out, before promptly forgetting and going about your day.
Well, we are here for you.
The 25-year-old female entertainer, turned social media star, turned reality TV star, turned record-breaking rapper, is 'having a moment' as they say.
Earlier this month she became the first solo, female rapper since Lauryn Hill in 1998 to get a No. 1 single on the Billboard's Hot 100 chart, and today her debut album Invasion of Privacy just beat Taylor Swift's Reputation as the most streamed album on Apple Music in a week.
And Oprah's publicly shown her support through Instagram.
In short, we're probably going to see a lot more of her this year, so consider this your pop culture lesson on all things Cardi B.
Born in New York's The Bronx as Belcalis Almanzar, her parents nicknamed her Bacardi and the name has stuck to this day.
Cardi B's story starts with her dropping out of high school, quitting her job working at a Amish grocery and becoming a stripper. A decision which she told Vlad TV in 2016, saved her life.
"I was poor as hell, I was living with my ex-boyfriend that was beating my ass, and I had to drop out of school."
"Stripping – getting my own money and leaving. How was I going to leave making $200 a week. There ain't no way."
She says this all candidly and honestly without a hint of resignation, something which has become a signature of hers.
Speaking of celebrities, someone needs to tell Khloe Kardashian that her type isn't working for her, the Kardashian keeps choosing basketballers, but Holly Wainwright has a theory for her. Post continues after audio.
Profiling Cardi B in June of 2017, The Fader called her, "a stream-of-consciousness genius," something which made her a sure-fire candidate for social media fame on Instagram and Vine.
In 2015, as her following grew, she stopped stripping, two years ahead of her self-imposed 'retirement' age. Instead she made a living off hosting night club events, as she continued to woo Instagram fans with her unexpected feminist voice that encourages women to be financially independent and free from untrustworthy men.
This is where Cardi B gets her name from. Post continues. 
She was always passionate about music, but that was something she uncharacteristically kept quiet.
"I was always scared to follow my dreams because if I follow my dreams and I fail, I can't dream about it anymore," she said to The Fader.
It was her manager who encouraged her to pursue rapping after noticing Cardi B's unique voice, Latina accent and natural ability to improvise lyrics.
This led to a remix with Shaggy (of the 2000's hit It Wasn't Me), before her breakout role on season six and seven of Love & Hip Hop, which brought her worldwide attention, and multiple viral moments.
On the show she established herself as, in her own words, that " annoying dancer on social media that's talking hellah crazy, with the long nails and the big old titties," as well as her pro-money, pro-profit attitude.
"I have a passion for music, I love music. But I also have a passion for money and paying my bills," she says.
Later speaking to The Guardian, she said at first she just wanted to leverage her online fan base and instead invest it in her music, but then decided to commit longterm.
"I want to be an artist artist, a real artist, I don't just want to do this for temporary money," she said.
This takes us to 2017 which saw Cardi B release her summer hit 'Bodak Yellow' – an infectiously, catchy rap anthem dedicated to self-empowerment, financial freedom and letting go of toxic, romantic male partners, which had all the makings of a modern-day feminist anthem.
The Washington Post declared it as the best song of 2017, so did Pitchfork, Billboard ranked it as second, and Entertainment Weekly as eighth.
Reflecting on her successes, she told The Guardian in December of last year that people identified with her "free-spirited" attitude.
"Everyone has a 'me' inside them, that loud girl that just wanna go 'ayyyy!' No matter if you a doctor, a lawyer, a teacher, it comes out. Like, aha, I got you being yourself for a lil two minutes or three, huh?"
Speaking about her 'stripper to superstar status', she refuses to hero her story one of rags-to-riches, instead seeing it as something that propelled her forward.
"People want me to be so full of shame that I used to dance. I would never be ashamed of it," she told The Guardian.
"I made a lot of money, I had a good time and it showed me a lot – it made me open my eyes about how people are, how men are, about hunger and passion and ambition."
KNOCK ME DOWN 9 times but i get up 10 BITCH!!

— iamcardib (@iamcardib) April 13, 2018
Now, celebrating the success of her latest album, she's also currently pregnant with her first child, fathered by fellow rapper Offset.
Despite this she's got a busy schedule lined up, performing at Coachella, a gig in which she told Sirius XM's Hip Hop Nation that she'll make $70,000 (USD) for her one performance, a figure that already seems conservative.
When it comes to Cardi B, maybe she's somehow stumbled onto the secret equation of fame:
She has the likeability and down-to-earth ease of Chrissy Teigen.
The unapologetic money-making, girlboss aspect of Nicki Minaj.
A Taylor Swift-level capability of creating catchy, record-breaking hits.
Coupled with a self-made Cinderella-esque story that's difficult to ignore.
And it's proven to be an unstoppable combination that allows her to radiate her no-shame, empowering message to the masses, with millions of ears ready to listen.