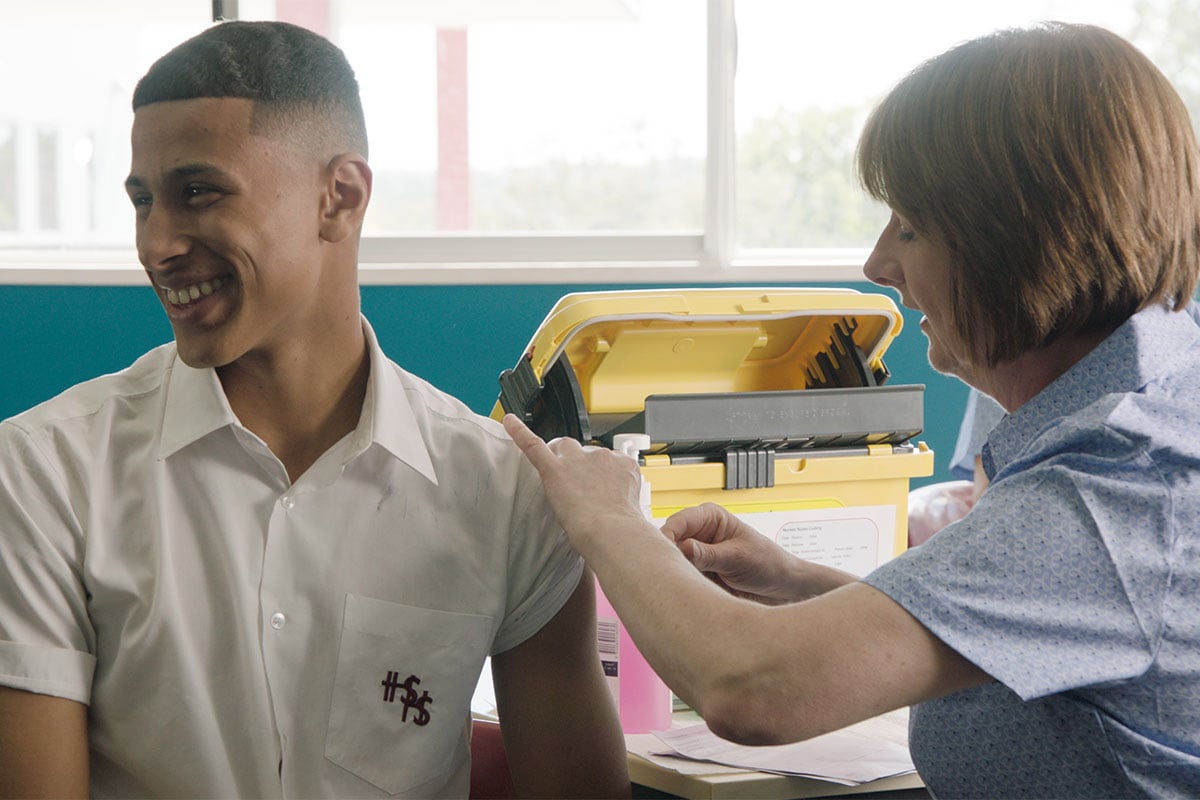 Immunisation nurse Caroline Scott has been working within the School Vaccination Program in Western Sydney since 2003.
In her 17 years "at the pointy end of the program", she has delivered thousands of vaccinations to teenagers. So many, in fact, that she has lost count.
"Over these years, I can't imagine how many teenagers I've vaccinated," Caroline tells Mamamia. "But it would be in the thousands – probably tens of thousands."
As part of a team of nurses who visit more than 100 high schools at least three times a year, Caroline has seen first-hand how vaccinations can make a positive, even lifesaving difference to young people.
One such vaccination is the Human Papillomavirus Vaccine (HPV) which, since the vaccine's introduction in 2007, has shown to be very effective, including greater protection for many more people against preventable cancers.
What is HPV?
"Human Papillomavirus or HPV is a very common virus. It can occur in 90 per cent of unvaccinated adults," Caroline tells us.
"The virus is spread through sexual contact and can cause an infection around the genital areas in both men and women. Most people with HPV have no symptoms and don't know they have an infection. But in some men and women the virus can cause serious diseases: cancer of the cervix, vagina, vulva, anus, penis or throat. Genital warts are also caused by the HPV virus."
The HPV vaccine on the National Immunisation Program (NIP) protects against nine strains of HPV that cause over 90 per cent of cervical cancers in women, up to 90 per cent of HPV-related cancers in men and approximately 95 per cent of genital warts. Since the HPV vaccine does not protect against all types of HPV known to cause cervical cancer, HPV-vaccinated women still need to have regular cervical screening.
Cervical cancer could be eliminated by 2035, if we're vigilant.
Caroline says that "over the last 10 years there has been a 90 per cent reduction in genital warts amongst young Australians aged between 15 to 20 years, and also a steady decline in the detection of cervical cancer abnormalities in younger women" due to the HPV vaccination program.
And it's not only the recipient of the vaccination that benefits but also any future sexual partners.
"If we continue and increase our vaccination uptake for HPV there is a potential to eliminate cervical cancer in Australia by 2035," Caroline explains.
Not only are there medical advantages of the HPV immunisation but Caroline also says that "school vaccination is an ideal opportunity for youth to engage with health professionals, maybe for the first time on their own, in a safe and empowering environment".