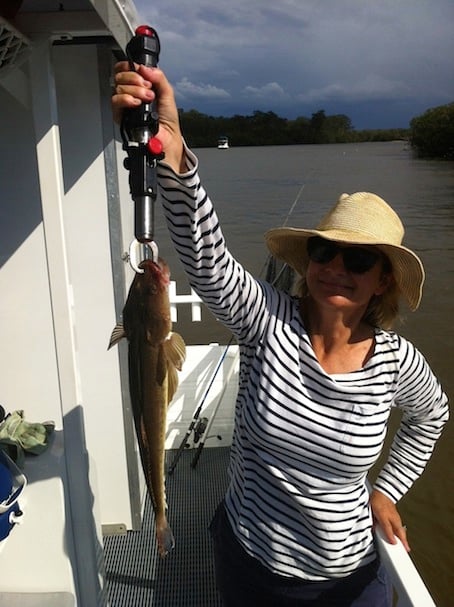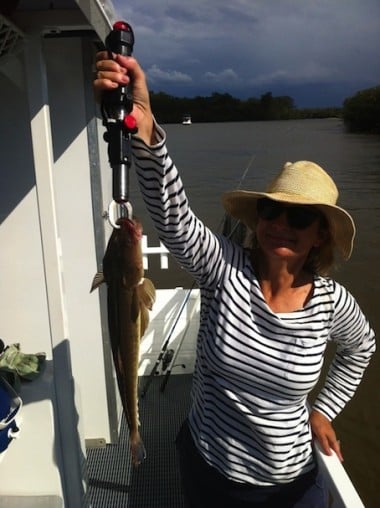 I haven't stayed on Hastings Street, Noosa's main drag, since my early twenties.
Even then, saying, 'I stayed on Hastings Street,' is a stretch. My friends and I, in the name of a big night out, would pitch a tent in the campground at the river end of the street (old-timers like me will remember it) then we'd get dressed in the toilet block before hitting the bars. Nice. Klarsy.  But still, Noosa. Hastings Street. It was great then and it's still magic now that I'm all grown up with a family of my own.
The campground is no longer there, but the tiny street where European SUVs and Wicked Campers fight for parking spaces is  still special and the beach is one of the most beautiful I know. A perfect north-facing arc with enough swell for serious surfers but enough shelter for young families.
The thing with Noosa though is this (and it's why I've never stayed there since those mad campground nights): unless you're right in the heart of Hastings Street, preferably on the beach side, Noosa can be hard work, especially at peak times. The European SUVs and Wicked Campers mean beach-bliss can be cancelled out by parking headaches, and nights out can be more trouble than they're worth.
So how lucky were we to stay at Seahaven?
Located at the quiet end of the street (but close enough to the surf club that the flags and excellent breakfasts are just a ten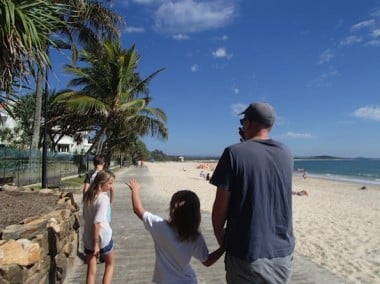 minute stroll away).  Seahaven has been there forever but has recently been totally re-created to make it the schmickest of the schmick beachfront properties. If location is everything, Seahaven has it. On a still day, you can throw a sea-shell from your balcony onto the sand. You could do it on a windy day too, if you had a half-decent arm. Sadly, that's not me. But I digress – if you want to experience Noosa from the best possible perch, this is it. There's lots to recommend Seahaven besides the location, but the big thing for us was the family apartment fit our family of five. Three proper beds in the kids' room. Not a rollaway or fold-out with paper-thin mattress. The bathrooms are big and luxurious and the kitchen is no kitchenette. We could have stayed a month.
I could also have stayed put. Especially after a beachside breakfast at Bistro C (wander in off the sand, no shoes required). But kids want to do stuff, so my dream of sitting on the balcony watching Laguna Bay behave like a lagoon while reading the papers was replaced with a schedule of activities. But this is where Noosa really shines. You can easily spend a week on Hastings Street and never get in a car and still have a fine time. The beach is at your back door. Lovely shops, friendly bars and endless cafes and restaurants are at your front door.
But if you draw your activities radius a little wider – say maximum 10 minutes driving, you'll find the Noosa River. It's Noosa Heads's stunning sister, a shiny blue ribbon perfect for boating, fishing or sitting under a tree watching  people go boating and fishing.
If you do want to get onto the water (and with kids it's kind of impossible not to) I'd recommend The Noosa River Sailing And Rowing Club. It was a nostalgic outing for me. I'd raced sailing boats there when I was the age my daughters are now. The club is bigger now, and offers food other than a post-race sausage-in-bread. They also offer one of the country's best learn to sail programs and after a couple of hours on the water with James (sailing instructor straight from central casting), our kids were hooked.
Also hooked was the flathead I caught later that afternoon when we headed further upriver with Noosa Fishing And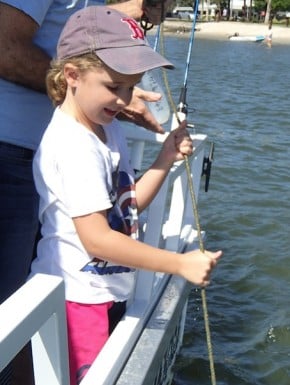 Crabbing Adventures. This is low-investment fishing.  You don't have to have gear, or any idea what you're doing. You hop onto a shady, well-equipped boat driven by someone who knows the river, check some crab-pots (a female mud crab is called a 'Jenny' – who knew?) and spend the afternoon floating from sunny spot to sunny spot. It was a rare experience for our family. Most of our fishing trips rarely result in catching fish.
We had some nice dinners in Noosa. Dining has evolved since the raspberry vinaigrette days of the eighties. Miss Moneypennys, is a big, gorgeously fitted out restaurant and cocktail bar. We ate early, with the kids, and as we left there was a queue of smart young things ready for a big night out – clearly not having got dressed in a campground toilet block. A couple of doors away is Number 10 Hastings St – great pizzas and tapas and live Spanish music. Ole.
Sunday saw us back at the river for a tootle around in an electric boat. 'Tootle' is not a word I use often, but it fits this boating experience. Manu Os rents beautifully fitted out, completely silent riverboats perfect for up to eight people to explore and relax. They reminded me of the elegant old Noosa 'putt-putt' boats, but a thousand times more comfortable and without the smoke and deafening engine noise.
Quick lunch at the famous 'Cafe Le Monde'. (Back in the day, they served massive hangover breakfasts and was known as 'Cafe La Blonde' because the owner seemed to have a 'blondes-only' hiring policy). Now they have a great gourmet burger menu  and arguably the best chips in the southern hemisphere.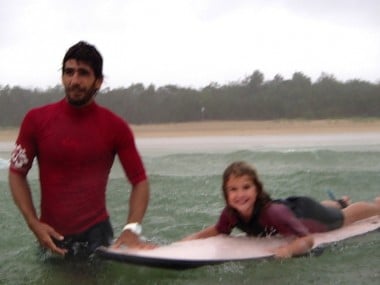 Finally, as the rain came down we headed off for our surfing lesson. I wondered if the lesson would still happen considering the downpour, but the French instructor at Noosa learn To Surf said, 'Of course we surf! In zee rain eez zee best time to go surfing! Water eez warm, like zee bath! What else you going to do? Sit in cafe?'
Right then. We headed to the water like bedraggled water-birds. But it was great. My kids are Queenslanders and have spent every summer of their lives at the beach, but surfing was one thing they've never learned – mainly because their dad and I couldn't teach them. It's a job for experts. Despite the torrential rain (the remnants of Cyclone Ita) our afternoon was hilarious, exciting fun.
That afternoon reminded me that at it's heart, Noosa is about more than schmick accommodation and cool cafes. It's about family, friends, a perfectly formed beach, a silvery river, and fun. In another thirty years it'll be the same, but different again.
Kate Hunter and her family were guests of Seahaven Noosa and Tourism Noosa. Enjoy a seven night family escape at Seahaven Noosa between April 28 and June 1, 2014 and only pay for five. For more details click here.