Some of my clearest memories have been punctuated by the Richmond Football Club.
Coach Danny Frawley being spat on by feral supporters in 2004 in what would eventually become a 14-game losing streak and end with his resignation.
Nathan Brown's leg snapping against Melbourne in 2005. I was 11. I'll never forget my sister Claire's ashen face as we watched the replay on the MCG scoreboard – dismayed, heartbroken, sickened. The train ride home was eerily silent, the carriage filled with stricken fans, perplexed such a thing can happen to a limb in such a grotesque way.
'Winning' the Wooden Spoon in 2007.
Giving Matthew Richardson a standing ovation with my mum, sisters and brother for reaching 800 career goals in 2009…
… before witnessing him tear his hamstring off the bone in the same game. It would be the last of his 282-game career.
Watching Coach Terry Wallace's 'Five Year Plan' unravel spectacularly months later.
Seeing Damien Hardwick and Dustin Martin enter the fray in 2010.
Missing out on the finals in 2012 after Gold Coast's Karmichael Hunt (who wasn't even a proper AFL player) kicked a goal after the siren to put a nail in our September coffin. As he lined up to boot it, my mum buried her face into the curtains, too panicked to watch. It was the first and only time I've heard her swear in my entire life.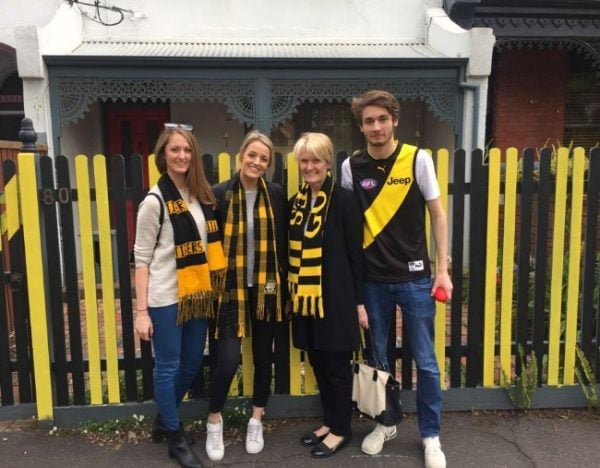 Mum's smile in 2013 when we became the first AFL club to ever appoint a female president.
Our record-breaking, belief-defying dash to the 2014 finals after sitting in 16th spot on the ladder halfway through the season...
... only to be thumped by Port Adelaide and eliminated in the first week. I watched the demolition at Punt Road with Claire. Another eerily quiet commute home followed.
Losing the elimination final again in 2015 to North Melbourne.
Having every footy fan under the sun question our captain Trent Cotchin for the next 18 months.
Failing to even challenge for finals in 2016, before a cardiologist by the name of Dr Martin Hiscock assembled a "Focus on Footy" board to literally overthrow the club - a plan that didn't work and made my mum mutter the word "ridiculous" more times than I could count.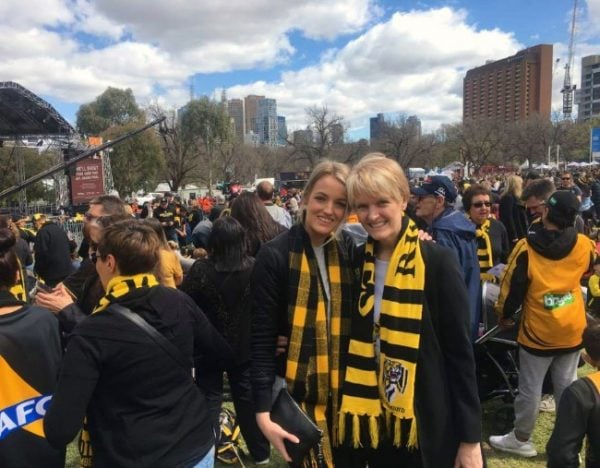 And then, finally, 2017. The year Alex Rance was named All Australian Captain. The year Dustin Martin won The Brownlow. The year Damien Hardwick won Best Coach. The year we won a women's team licence. The year I stood in a sea of roaring yellow and black at the preliminary final, alongside my mum, Claire, Evelyn, and Tom as we learned that - for the first time in 37 years - our club would be going through to the grand final.
The year we hugged and cried and sang until we didn't have voices anymore.
The year all those frustrating roller coasters seemed worth it.
Listen: Holly Wainwright speaks to AFL Womens player Kate Sheahan, who's dreamt of playing for Collingwood ever since she was 12-years-old. Post continues after audio. 
My mother has always said the emotions you see in sport are unlike anything you see in any other facet of life. I think she's right. From the red-faced, toothless men... to the punched holes in coaches' boxes... to the happy tears streaming down the faces of tiny children... to the merry cheer squad... to the swanky MCC members in their corporate attire... to the exhausted, sweaty, tattooed players... to the prying media... to the wary security personnel... to my ever-sunny mother... you don't see true chaos until you've immersed yourself in the tsunami of the Tiger Army.
You don't see raw emotion like you do at the MCG anywhere else. You just don't.
And so, since the day I entered this world, my mother, sisters, brother and I have relished every high and endured the many (many) lows of the Richmond Football Club, And we did it all side by side. Sometimes with clenched fists and gritted teeth and commiseration hot chocolates. Others with laughter and dancing and congratulatory high-fives with strangers.
My siblings and I have never seen our team play a grand final. Hell, thousands of Tigers supporters haven't. These 37 years have been perilous. Unforgiving. Testing. And yet, here we are. One of the biggest clubs in the league, and indisputably the loudest.
Only Richmond fans can make noise greater than a f*cking jumbo jet when Dusty kicks a goal.
Today, win or lose, will be a day about family. A day that, regardless of what happens, will end in hugs.
Because that's what footy does. It brings people together.
You can follow Michelle Andrews on Facebook here.