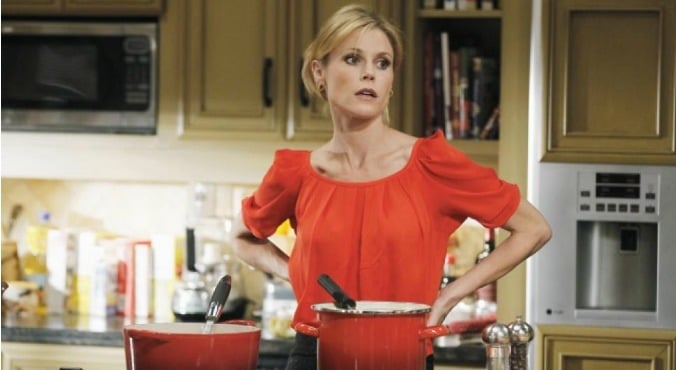 Image: Modern Family's Claire Dunphy
Women are wired.
Many of them are tired too. Tired yet wired. They're living in a state of relentless urgency. There's never enough time in the day, and the to-do lists are never completely crossed off.
This constant need to rush – this feeling that we're never doing enough – is causing significant health problems in women. The issue is so bad,  I had to write about it.
I've noticed a shift in women's health and behaviour over the past 16 years. Never before in my work have I witnessed so many females in a rush to do everything. To be all things to all people. Never before have I seen as many reproductive system and sex hormone challenges as I see now.
The perceived need to rush is changing the face of women's health in a detrimental way. From PMS to IBS, from losing our tempers to feeling like we can't cope.  Whether a woman displays it on the outside or keeps it under wraps, more are suffering.
Watch: Aussie celebrities share the best advice they learned from their mums. (Post continues after video.)
Not that long ago, women were given the opportunity to do what had traditionally been their father's jobs. Yet women are maintaining what has traditionally been their mother's responsibilities. What has unfolded for too many women is a frantic double shift of work day and night, with very little – if any – rest.
We've made more progress in the workplace than we have in the home. Research shows that if a woman and man both work full time and have one child, she does twice the amount of housework and three times the amount of childcare he does. So essentially, she has three jobs and he has one. This isn't fair, and it isn't healthy.
The consequence? Rushing Woman's Syndrome. Biochemically this is known as Sympathetic Nervous System Dominance… but as a scientist, I didn't believe anyone would know what that meant.
Our nervous system plays a significant role in how we respond to stress, and it has a number of parts. The two branches related to Rushing Women's Syndrome are the sympathetic nervous system (SNS) –  also known as the amped up "fight or flight" response;  and the parasympathetic nervous system (PNS), the calming "rest, digest, repair and reproduce" arm of the nervous system.