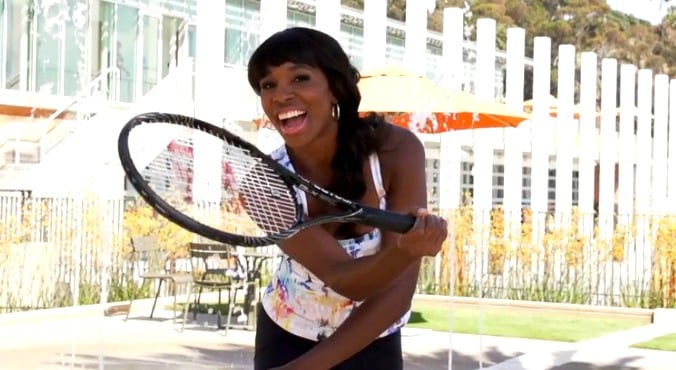 Image via Shape
Tennis enthusiasts, listen up: If you love your juicer, you have at least one thing in common with Venus Williams. (The crowd roars!)
That's right – while you may not share Venus' #30 world ranking for tennis singles, or her vast collection of tournament titles (and the cash that goes with them), you can share her enthusiasm for blended veggies. Which is the third best thing, really.
The iconic (not to mention fashionable) tennis champ has shared her eating tips with Shape magazine this week. So if you've ever wondered how someone who's won 22 grand slam tournaments and four Olympic gold medals by the age of 34 fuels her extraordinary body, you might want to bookmark this page.
Interesting insight #1: Thanks to her mum, who was a vegetarian, Venus got into juicing long before the rest of us started posting our green smoothies on Instagram. We're onto a good thing here, friends. Next stop: Wimbledon.
"My mum started juicing early in, before juicing was a craze. I watched my mum make the juices and watched my mum drink the juices," she says. "It's not that she didn't let us drink them - she was doing it as a health thing so we'd always watch her." So what does a lifelong juicer shove in her blender? Venus' favourite ingredients include strawberry, mango, spinach, orange juice and ginger.
Part of the reason Venus is so careful with her diet and exercise regimen is Sjogren's syndrome, the little-known autoimmune disease she was diagnosed with in 2011. The symptoms of this illness include joint pain, dry mouth, digestive problems and fatigue. Following her diagnosis, Venus took time away from the court to look after herself, and is clearly returning to form. She's currently playing at Wimbledon, and earlier this year she won the Dubai Championships (pictured below).
During tournaments, Venus says she usually eats two hours before she hits the court and opts for protein- and carb-heavy fare. "Of course, you have to eat a lot before you play ... I am spending calories like crazy, but if you're not playing matches and training like crazy you may not want to eat all of that."
Unlike her mother, as a child Venus was a meat-lover - "I was the kind of person who'd eat my steak first and my salad second" - she's now living a cheagan lifestyle. To wit: she lives a vegan lifestyle most of the time, with the occasional cheat. Usually when someone is sitting nearby with meat on their plate.
"I do a lot of fruit and vegetables, a lot of raw foods, a lot of juicing, a lot of supplementation ... I'm juicing and doing shakes in the morning, and salad and eating meat from other people's plates," she says.
Moral of the story: if you want to finish your hamburger, don't sit next to Venus Williams.