One woman's experience became the subject of an "inconsiderate" and "inaccurate" segment on Weekend Sunrise that has infuriated thousands of women struggling with infertility.
During a segment on Sunday, the show's hosts and guests discussed a Daily Telegraph article that likened IVF to a "gambling addiction".
"Desperate women can get hooked on IVF the way gamblers get addicted, blowing their life savings in the hope a 'win' is just one cycle away," the first sentence of the article read.
But while the news story then went on to present statistics and expert opinions on IVF – before including the comments on which the initial statement was based, the Sunrise discussion left many viewers extremely upset with their "insensitive" handling of a serious issue.
Watch the part of the segment that left viewers most upset. Post continues.
The discussion between hosts Basil Zempilas and Monique Wright and their guests, journalist Melissa Hoyer and newsreader Ron Wilson included such gems as "…after ten rounds, sometimes it is just not meant to be" and "…the main inhibitors are age and stress… those are both things you can deal with… get the stress out of your life".
On Facebook, where a clip of show was posted, it received more than 2000 'angry' reactions and negative comments, including one from Adelaide-based fertility clinic, Fertility SA.
"We think you got this one wrong Sunrise. Call us when you'd like science and fact, rather than opinion and misinformation. We'd be happy for one of our Fertility Specialists to discuss what infertility and IVF really means and dispel some of these myths," they wrote.
Kirra Gerber, who has been trying to have a child for nine years, said she was struck by how the hosts and guests could be "laughing and joking" while discussing such a sensitive topic.
"Whatever they were aiming for, it was just all wrong." the 31-year-old Brisbane woman told Mamamia.
"Basically nothing that was said went down well. They were just laughing and joking about things that affect men and women every day. I know a lot of people would have been really upset and crying seeing that.
"It's hurtful seeing people just laughing and joking about serious medical issues that people can't help."
It was for that reason that she started a petition to Sunrise on change.org asking for an apology and clarification of the facts around IVF. In just a few days it has gained more than 11,000 signatures.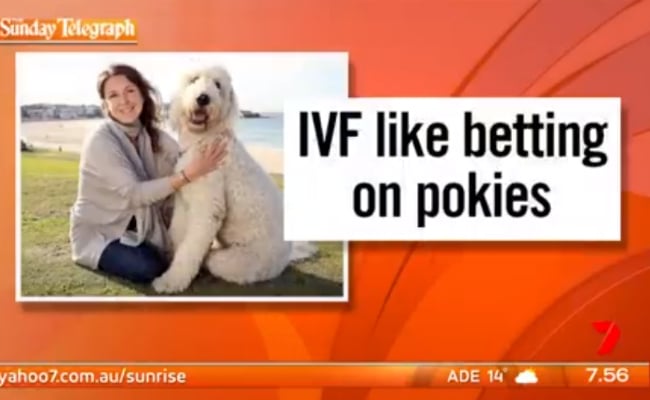 Kirra said she had no real problem with the Daily Telegraph article, but also wanted to make it clear that one woman's experience of IVF did not represent the majority of women trying to conceive with medical assistance.
The woman quoted in the article, Rafaela Salzer, said that she spent $100,000 over three years on IVF and found it difficult to stop.
"It's like a gambling addiction - the win could be one attempt away," she is quoted as saying.
Kirra conceded that going through each IVF cycle does have an element of "rolling the dice" given that there is only a certain chance it will result in a pregnancy. But she did not think that for her - and for the majority of women in her position - IVF in any way resembled a "pokies" addiction, like the headline claimed.
"I don't think it's an addiction... You can have adverse impacts to your mental health just by not being able to have a child - whether that's naturally or using IVF."
Another woman, Eva Dunwell, pointed out in an impassioned Facebook post there was very little about IVF to be addicted to.
"I can guarantee you that absolutely no one goes through IVF for 'the thrill of it', neither do they get addicted to the constant needles (sometimes self-injecting multiple times a day), blood tests, side effects of the medications... stress, "feeling less than", missing out on life, miscarriages, relationship breakdowns, depression and anxiety, and many more."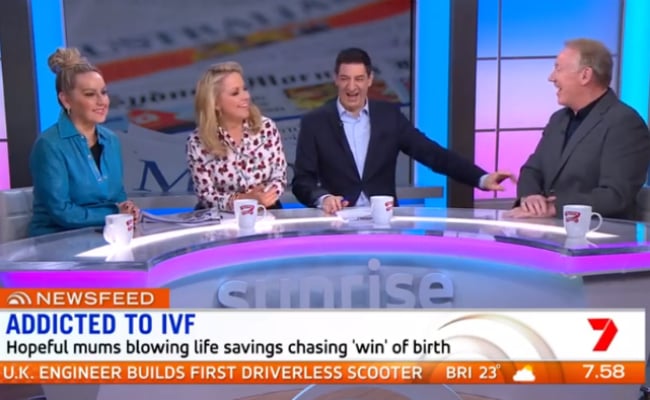 Meanwhile, Sarah Roberts, who started the support service for other involuntarily childless women, said her main concerns were with comments that many women facing infertility find triggering.
"Comments like 'just relax' can feel like a lack of empathy and a grief trigger. To fix something that is sometimes unfixable. 'Sometimes things are not meant to be' can be quite disempowering as well," she told Mamamia.
Kirra said that so far she hadn't received a response from Sunrise, and that others had emailed the show and were yet to receive replies.
A Channel Seven spokesperson told Mamamia the segment would be addressed during an upcoming episode of the program on Saturday and gave no further comment.