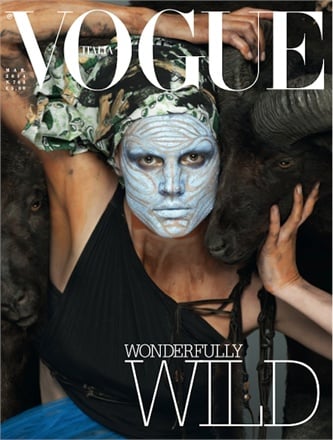 Another day, another controversial photoshoot.
That's easily the yawn-worthy attitude you could adopt after seeing Vogue Italia's latest editorial.
The campaign for the March issue features Dutch model Saskia de Brauw in tribal warpaint and ethnic clothing, posing with taxidermy animals and chains.
Cue outrage.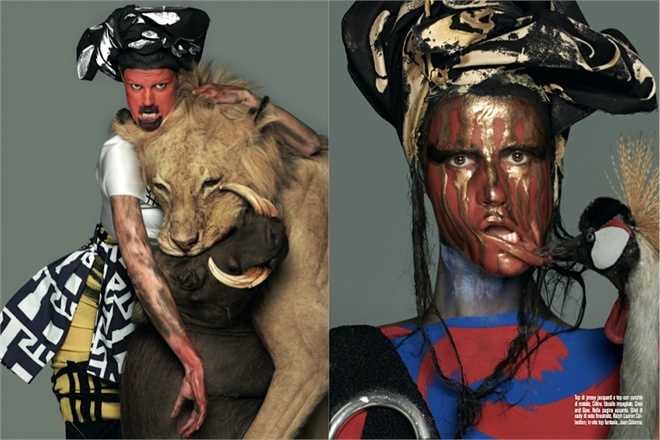 Some have called it blackface, which is typically a form of makeup used on white performers to represent a person of colour mostly used in the 19th Century, while to others it's cultural misappropriation. Either way, it's racially insensitive.
And it's just another example of how those who operate in FashionLand do not give two f—ks.
The shoot involves two of the fashion industries' heaviest hitters: world-renowned fashion photographer Steven Meisel and veteran makeup artist Pat McGrath. Or in other words, two people who should know better.
It's not even the first time that Vogue Italia has used the troubling practice of blackface instead of actual models of colour.  They did it in 2006 and 2008. Vogue Netherlands did it to represent Josephine Baker and Grace Jones in May last year, and Vogue Paris painted Lara Stone in 2009.
In trying to undercover this what Vogue Italia were thinking, I found this spiel on their website, which I think you'll agree clears the whole mess up.
"Unplugged style. The strength of instinctivity lays bare the deepest self. And style emerges in its most authentic, unique, personal version… This is what happens with a perfume like J'Adore by Dior, that changes on the skin taking on always new, different hues. And the tribal allure of the Masai-inspired bottle is translated into an iconic jus within which the floral notes of jasmine sambac, Damascus rose, ylang ylang and tuberose find perfect harmony."
We get it now. Clear as mud.
Take a look through the images and tell us in the comments below what you think. Racially insensitive or just the fashion people doing their usual thing?