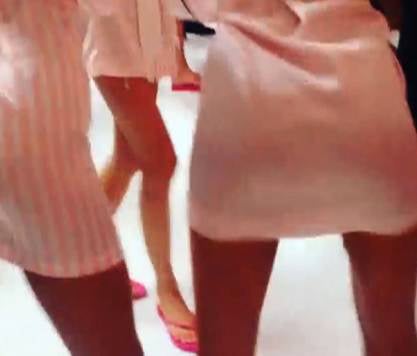 Victoria's Secret Angel Cara Delevingne has posted a video to her Instagram account of fellow Angels Doutzen Kroes and Joan Smalls twerking in their pink satin robes ahead of the 2013 Victoria's Secret Fashion Show, which aired on US tv screens yesterday.
"I was saving this ass video until last! Take it away @doutzen @joansmalls @victoriasecret check out the #VSfashionshow playing tonight! X," Delevingne wrote on her Instagram page, tagging her fellow angels Doutzen Kroes and Joan Smalls in the post.
Heathers: The Musical is happening.
The 1989 cult movie starring Winona Ryder, Christian Slater and 90210'a Shannen Doherty, is set to become a musical.
Heathers: The Musical will debut off-Broadway in March 2014 and get ready for a scrunchie and croquet revival.
As Veronica would say, "How Very."
The Pope beat out Miley Cyrus for Time's Person of the Year but not for this…
The most viewed musician on YouTube this year in Australia was, you guessed it, Miley Cyrus.
The popstar has had a controversial year after her infamous VMA's twerking performance that some say was a deliberate publicity stunt staged to enhance her career.
Her video for single Wrecking Ball beat out viral clips of 2013 such as Psy's Gangnam Style and Robin Thickes Blurred Lines.
Paris Hilton and Nicole Richie reunite for art.
Former 'Simple Life' bff's Paris Hilton and Nicole Richie have reunited after several years after falling out in the mid 2000's after filming their reality television show.
The heiress pair were seen posing briefly for photos together during Art Basel, an international art show held in Miami.
"Miami Nights with @DerekBlasberg & @NicoleRichie. #OldFriends }#GoodTimes#regram Photo by @DerekBlasberg," Hilton captioned the photo.
The reason for their falling out was never clear with Hilton saying in an interview in 2005 "Nicole knows what she did, and that's all I'm ever going to say about it."
Madonna to start dating Sean Penn again?
Madonna has split up with her back-up dancer boyfriend, Brahim Zaibat, a rep of the singer has confirmed. The 55-year-old pop star has been dating 25-year-old Zaibat for three years. This news comes shortly after she accompanied ex-husband Sean Penn on a humanitarian trip to Haiti.
Jess Mauboy angers fans by sharing a hunting photo.
Jessica Mauboy has responded to a barrage of social media hate, after she posted a picture of her and her boyfriend hunting in the Northern Territory on Instagram. She wrote "hunting is not a game when it comes to my mob. (It) is a way of providing food for my family and has been a tradition!'
Bold & the Beautiful
An Australian publisher has acquired the rights to bring The Bold and the Beautiful into print.
Two novellas, based on the long running daytime soapie, will be published in February by Pan Macmillan and its digital first imprint Momentum. Another two will follow in April, and two more in June.
Established romance writers Amy Andrews, from Brisbane, and Shannon Curtis, of Sydney, have written the new love stories featuring The Bold and the Beautiful's signature characters.
The deal comes as The Bold and the Beautiful, screened on Ten, approaches its 7000th episode and 27 years on air.