Not all soaps are created equal.
Especially if you're a bottle of Dr. Bronner's Pure-Castile Liquid Soap. This cult product is at the top of the soap hierarchy – just take a look at the beauty section of any health food shop or the Instagram feed of any eco-aware or natural beauty advocate.
But what exactly is it about the soap that has multiple blog posts, videos and Instagram feeds dedicated to its praises?
Simply put, if you need to clean something… your body, face, teeth, hair, animal or surface in your house, you can do it with a few drops of Dr. Bronner's and nothing else.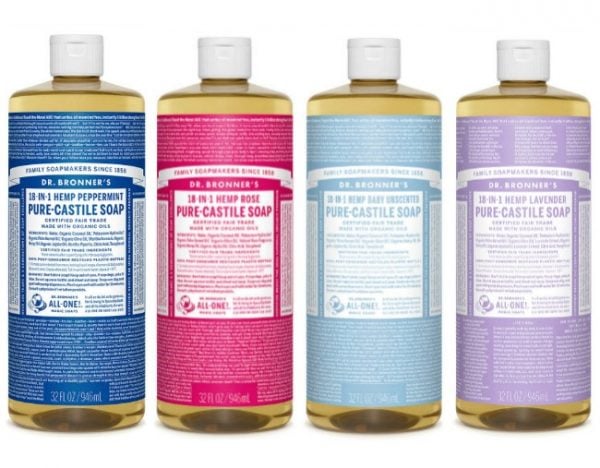 Oh, and it's made with minimal ingredients, is certified fair trade and is made by a family-owned company with ethically, socially and environmentally responsible brand values, too.
And just in case that wasn't enough, Meghan Markle is also a fan. In fact the princess to-be told Beauty Banter that the Dr. Bronner Castille Liquid Soap in their lavender scent is her favourite body product.
When it comes to clean people versus messy people, there are differences between the two. We take a pervy look inside the life of a 'clean house' person, on Mamamia Out Loud. Post continues after audio.

1.  As a body or hand wash.
A standard, non-surprising use is as a cleanser for your body to remove the grime of the day. The peppermint scent is particularly zingy, too. However, be warned that it is an extremely concentrated formula so you'll only need a few drops. Trust us.
2. As a shaving gel.
While some people are strictly shaving foam shavers, most of us have been caught out without some of the foamy stuff from time to time. The good news is Dr. Bronner's formula ticks all of the boxes for shaving and lubricates the razor blade with the coconut, olive, jojoba, essential oil blend, giving your skin a moisturising boost.
3. As shampoo.
So depending on your hair, this may work brilliantly on it's own, or you might need to follow through with  conditioner to make sure the hair doesn't feel tacky. To use as shampoo you just need half a tablespoon straight from the bottle, or diluted in half a cup of water if you have long hair. Lather and rinse as normal.
4. As a back-up facial cleanser.
If desperate times call for desperate measures, the no-frills soap definitely works in place of your regular cleanser. One drop is all you need.
5. Dilute the solution for an all-purpose surface cleaner.
This is where the Dr. Bronner's cleaning alchemy comes in.
For an easy DIY surface cleaner that you can use to wipe down your kitchen counters, floors and bathroom surfaces, mix one cup of water with one tablespoon of Dr. Bronner's (and 10-15 drops of essential oil if you want a specific scent), then get cleaning.
For tougher stains and cleaning jobs, make a paste by mixing the soap with baking powder.
6. To clean your makeup brushes.
Forget about fancy brush cleaners and opt for a multi-purpose product. Simply wet your brushes and dip into a little bit of soap (you really only need a tiny bit) and work the product into the bristles in a circular motion, rinse and repeat. For a thorough clean, you can pair it with a silicon brush cleaning matt.
7. Dog shampoo.
For the attached pet parent, you might be excited by the fact that you can smell the exact same as your canine friend. Just work your go-to scent into a lather and rinse off as normal.
8. Vegetable and fruit wash.
Mix a few drops of the Castille Soap with your fruits and vegetables in a sink full of water, to cleanse away any dirt, wax or pesticide remnants. Rinse and eat.
9. Dish washing liquid.
Cut down on the number of products in your kitchen with a DIY washing liquid solution. The Dr. Bronner's website recommends diluting the soap with one part to 10 parts water and using the solution as you normally would.
10. Toilet cleaner.
Dilute one part soap in four parts water with a one quarter of a teaspoon of essential oil. Thoroughly skirt into the toilet bowl and then scrub the bowl with a toilet brush, sprinkled with baking soda. Let the mixture sit for 10 minutes, flush and et voila, you'll have a super clean toilet bowl.
11. To clean new piercings.
If you've just got a new piercing you can use Dr. Bronner's to keep the area clean.  Lather a pearl sized drop of the solution onto the piercing sit for no longer than 30 seconds and thoroughly rinse. As soap is very effective at killing both viruses and bacteria it'll stop any infection from growing in the wound.
12. Bubble bath.
It'll bubble your bath just as good as a bath bomb, and you can opt for the peppermint formula for a refreshing, tingly hit, or the lavender version before bed. A third of a cup of epsom salts will also add a detoxing boost and help soothe tight muscles.
13. Clearing congestion.
If you're feeling the early onset of a cold or flu you can ease your sinuses with a DIY congestion-clearing steam. Simply swirl one tablespoon of the Peppermint or Eucalyptus soap in a bowl of hot water, create a misty cocoon by draping a towel over your head and spend a few minutes breathing in the steam.
You can also take this opportunity to up the multi-tasking ante even further by adding in a face mask for good measure now that your pores are open. Might we suggest this lovely sheet mask.
14. As a toothpaste... if times are dire.
As someone who's substituted her normal toothpaste with a few drops of peppermint soap, if does work, but the regular stuff does taste infinitely better.
However, if you want to cut down on the number of products you use or are running out of real estate space in your travel toiletries bag, it gets the job done.
15. As a pram cleaner.
As a mum of two kids, Mamamia staffer Saegtip Kirk says she makes a paste with baking soda and soap to clean everything from the wheels, handles, seats and shades.
"Two prams sparkling clean," she says of the effect.
16. As a very effective ant killer.
A bit macabre perhaps, but perfect if your household also includes pets and little children and you don't want to use anything with harsh chemicals and toxic compounds.
According to the Bronner's, the Tea Tree scent is particularly good for this, but you could easily mix in a few drops of tea tree oil to emulate the same effect. Just dilute one part of soap in four parts of water, mix and spray.
17. To nip any plant pests in the bud.
To kill any unwanted plant bugs without killing the plant, Dr. Bronner's advises a solution with one tablespoon of soap in a litre of water.You can even add half a teaspoon of cayenne pepper and cinnamon (which acts as an anti-fungal) to up its bug deterring abilities.
18. As baby shampoo or baby wash.
The baby-friendly Unscented version of the soap was made for this very reason, meaning both you, your sensitive-skinned friends and your little one can use this soap. It's perfect as a shampoo or baby wash and won't dry out or irritate their delicate skin.
19. As a homemade laundry detergent.
You can use either your favourite scent or the unscented version (if you have sensitive skin) for this recipe, but a DIY laundry detergent is easier than you think. Simply combine a quarter cup of the Castille Soap, a quarter cup of baking soda, with an optional half cup of vinegar as a fabric softener to rinse.
Double the amounts if you're washing by hand.
20. As light reading material.
And once you've used up all the multi-tasking soap within the bottle you can spend a few minutes reading the tiny and in-depth script that covers the bottle, but warning... it's a bit intense.
During his life Dr Emmanuel Bronner became very evangelical about his religious philosophy he termed the All-One-God-Faith and was arrested and placed in a mental institution in 1947 after speaking at the University of Chicago without a permit.
Then in the 1950s he would literally stand on his soap box and preach his ideologies to customers, before realising that literally nobody was listening to him. It was then that he decided to change tactics and print everything on the label of the soap itself.
You can still read his manifestos on his All-One-God-Faith and his 'Moral ABC's' on the wraps and bottles of all his products today.
Now, convinced that you absolutely need this bottle of sudsy goodness in your life right now? Well you can buy a 946mL bottle of Dr Bronner's Pure Castille Soap in Rose, Peppermint, Lavender and Unscented for $26.99.
Are you a Dr. Bronner's devotee? If so how do you use it? Was there something we missed? Tell us in a comment, we'd love to know.