In the Oval Office, President Donald Trump sits at an immaculately polished wooden desk, surrounded by a handful of approving men.
With their clasped hands and smug smiles, they watch on as he picks up the pen – engraved, no doubt – and beautifully signs away the agency of millions of disadvantaged women and girls across the world.
With Trump's signature sitting pretty on an anti-abortion executive order, international not-for-profit organisations that provide family planning services will no longer have access to the US$600 million yearly assistance they did under the Obama administration.
The result? 27 million women around the world – many of them impoverished, or living in war-torn countries – will be gravely affected.
Not a single cent of the $600 million yearly donations received between 2009 and 2016 was ever spent on performing abortions. It was entirely spent on the provision of reproductive health programs, family planning advice, contraceptive services, and supplies.
And now, it's gone.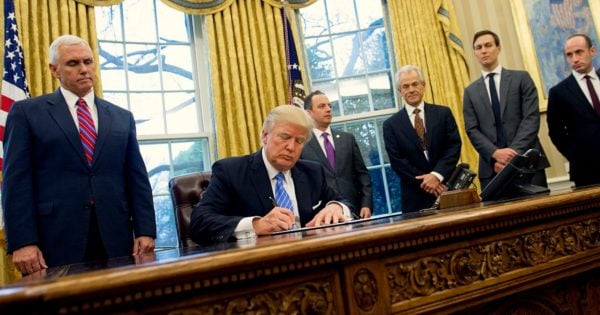 If you listen to the experts, Trump's policy isn't just dangerous - it will be deadly. It will isolate and marginalise the 21 million women and girls who already resort to dangerous methods for ending unwanted pregnancies every single year.
With a decrease in funding and education, we can expect an increase in unsafe abortions. And with that, we can expect the 47,000 lives that were already avoidably lost in 2016 - directly caused by unsafe terminations - to increase, too.
But according to Trump, empowering women to make informed choices about their bodies and lives is unimportant. Instead, he's choosing to intentionally keep vulnerable women in the dark about the options at their disposal.
"It's telling that one of Trump's first executive actions combines two of his favourite things: silencing anyone who disagrees with him and repressing women," a statement from advocacy group Naral Pro-Choice America reads.
"Just two days after the historic Women's March and one day after the anniversary of the historic decision in Roe v. Wade, Donald Trump's misguided priority is to reinstate... a policy that silences health workers at the expense of their patients."
Of course, banning abortion education and the provision of family planning advice will not spell the end of the "punishable" act Trump so vehemently despises. It will only endanger some of the world's most unprotected people, pushing them into unregulated, illegal, scary, dark corners, where they aren't only powerless - they are alone.
And this is only Day Four.