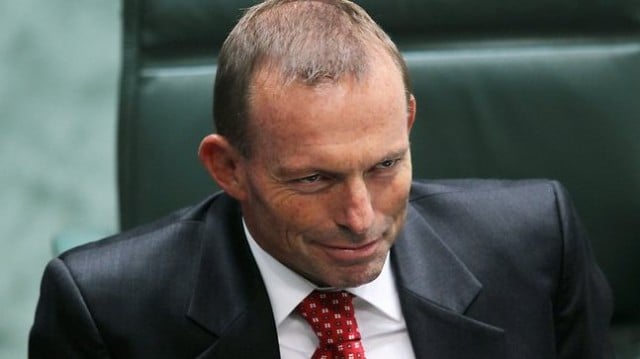 Today marks the end of Tony Abbott's first 100 days of government. And what an auspicious occasion it is.
There have been highs. There have been lows. It's been a real emotional roller-coaster.
Upon being elected, Tony Abbott said:
"In three years' time, the carbon tax will be gone, the boats will be stopped, the budget will be on track for a believable surplus and the roads of the 21st century will finally be well under way. And from today, I declare that Australia is under new management and that Australia is once more open for business."
So, let's have a look at the business the Abbott government has accomplished in this time:
1. Put one woman in a cabinet position.
More women in the Voldemort Cabinet than the Abbott Cabinet #auspol #justsayin pic.twitter.com/5KEMQlPwem

— Luke Hilakari (@lhilakari) September 16, 2013
2. Established the ominously named Operation Sovereign Borders, a military response to combat the apparent scourge of asylum seekers heading for our shores.
An operation which Indonesia is no longer assisting Australia with, and which has resulted in asylum seekers being treated like this, and this.
3. Decided that the Government doesn't have to talk to the Australian media – or the Australian public – about the aforementioned Operation Sovereign Borders, especially when the subject matter is how the government has in fact not yet 'stopped the boats'.
4. Announced plans to save $3 billion in family and welfare payments, by changing eligibility requirements – that may come as a surprise to parents of teenage children and working mums and dads who need childcare.
5. Did a 180 on education, and decided that despite their election commitment to Gonski, Gonski was gone.
And then did another 180 (that's a full 360 – thank goodness for highschool maths), and decided that despite deciding Gonski was gone, it actually wasn't.
6. Cancelled the childcare workers pay rise.
7. Cancelled the expected aged care workers pay rise.
8. Introduced legislation to repeal the carbon tax.
9. And because ain't nobody got time for climate change, Abbott also abolished the Climate Commission two days after being elected.
10. And, while they were at it, the Coalition dumped the previous government's idea for a live animal exports watchdog.
11. Decided to go with the fibre-to-the-node NBN.
12. Gave the go ahead for four mining projects bordering the Great Barrier Reef.
13. The Federal Government challenged the ACT Government over same sex marriage – which the High Court subsequently ruled was illegal under the Constitution. The same-sex couples who married during this time will have their marriages annulled.
14. Tony Abbott made himself responsible for women's policies and programs, getting rid of the role Minister for the Status of Women.
And this has pretty much been the reaction from the Opposition:
Happy 100 Days!
NB: This is obviously opinion. Not straight reportage. Just wanted to clear that up. 
What are the moments that stand out for you during Tony Abbott's first 100 days of government?
You can follow Melissa Wellham on Twitter at @melissawellham.