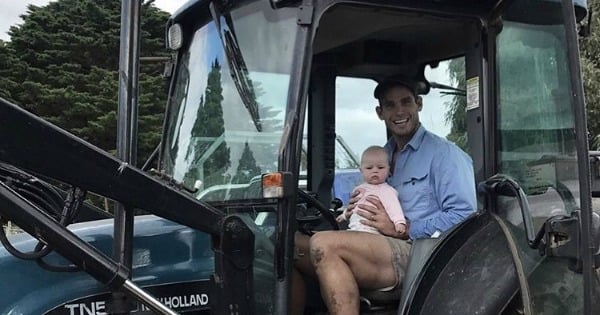 If you're following the gorgeous lifestyle blogger and WAG Emma Hawkins on Instagram, you probably let out a little squeal every time she posts another baby photo.
The latest photo of baby Arabella is no exception. Posted on social media last week and starring her famous father, Geelong footballer Tom Hawkins, the four-month-old is cradled in her daddy's arms in the driver's seat of a tractor.
'Time to get your hands dirty,' the caption reads.
Predictably, I went 'awwwww.' And then I got angry.
Watch: Mamamia staffers 'fess up about the times they weren't exactly perfect parents:

Most of the comments on the Instagram post centre around how squeezably cute the adorable Arabella is.
"Oh she is too pretty and pink for a dirty tractor Dad!!" wrote one commentor.
While another noted what a "real country girl" the four-month-old is already.
But I had a completely different response to this seemingly innocuous picture.
Listen: on the latest episode of our parenting podcast This Glorious Mess, Holly Wainwright and Andrew Daddo discuss the controversial photo.
Like Hawkins, I hail from the Riverina – the agricultural hub of southern New South Wales.
I grew up on a dairy farm, raised on a diet of fresh air and muddy boots, and I can tell you – the driver's seat of a tractor is no place for kids.
I whiled away my weekends and school holidays with my big sister and a slew of cousins, exploring paddocks on the motorbike, building cubby houses in the haystack, sticking our feet in red-back spider infested gumboots and running for our lives from what we always assumed to be deadly snakes.
There is no doubt what we did was dangerous. There were plenty of run ins with electric fences.
Burns up our thighs from stacking the bikes. My sister once ran up to the house with a blood-curdling scream, crying "RACHEL'S DEAD," after I inevitably fell down the haystack. Somehow I never got bitten by a snake or spider though, go figure!