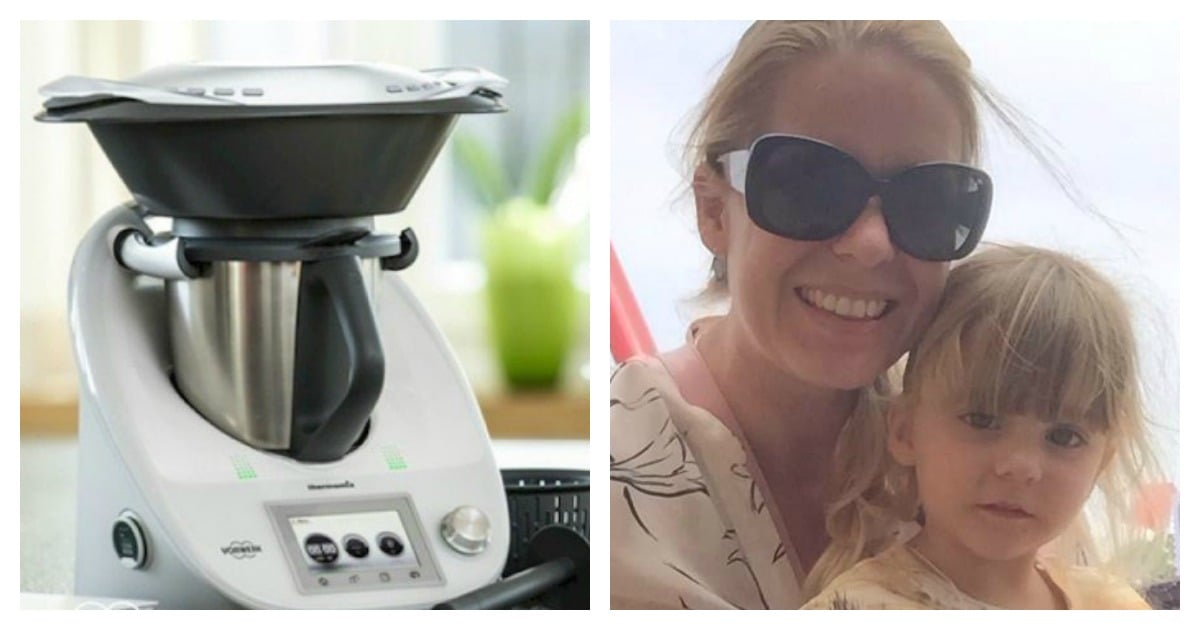 As a class action lawsuit against Thermomix gains momentum, more stories are emerging of people being horribly injured by the $2000 kitchen appliance. Among the latest victims is a 16-month-old girl.
Caitlin Brennan was perched on her mother Heidi's hip when the family's Vorwerk Thermomix TM31 began to make a "strange sound". Concerned, Heidi immediately switched the machine off and released the lid.
"The lid hit the roof and the Thermomix sprayed boiling hot water all over us," Heidi told News Limited.
Luckily for little Caitlin, her paramedic mum knew to place her under a cold shower to minimise the damage until the ambulance arrived.
Even with Heidi's quick thinking, the pair still had to spend three weeks in a burns clinic; Caitlin with a burn to her arm and Heidi to her shoulder and her eye – mercifully, confined to the white.
"If it affected my vision, that would have been my job," she told News Limited.
The Melbourne mum claims that when she contacted Thermomix the following day, "they didn't really care".
Another victim, Perth woman Danika Jones, suffered second-degree burns when her Thermomix exploded.

The incident happened in April 2014, but Heidi decided to come forward after learning of the mass incident report filed by Choice. The consumer advocacy group recently presented the Australian Competition and Consumer Commission with evidence of 87 cases of Thermomix-related burns.
"We have received an alarming number of reports from people who say they had permanent scarring or were hospitalised after their Thermomix failed," Choice spokesperson Tom Godfrey said. "A responsible company should have acted quickly to address any dangers with products, but based on consumer reports, Thermomix Australia took more than a year between initial notification and recall."
A spokesperson for Thermomix in Australia told Mamamia that the safety and welfare of its customers has always been the company's highest priority.
"Thermomix in Australia and Vorwerk, the manufacturer, are aware of the allegations made in CHOICE's report to the ACCC. We have always fully cooperated with the relevant authorities and will continue to do so."
The statement continued: "We do not wish to prejudice the outcome of the review of matters reported to the authorities by commenting further at this time."
Heidi Brennan is now reportedly among the ten victims who told major Melbourne law firm Slater & Gordon that they are prepared to participate in group legal proceedings against Thermomix Australia.