By JAMILA RIZVI
What's wrong with this picture?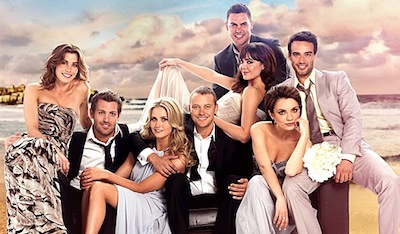 And, no, I don't mean the fact there is a leather couch on the beach (what's with that?).
Let me explain…
I was flicking channels while working late in the office last night. I watched a bit of my girl Mia Freedman on The Project, I tuned in for Rudd and Abbott going head-to-head at Rooty Hill and I caught some of the new Aussie drama, Wonderland on Channel 10. The photo above is a promotional shot for the show.
From the little I saw, Wonderland seems like a fairly predictable but harmless Aussie drama. It's about a bunch of young people living in Coogee in Sydney's east and I imagine, they will encounter the usual challenges of relationships and friendships that is typical of the genre. Wonderland is engaging, well shot and the central cast includes some impressive and likeable Aussie actors.
All of whom are white.
A fact that did not escape Australian actor Jay Laga'aia (formerly of Home and Away and Water Rats fame). When the show premiered last week, he tweeted the following: