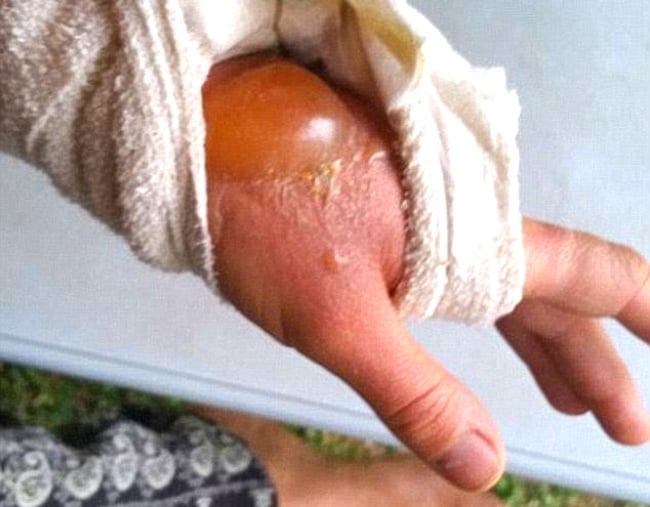 There was a time when everyone wanted a Thermomix.
'I use mine for everything now', one could overhear at parents' groups and coffee catch ups over a slice of orange and almond cake freshly baked in the $2000 wonder appliance.
Having the space-age device with its shiny stainless steel and the functions of 12 regular household appliances on your kitchen bench was a sign of status.
Then, people started getting hurt.
Four years on from recalling its controversial TM31 model, the Australian distributor of Thermomix has agreed to pay $4,608,500 in penalties for knowingly selling the product that had the potential to leave customers with horrific burns, AAP reports.
The distributor was also penalised for failing to report the 14 cases of burns suffered as a result of using the product to the consumer watchdog within the mandatory two-day period.
"We are deeply, deeply sorry and apologise to everyone affected," Thermomix senior manager Bianca Mazur said as she read a prepared statement on Wednesday.
After reaching an agreement with the Australian Competition and Consumer Commission (ACCC) in the Federal Court this week, the company will be issuing the 9443 customers who unknowingly bought the dangerous TM31 model between July 7 and September 23, 2014 with their latest model to make up for the deception.
For an item that was so widely sought after its users were named the 'Thermomix Cult', where did things go so horribly wrong?
Watch news of Thermomix's fine below. Post continues after video.
The Thermomix cult
When Thermomix first hit Australian shores in 2001, you couldn't just buy one. You had to attend a party.
Thermomix consultants would ply guests with soups, cakes, desserts and cocktails all made using the do-all appliance, witnessing the time-saving magic of the 12-in-one machine.
Australian managing Director Grace Mazur saw this for herself after enjoying several meals with childhood friends in Poland, cooked in minutes using a single machine. An avid cook, she wanted one for herself back home in Perth, and won the rights to become Australia's first Thermomix distributor from German company Vorwerk who first created the Thermomix in 1971.
In 2013, Thermomix sold it's 100,000th unit in Australia, the Australian Financial Review reported, cementing its cult status in Australian kitchens.
Facebook groups dedicated to the wonder of Thermomix grew rapidly – Skinnymixers and Thermumma boast 156,874 and 156,874 respectively.
Then came whispers of the product's faulty seal.
Thermomix recalls its product in 2014
Thermomix voluntarily recalled its controversial TM31 model in October 2014 following 14 reported cases of users being burned by hot liquids due to a faulty seal.
The product was placed on the official Product Safety Recalls Australia page with this explanation:
'In rare circumstances, the potential product defect could lead to a scald or burn for the user if liquid or food splashes out of the mixing bowl.'
However this week's court proceedings found Thermomix Australia was aware of the dangerous fault in its product three months before calling for its removal from kitchen benches.
The company sent an email to German manufacturers Vorwerk on July 7, 2014 containing videos of issues with the TM31. But in those three months, Thermomix knowingly sold 9443 of its TM31 appliances to Australian customers for between $1939 and $2089 each.
This put close to 10,000 people at risk of suffering severe burns – many of those sadly fell victim to the product's fault while cooking for their families or with their children.
Thermomix has admitted four contraventions of consumer laws, including misleading consumers about the safety of its products and refusing refunds and issuing gag orders when consumers reported faulty products.
On Wednesday, Justice Bernard Murphy said senior management at Thermomix in Australia knew there were issues months before it recalled the product.
"In my view it knew, or should have known, earlier than that," Justice Murphy said.
Horrific Thermomix burns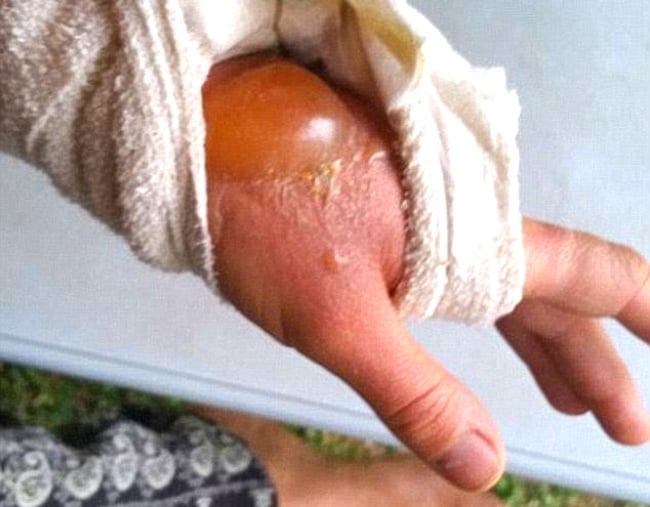 Consumer group Choice first flagged the product with the consumer watchdog in 2016 in a report detailing 87 people who had issues with the appliance, including 18 who needed medical attention.
One of those was Perth mother Danika Jones who was preparing dinner for her family in March 2016 when the lid of her Thermomix broke open.
The scorching hot pasta sauce drenched her entire upper body, resulting in horrific burns to her arms and chest.
"I had popped the pasta sauce ingredients in the Thermomix using the same recipe I've used every week since I bought the machine more than two years ago... I walked over to turn it off and as I did that, it just exploded – the lid blew off and hot liquid went everywhere, all over me. The pain was intense," Jones told WA Today.
"Imagine if my kids had been on the kitchen bench [when the appliance malfunctioned]."
Ms Jones had the Thermomix TM31, a model that was recalled in 2014 and placed on the official Product Safety Recalls Australia page with this explanation:
'In rare circumstances, the potential product defect could lead to a scald or burn for the user if liquid or food splashes out of the mixing bowl.'
At the time, hospital staff told Jones hers were not the only injuries they'd seen as a result of using a Thermomix.
"When I went to get my burns redressed, the nurse specifically said to me 'you're not the first person to come in here with burns from the seal coming off'," she said.
In the same month, two more women came forward with severe Thermomix injuries.
Tennille Pooley of Adelaide and another Adelaide woman who wished to remain unidentified reported being hospitalised with burns from their Thermomix devices.
Like Jones, Pooley was using hers to cook dinner for her four children. The other woman was simply cleaning hers.
What happens to Thermomix now?
Thermomix continues to sell its latest model to Australian consumers exclusively through in-home cooking experiences by independent Thermomix Consultants.
Thermomix's $4.6 million penalty equates to about 2202 of its appliances, which sell for $2089 each. It has also agreed to to pay $230,000 in legal fees incurred by the ACCC.
A spokeswoman for Choice said this result proves that in Australia, you can't sell products that put people in hospital and get away with it.
"Thermomix told its customers that the machines were safe when they were not."
Did you have a negative experience with a Thermomix? Do you own and continue to use one in your home?
For more of what women are talking about this week, get the latest episode of Mamamia Out Loud in your ears below.