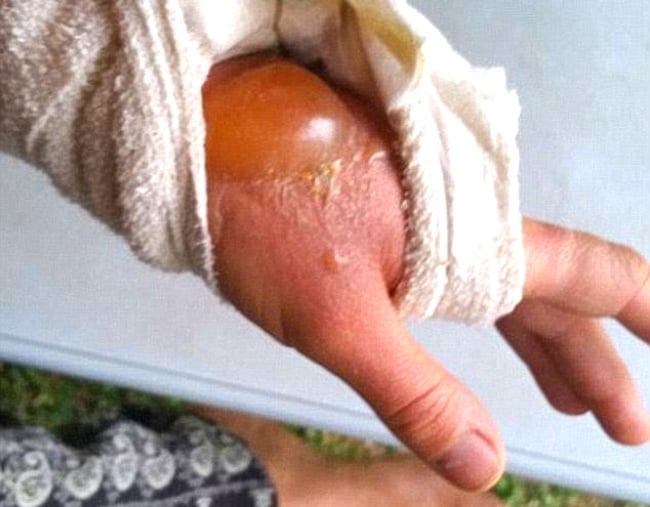 There was a time when everyone wanted a Thermomix.
'I use mine for everything now', one could overhear at parents' groups and coffee catch ups over a slice of orange and almond cake freshly baked in the $2000 wonder appliance.
Having the space-age device with its shiny stainless steel and the functions of 12 regular household appliances on your kitchen bench was a sign of status.
Then, people started getting hurt.
Four years on from recalling its controversial TM31 model, the Australian distributor of Thermomix has agreed to pay $4,608,500 in penalties for knowingly selling the product that had the potential to leave customers with horrific burns, AAP reports.
The distributor was also penalised for failing to report the 14 cases of burns suffered as a result of using the product to the consumer watchdog within the mandatory two-day period.
"We are deeply, deeply sorry and apologise to everyone affected," Thermomix senior manager Bianca Mazur said as she read a prepared statement on Wednesday.
After reaching an agreement with the Australian Competition and Consumer Commission (ACCC) in the Federal Court this week, the company will be issuing the 9443 customers who unknowingly bought the dangerous TM31 model between July 7 and September 23, 2014 with their latest model to make up for the deception.
For an item that was so widely sought after its users were named the 'Thermomix Cult', where did things go so horribly wrong?
Watch news of Thermomix's fine below. Post continues after video.
The Thermomix cult
When Thermomix first hit Australian shores in 2001, you couldn't just buy one. You had to attend a party.
Thermomix consultants would ply guests with soups, cakes, desserts and cocktails all made using the do-all appliance, witnessing the time-saving magic of the 12-in-one machine.