by REBECCA SPARROW
I have no clever or impressive way to open this column. And nor should I.
Jacintha Saldanha is dead and – it's fair to say – the news of the British nurse's suicide in the wake of a meaningless radio prank – has broken all our hearts.  In Australia we woke yesterday morning to the news and it made us shudder. The tragedy – that a woman potentially felt so humiliated by a inane prank phone call that she would take her life because of it – left us devastated. And speechless.
Well temporarily speechless, at least.
Because after the shock wore off, almost instantly the recriminations began.
We blamed the radio hosts for being so completely thoughtless and juvenile to do such a disrespectful prank in the first place.
We blamed the hospital for not having better protocols in place when it comes to access to the Royal family.
We blamed the radio station producers and management and even the network owners for airing a pre-recorded segment that had clearly gone too far (since the second nurse did end up giving away private details of the Duchess of Cambridge's condition).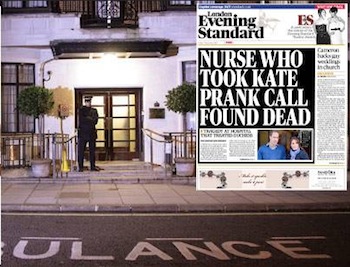 But I think all this finger pointing misses the point.  As the blame shifts like fetid smoke, there is a bigger, more important lesson to be taken from Jacintha's tragic death and it's this: Nothing ruins your life forever.