At the moment, the buffet of exceptional new and addictive TV shows is overflowing, but it can also be overwhelming.
So to make your life just a little bit easier, here's a selection of the TV shows everybody is talking about at the moment and where to watch them.
Think of it as a TV tasting platter.
The Handmaid's Tale
If you are across any show in the coming weeks, it needs to be this one, because for the next few weeks season two of The Handmaid's Tale is set to dominate conversations across Australia.
The TV series, which is available in Australia via SBS and SBS On Demand, is based on the best-selling novel by Margaret Atwood. This series is set in Gilead, a totalitarian society in what used to be part of the United States, and follows a handmaid called Offred (real name June, played by Elisabeth Moss) who is torn away from her family and forced to live in captivity so she can bear children.
It's a brutal and compelling series with story points pulled from real life examples.
Where can you watch it?
If you've missed the first season you can watch it in full on SBS On Demand, new episodes of season two air weekly on SBS and SBS On Demand.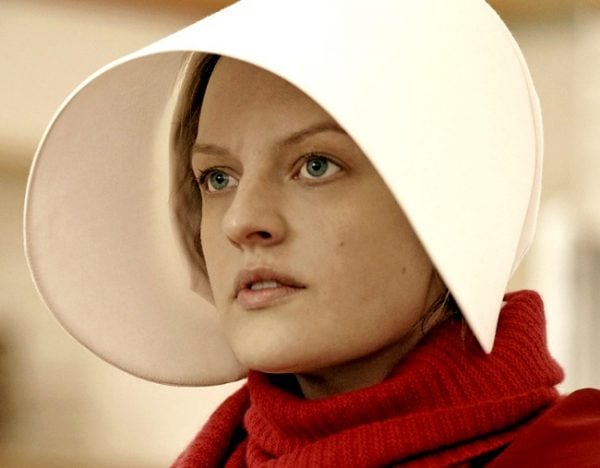 The Alienist
The Alienist dropped recently in Australia on Netflix and it didn't take long for people to become obsessed with it.
The ten-episode period thriller television series is set in 1896. In the series, a newly appointed police commissioner called Teddy Roosevelt calls upon Dr. Laszlo Kreizler, a criminal psychologist and newspaper illustrator John Moore to conduct an investigation into a series of gruesome murders of boy prostitutes in New York City.
Also in the mix is Sara Howard (played by Dakota Fanning) a headstrong secretary to the police commissioner.
If you're looking for an easy and addictive weekend binge watch, this is the show for you.
Where can you watch it?
The first season of The Alienist is available in full on Netflix. 
Homecoming Queens
This new Aussie drama/comedy is both compelling and groundbreaking.
The series, which was created and co-written by Michelle Law and real-life bestie Chloë Reeson, was inspired by their own friendship and health experiences, with a little creative license. The funny, female-driven drama packs a lot into seven short episodes, sharing the lives of two twenty-somethings as they navigate adulthood after life-changing illness.
Homecoming Queens was directed and executive produced by ADG Award-winner Corrie Chen (Sisters, Mustangs FC) and is the first commissioned series for SBS On Demand. This beautiful drama creates comedy out of tragedy and shows how deeply funny life can be in its most serious moments.
Where can you watch it?
You can watch all seven episodes of Homecoming Queens on SBS On Demand. 
UnReal
Season three of UnReal has just wrapped up on Stan and people still can't stop talking about the conclusion to this wickedly dark dramedy.
UnReal takes place behind the scenes of a The Bachelor-type reality dating show called Everlasting. However, if you've ever caught a glimpse of this critically acclaimed Stan series, you would already know that the premise of this show is anything but a bed of roses.
In the third season of UnReal the story-line has been shaken up by introducing a suitress rather than a suitor in the form of single CEO Serena (Caitlin FitzGerald) and the series is a wonderfully satiric look at the dangers of reality TV.
Where can you watch it?
All three seasons of UnReal are available now on Stan.
UnReal star Constance Zimmer has a whole lot to say about what went on behind the scenes of her show.
For more TV and film reviews and interviews, you can follow Mamamia Entertainment Editor Laura Brodnik on Facebook.