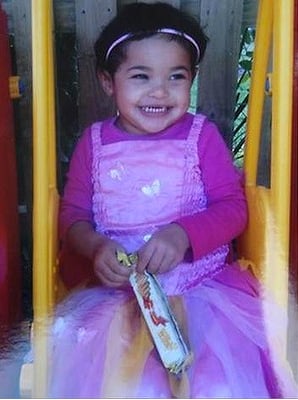 Warning: This post deals with themes of child abuse and may be distressing for some readers.
The last words Donna Deaves heard her two-year old daughter screaming were 'no, no, no.'
Donna Deaves alleges that she saw her naked wet, shivering daughter, Tanilla Warrick-Deaves, being held upside over the toilet in her home on the NSW Central Coast by her boyfriend in August 2011.
According to an agreed statement of facts tendered to the Supreme Court she says that her boyfriend then smashed her daughter's head into the shower screen, kicked her across the room and slapped Deaves across the face.
Deaves placed her unconscious daughter in her pram and left her for two days and two nights, making "rattly" and "gurgling" sounds.
One night, whilst watching a movie, she noticed her daughter had vomited. She finally called triple-0. But it was too late.
Doctors found the cause of Tanilla's death was blunt force head trauma, which caused a subdural haemorrhage.
The pathologist said Tanilla may have survived if she had been treated promptly.