It started off as a joke with Tom Gleeson, but now the campaign for Sophie Monk to become Australia's next Bachelorette is looking more and more legitimate.
The radio host and actress mentioned that she would like to star in the dating show during an interview with Gleeson on The Weekly's Hard Chat segment earlier this month.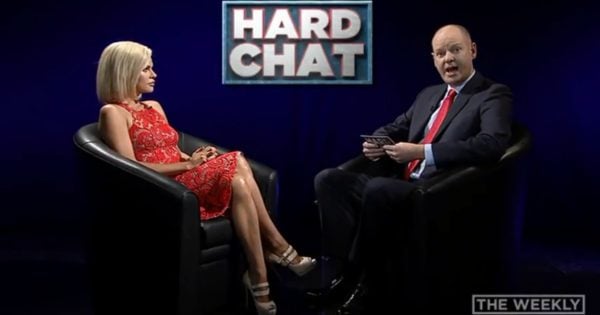 When asked whether she wished she had waited to appear on a more memorable reality show than Popstars, the media personality said she actually wished she was in a "cooler one" now, suggesting The Bachelorette.
"I'm very single," Monk said.
Gleeson inquired if 'The Celebrity Bachelorette' existed and jokingly suggested she might not even need a celebrity version of the show.
That might have been the moment a joke turned into a genuine possibility for Monk - because she has now reportedly met with Channel Ten executives to discuss the opportunity.
LISTEN: Mia Freedman sat down the the original Aussie Bachelorette, Sam Frost. (Post continues.)

The Daily Telegraph reports Monk met with the executives on Thursday to pitch herself as the star of the upcoming third season.
The 37-year-old, who has not responded to the claim, is understood to have called the meeting.
One thing is for sure though - if Sophie Monk's Hard Chat interview is anything to go by, she'd make a very entertaining Bachelorette.
Would you watch Sophie Monk as the Bachelorette?