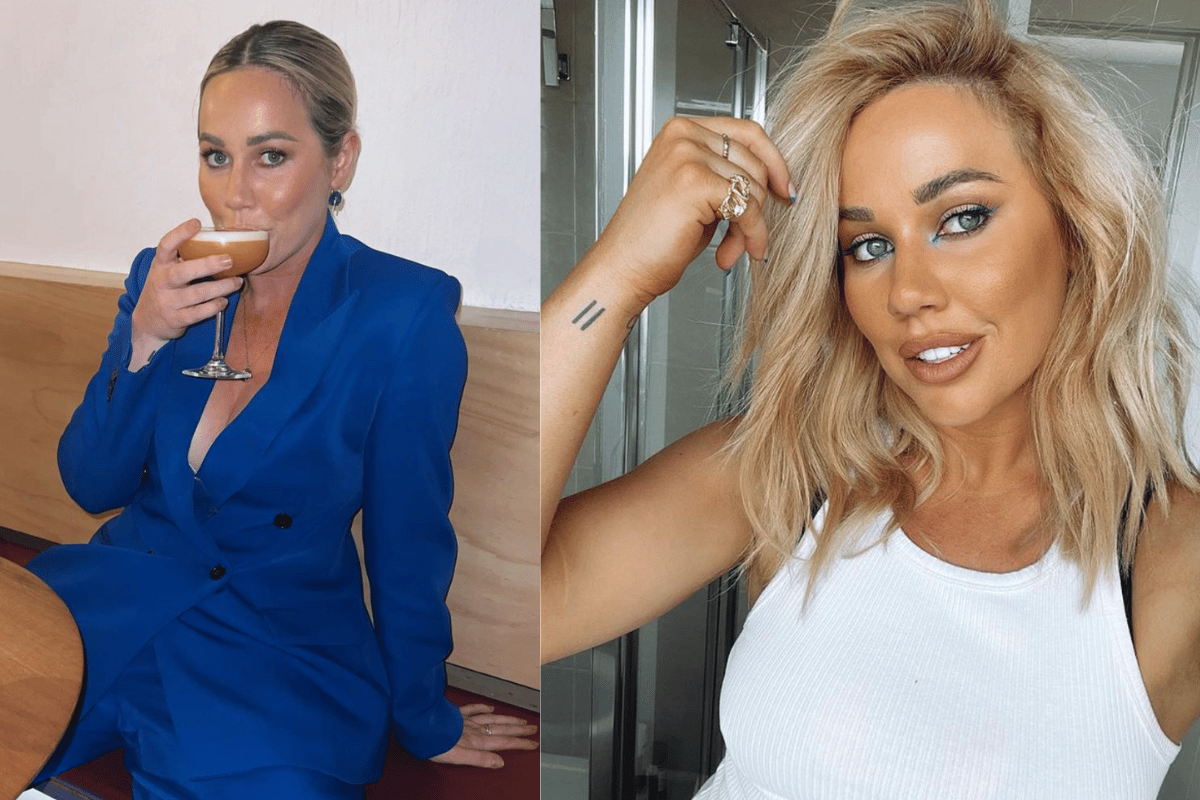 At 28 and married to AFL player Jaryd Cachia, Sophie Cachia first felt a serious attraction to another woman.
"The electricity I felt up my arm when this woman and I shook hands," she tells Mia Freedman on Mamamia's No Filter podcast. 
"I vividly remember how strong her handshake was, and I thought, oh, it's like a man's handshake. And then, I saw her fingers. And I saw her arms and veins… and biceps… and I just followed her arm all the way up to her eyes, where I believe I just froze and went… Hello."
It was the moment Sophie says she "instantly" knew she wanted to be with a woman. A few months later, Sophie and the woman kissed. 
"Something set fire in me. A kiss with a woman that happened so naturally. So passionate. It was hot. It got things going in my body that I never thought a kiss with a woman [would elicit]. And there was a connection," she recalls. 
After separating from Jaryd in 2019, Sophie began dating women for the first time and started to explore her sexuality. 
But having sex with a woman for the first time was a learning curve to say the least.
Listen to Mia Freedman's full interview with Sophie Cachia on No Filter. Post continues after audio.
Sophie was initially concerned about how another woman would perceive her naked body. But unlike her sexual experiences with men, Sophie actually felt more comfortable with her female partners.
"The first woman I was ever with, I was thinking 'Oh my god, I'm a mum, I'm broken, I've got saggy this and whatever, she's all fit and toned'. But it's really funny, as all these women taught me that every vagina is beautiful."
Read more: 'Everything went blurry.' Sophie Cachia on the moment she was first attracted to a woman.
One of the first women she had sex with was the same woman who sent electricity up Sophie's arm - the first woman Sophie had been romantically attracted to. 
And while at a cafe getting to know one another, their conversation turned flirty. It led to Sophie asking the woman - "how actually do two women have sex?"
"She reached over to my very long, pink, glittery acrylic nails and said to me 'well first of all you're going to have to get rid of these'. I felt so hot and I got fanny flutters, I was sweating and I believe I went home that afternoon and cut off my long pink nails," she says on No Filter.