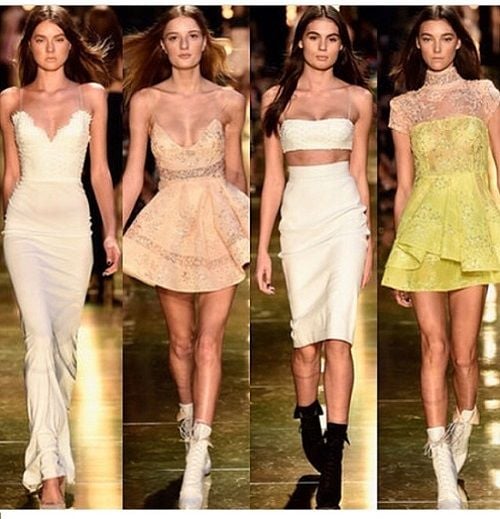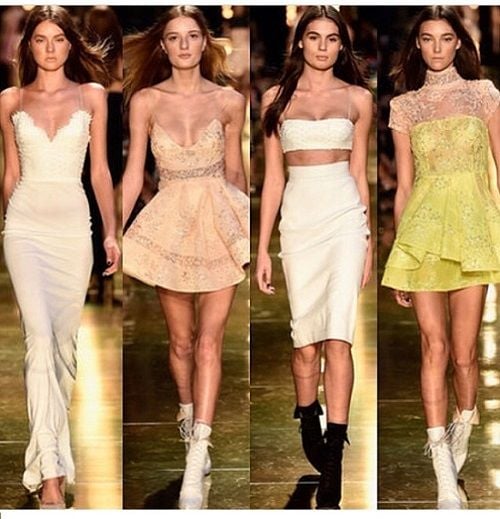 Fashion week is a time to celebrate Australian fashion, not worry about the emaciated women modelling it. It's about midi skirts, midriff tops, sequins and head-to-toe white. It's a big party to boost our beleaguered fashion industry and celebrate the men and women who decide what we'll be wearing next season – not the well-being of the walking coat-hangers who wear the clothes.
That's what some of the most influential people in fashion would like you to know. That textiles are more important than people.
While we've been talking about the emaciated model Alex Perry booked to walk in his show – 21-year-old Cassi Van Den Dungen – and the frighteningly brittle models employed to walk this week's shows, magazine editors and fashion writers would really prefer us to talk about how fabulous Aussie clothes are.
Kellie Hush, editor of Harper's Bazaar Australia, has tweeted how disappointed she is that we in the media keep fixating on body image not couture:
This week Australia's finest design talent are on show & all the media can focus on is the skinny model debate. #supportaustralianfashion
— Kellie Hush (@KellieHush) April 9, 2014
Skinny model debate day 2. @dailytelegraph wouldn't it be great to support the Australian fashion industry not re-hash same story every year

— Kellie Hush (@KellieHush) April 7, 2014
Alexandra Carlton, editor of SHOP magazine, is perturbed that we dare choose Fashion Week as a time to discuss anything but beautiful clothes. She told the Australian Women's Weekly:
"Maybe we just think our clothes aren't interesting enough to talk about on their own and, if that's the case, that's really sad because we do produce some really, really exciting stuff in this country. It'd be nice to see other magazines treat different body sizes with a similar relaxed attitude – and until they do, it's probably not helpful to be whipping up publicity storms at Fashion Week that detract from the beautiful clothes being made in this country."
So it's the media's fault that emaciated models' bodies take our breath away at major fashion shows. Oh, and the ordinary women (AKA customers) who peskily insist that they want to see clothes on healthy bodies, not deathly ill ones.
But wait, there's one more thing to blame here. The lights. Model Cassi Van Den Dungen's agent, Helena Vitolins, told TheFix: "I personally think the fashion stylists should dress the girls more appropriately, the dress was wrong for her figure. And above, lighting made everything look exaggerated."
Yep, spotlights are responsible for the problem here.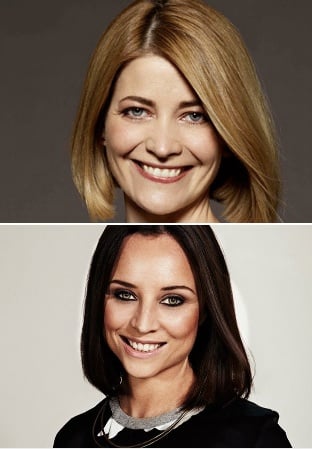 Seriously. These women speak as though this 'skinny model debate' is a conspiracy to sabotage Australian fashion. Like we criticise innocent designers who employ starving women to sell their wares just for the fun of it. Like we enjoy talking about deadly eating disorders and the crushing standards of a fashion industry high on its own importance.
When actually, there's a very simple solution to the problem. To end this tiresome 'skinny model debate' and get us all talking about fashion, all you have to do is stop giving us skinny models to talk about.
Once emaciated women are banned from catwalks, we will stop talking about them. Once designers stop choosing them, agencies stop booking them, editors stop shooting them, and all those people take their duty of care to young women seriously, then we will stop talking about them.
We'd love nothing more than to join you ladies and talk about sequins and hem lengths next fashion week. We'd be thrilled if Mini Skirts vs Midi Skirts was the debate we prioritised. We'd adore it, if sequins were the most important thing about Fashion Week.
It's so simple. Stop employing skinny models and we will stop talking about them. Until then? Absolutely f*cking not.
Follow @kateileaver