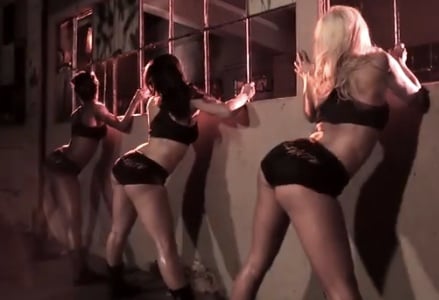 Friends, I have some sexy news for your Friday morning.
There's a new fitness trend coming our way. It's called "Sexercise", and it's claiming to be "The Hottest Workout Ever!".
I know, I know. Sexercise is a concept that has been around since humans first decided to roll around underneath some sheets together. Everyone knows that when clothes are removed and things get, um, heated, that there is a certain amount of exercise involved. Especially if you throw some Kama Sutra moves in there.
But some clever personal trainer decided to copyright the name, and invent a workout to go with it. Because normal exercise kind of sucks sometimes, but if you combine exercise with sex, everything becomes instantly more interesting.
32-year-old Jason Rosell is the man behind the brainwave. He's a New York celebrity personal trainer that trains the likes of Snooki and Drew Carey. He came up with the 32-minute workout, which combines a whole lot of cardio-based exercises, such as squats and lunges.