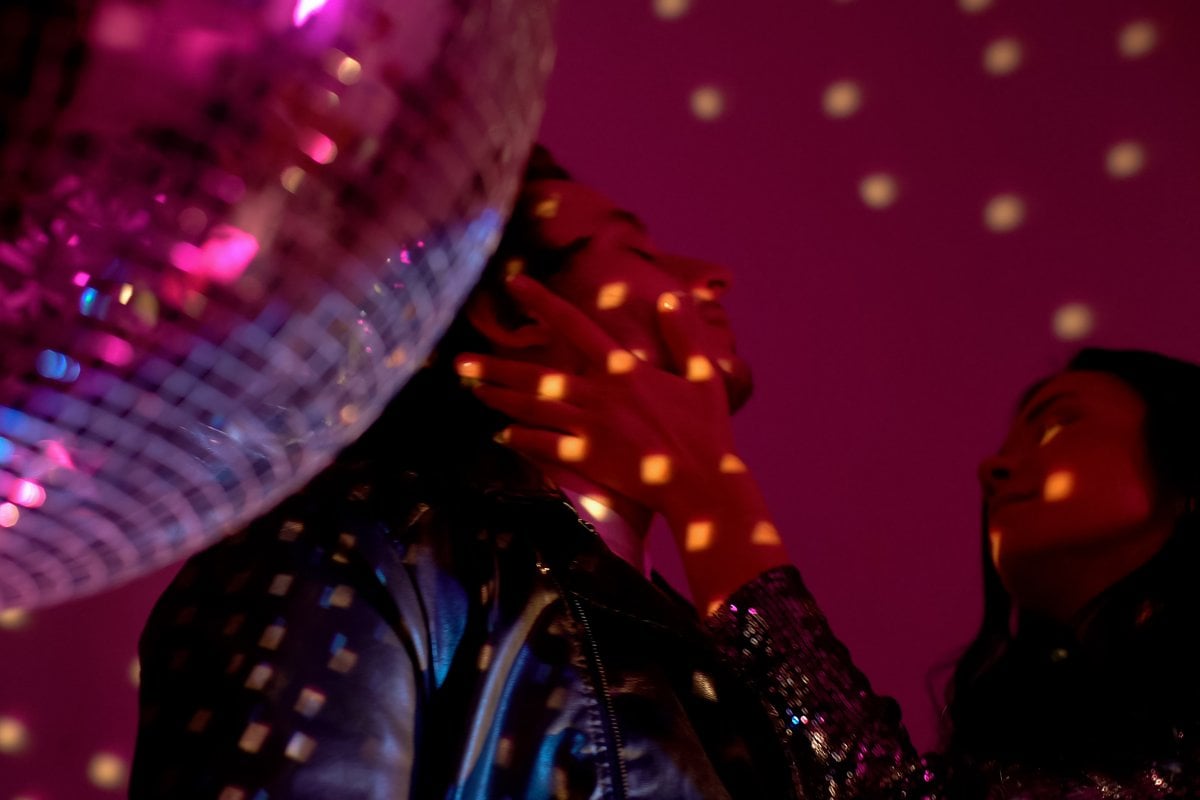 I lay back against the dark wooden bench that ran along the length of the room. Discarded glasses and forgotten about purses littered the seating area, while their owners were preoccupied around me. Engrossed in each other. 
My bare skin tingled in excitement, as I stared up at the ceiling. A hypnotic mix of colours and shapes lit up the roof, as the party raged on below.
The sound of the DJ's techno beat echoed in my ears, but my mind was clear.
I'd wanted this for so long, and now all my dreams were coming true. 
I glanced down as his glided the condom over his skin, before letting the wrapper flutter to the floor, alongside its neighbours.
Watch: How are women having sex? The juiciest results from the Mamamia Sex Survey. Post continues after video.
Dressed in a half-gladiator half-dominatrix costume, with a ripped torso and arms to match, he grabbed my waist and pulled me closer to him.
With my thighs wrapped around him, he dug his fingers into my skin and I waited.
A second passed. 
My limbs shook in anticipation. 
I was so wet. Wet with the desire of a decade's worth of fantasies. And I needed him now. 
Suddenly, on the edge of the crowded dancefloor, he drove himself inside me. 
Again and again as I cried out in ecstasy over the music, losing myself in the moment but drawing the spectators in.
As the stranger lifted my hips to push himself in deeper, their smiling faces filled my periphery. 
At a respectful distance, they stood as if in a gallery, enjoying the work and appreciating the art. 
Knowing I was arousing them, spurred me on. 
The rush. The adrenaline. The utter exhilaration of f**king in public was like nothing I'd ever experienced. 
I was the leading lady, but it was so much more than a performance for them.
It sent me over the edge. 
Spiraling into a climax, I arched my back against the bench and threw my head upwards, completely letting go while those around me watched. Savouring the moment.
Listen to this episode of Sealed Section, all about how to explore your kinks. Post continues after podcast.
Visiting a sex club had been on my bucket list for as long as I could remember.
To me, it seemed like the ultimate culmination of sins.
It was having sex in the most public of spaces. Being a voyeur to the naughtiest of acts. Experimenting with men, women and group scenarios. And being free to embrace all types, versions and categories of sexuality. 
And with that, my two best friends, and I ended up at our first event.
London's Torture Garden is renowned as the world's largest monthly fetish club for "those seeking an experience far beyond the norm". 
Its website invites attendees to transform into their most extravagant and extreme version of themselves. It states that this is to ensure they leave behind the real world and forget the mundane, as they cross the threshold and lose themselves in an immersive underworld of playrooms, dungeons and erotic encounters.
Torture Garden's annual Halloween Ball promised to be the biggest night of the year, with a strict and non-negotiable dress code to match. 
It required full head-to-toe effort that pushed the boundaries.  
As someone who never does anything by half – and loves nothing more than a costume party – I dressed to the extreme. 
Which is how I found myself travelling across London one Saturday night in nothing but three thin metal chains that stretched from a leather collar around my neck, down between my breasts, to circle my waist. 
I had finished the look with silver studded nipple covers, a black silk suspender belt with stockings and stilettos, and my favourite new accessory; black leather wrist cuffs that locked together with a chain. 
Hidden under my warm winter coat, I was on edge as we sped through the city in an Uber, sipping gin and tonics out of a can. But as we entered the club – a former cinema from the 1920s – every last nerve fell away as we shed our overbearing jackets. 
To my right, in a sexy as hell warrior costume with a black bralette and latex skirt, Chloe muttered under her breath. 
"Suddenly I feel very overdressed."
Everywhere we looked, the club bustled with bodies, in every corner, on every surface; embellished in every fetish material imaginable. 
Latex, leather, lace and fishnets. 
PVC, rope and rubber.
While some exposed every part of themselves, others left everything to the imagination. 
It was daring. It was sensual. It was extreme. 
Drag queens tottered in heels and corsets, while women led men around on leashes, and gimps walked through in full body suits. 
The effort was extraordinary. It was like walking onto a movie set. Or down the rabbit hole. And nothing was as it seemed. 
Listen to this episode of Sealed Section, all about unpacking Sex/Life. Post continues after podcast.
As we climbed the staircase, higher and higher, we passed half-naked groups piled on couches, others caught in hallways. 
There was a familiarity about this social scene, as if everyone knew each other. A community of old friends catching up. By the time we walked through the first bar, it was beginning to feel like any other nightclub – minus the full fetish get ups. 
We'd arrived just before midnight and so far, things felt fairly tame. I hadn't yet seen a single sex act. 
And then we entered the playroom.
Spread out before us, was an arena like no other. 
A dungeon of bondage equipment, from whipping benches to floggers, where men and women took turns unleashing their deepest desires, guided by TG professionals. 
Behind a velvet rope that separated spectators from the stage, the crowd looked on; sipping drinks and mingling among themselves, as the sound of slapping rang out across the room. It was like watching a sports game, where anyone could participate.
It was here that my friend Freya was invited to play by a very cute Australian boy. 
With her back to us, she held on to a wooden cross in the middle of the arena, while he dropped to his knees and began to explore her with his tongue. 
Chloe and I laughed to ourselves, as we turned away to survey the room. Everywhere you looked, there was something else to look at it. To take in. And enjoy. 
The hours were slipping by along with any internal restraints, and here and there, real action was starting to take place - particularly in the lounge. 
Sofas filled the dimly lit room that overlooked the dancefloor and boasted more people than there was room for. It was a battle for space as couples shared couches, and groups overflowed. 
On one sofa end, a lingerie-clad woman was face down in a man's crotch; at the other, a lady rode her partner, yelling for more. 
We were standing to the side, watching it all, when a very pretty brunette approached us from behind.
Apologising for interrupting, she went on to ask, ever so politely, if Chloe would like to make out with her boyfriend.
Taking a big swig of her drink, Chloe replied with a smile, "where is he?" 
And then she was gone. ....All the way back to the couple's hotel room for a night of debauchery and seduction. 
Thrilled that my friends were having their fun, I made my way back downstairs, hungry for my own adventure. 
I was waiting to order a drink at the bar, when the half-gladiator half-dominatrix turned to ask me how my night was. 
We were barely a few words in before his mouth was on mine. Finally, I thought, matching his intensity move for move, stroke for stroke. 
Within seconds, his fingers were inside me. While we stood at a bar, in a crowded nightclub. 
It felt utterly surreal yet the biggest refreshment. 
There was no pretense. No fluffing about with small talk and exchanging conversation. No judgment. 
Just two people with the most animalist of urges. 
He led me to the dancefloor, and I went with him eagerly to lose my sex club virginity. 
It was an entirely other world. 
An alternate reality. 
And I was hooked. 
Feature Image: Getty.
Want to win $50? Take our survey now!

Sign up to Sex Diaries.
The sex stories everyone wants to read.
Tags: