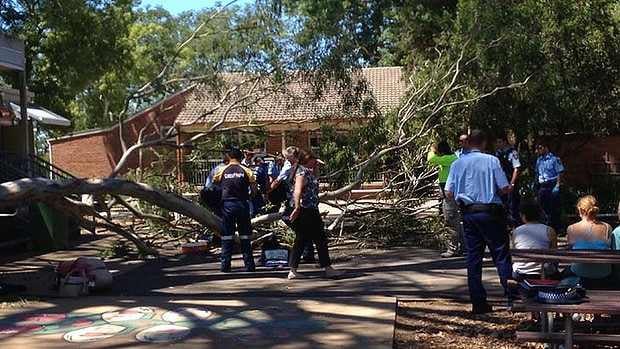 Your speedy update to all the day's stories: Friday, February 21, 2014.
Breaking news: Girl killed, others injured by falling tree at Sydney school
An eight-year-old girl has died after a large gum tree branch fell into the playground at a primary school in Sydney's north-west. The branch fell at around 1pm, during the busy lunchbreak at Pitt Town Public School in Pitt Town, hitting three other young students and a man, who have all been taken to Westmead Hospital. A boy is thought to have suffered a fractured arm and a man in his 50s is in a critical condition with severe head injuries.
Ray Hadley's wife launches AVO against him and their son
Veteran radio broadcaster Ray Hadley and his son Daniel are both facing apprehended violence applications, lodged by his wife Suzanne Hadley. Second wife to the 2GB breakfast host, Suzanne lodged the AVOs with domestic violence allegations against him and his 24-year-old police officer son at a Kuring-Gai police station recently. Hadley failed to turn up to work this morning, with an email being sent to 2GB staff saying 'Ray is unwell. Luke Grant will host mornings.' The Hadley's have been married for almost twenty years, despite a short separation in 2011. Ray and Daniel will appear in Hornsby Local Court on March 4.
Luke Batty farewelled: 'our diamond in the sky'
Hundreds of people have turned out today to mourn the loss and celebrate the life of 11-year-old Luke Batty on the
Mornington Peninsula. Family and friends gathered inside the small Flinders Christian Community College chapel and gymnasium, dressed in black with a touch of yellow, Luke's favourite colour. His mother, Rosie Batty, read a psalm from the bible beside his bright yellow coffin and grandmother Josephine described Luke's love of outer space, describing her grandson as a 'diamond in the sky.' Bruce Springsteen's Twist and Shout played as guests formed a guard of honour and Luke's coffin was carried away.