Overnight, Saudi Arabia's national football (soccer) team faced off against our Socceroos in a qualifying match for the Russia 2018 FIFA World Cup.
The match was played at the Adelaide Oval here in Australia. And while the 11-man Socceroos team, their coaching staff, match officials, and shivering spectators bowed their heads and linked their freezing arms in a touching observation of a minute's silence for the two Australian victims of the recent terror attacks in London, the Saudi Arabian team refused to take part.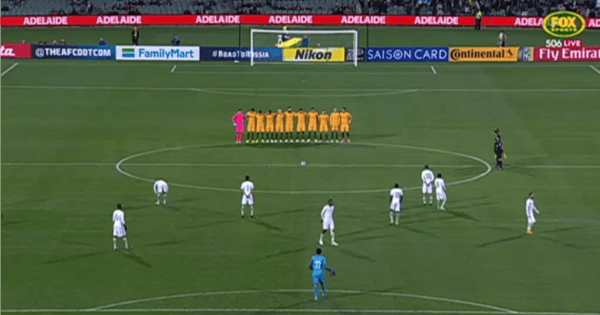 As the rest of the stadium honoured the collective silence, they began warming up for the match.
Our nation paused in reflection; we showed vulnerability and took a moment to step back and acknowledge two women whose lives were cut short by tragedy. The Saudi Arabians crinkled their faces, stretched a little and turned their backs.
A minute's silence before a sporting match is common-place in lower-level sporting matches. As a football referee myself, many Sunday matches are preceded by a minute of silence in memory of the father, the aunt, the grandmother of one of the players. It's intimate. For that minute, rivalries are suspended. Anger is dropped. Religion is cast away as Muslims, Greeks, Jews and Aussies from either team stand arm-in-arm in recognition of a life lost too soon. Any life, lost too soon. A life many at the sporting ground do not know and have never even met.
That's at a junior level.
On an international scale? A minute's silence is far less commonplace.
It's rare. And it's spine-tinglingly powerful.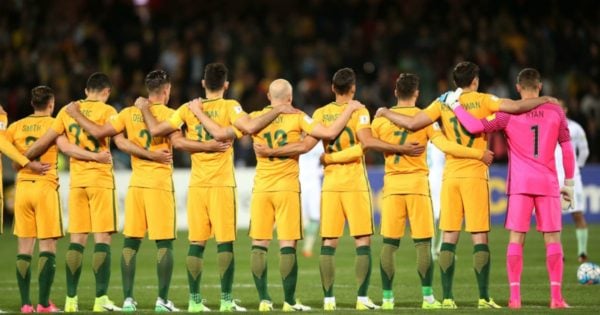 It's a silence that transcends political statement; a silence that transcends space, and time, and skin colour; it's a silence that involves not only the players, but the tens of thousands of people watching on from their seats in the stadium, and the millions more watching through their TV screens at home.
Whether you're standing on the field; cheering from the stands; or watching from your couch. You reflect.
Whether the individual, or individuals being remembered are family, friends, or strangers, you reflect.
Whether you're silence is genuine, or a mere acknowledgement that the opposition have lost someone important to them, you reflect.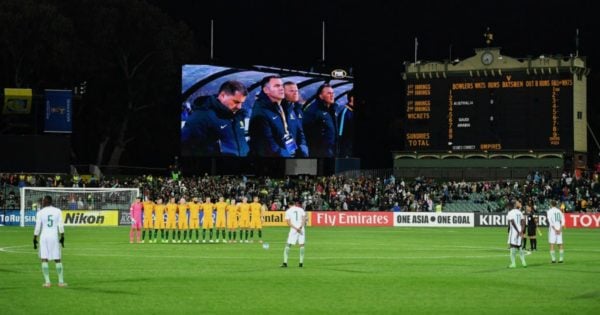 The 'away' team in any sporting match is the team who do not own the ground at which the match is being played. They're the travellers; the visitors; the underdogs.
In this case, they're the Saudi Arabians.
The way sporting matches work is that the 'home' team do the hard work. They're the hosts: they provide the balls; mark the field; set the goals; clean the change rooms.
The visiting side? They're job is sort of just to turn up.
They're guests. If the 'home' team jumps, they jump. If the 'home' team pauses, they pause.
It only follows that if the 'home' team acknowledge one of their own in a minute's silence, they do the same.
It's not about politics. It's about loss of life.
It's not about how that life was lost. It's not about religious extremism or culprit-blaming. It's about respecting fellow human beings, an unspoken notion that lends civility to every sporting match. It's about the fact that someone's gone. And they're not coming back.
Listen as Holly Wainwright, Mia Freedman and Jessie Stephens discuss the aftermath and emotional fallout of the London Bridge terror attacks on Mamamia Out Loud. Post continues after audio.
"When you are in another nation, you respect the issues that are important to them," Australia's Deputy Prime Minister Barnaby Joyce said this morning.
"There's no excuse here... This isn't about culture. This is about a lack of respect..." - Labour frontbencher Anthony Albanese.
For once, I believe, our politicians have it absolutely right.
When our Socceroos travel to Muslim countries, they observe Halal within the stadium. That's respect.
When you take your child to a sporting match on a Saturday they shake hands with the opposition team before they play. That's respect.
When a member of the opposition team - or the opposition team as a whole - has someone special who's passed away, you bow your head. You acknowledge them. That's respect.
Respect is the foundation on which sport is built. Every rivalry. Every tackle. Every shot. Respect is the undercurrent linking every pass, every injury, every victory. Every loss.
When we think of sport, we think of physical skills. We think of balls and grit and bodily mechanics. But without respect, sport is nothing.
If seven year olds on netball courts and nine year olds on soccer fields understand there are minutes where you need to stop, bow your head and show respect, then why can't an international team of grown men?
It is that lack of respect that brought last night's match into disrepute.
And made our 3-2 victory just a little bit hollow.
You can follow Luca Lavigne on Facebook for more, here. 
Do you agree? Did the Saudi Arabian Football Team do the wrong thing, or were they within their right to snub the minute's silence? Let us know in the comments below.