Overnight, Saudi Arabia's national football (soccer) team faced off against our Socceroos in a qualifying match for the Russia 2018 FIFA World Cup.
The match was played at the Adelaide Oval here in Australia. And while the 11-man Socceroos team, their coaching staff, match officials, and shivering spectators bowed their heads and linked their freezing arms in a touching observation of a minute's silence for the two Australian victims of the recent terror attacks in London, the Saudi Arabian team refused to take part.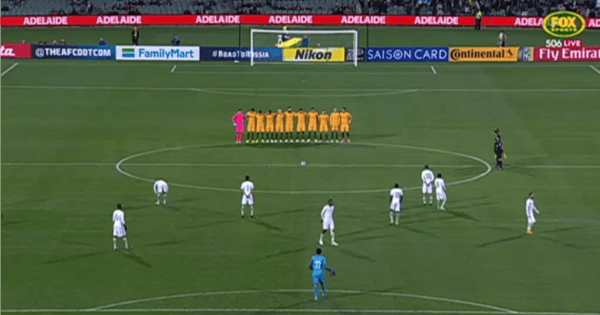 As the rest of the stadium honoured the collective silence, they began warming up for the match.
Our nation paused in reflection; we showed vulnerability and took a moment to step back and acknowledge two women whose lives were cut short by tragedy. The Saudi Arabians crinkled their faces, stretched a little and turned their backs.
A minute's silence before a sporting match is common-place in lower-level sporting matches. As a football referee myself, many Sunday matches are preceded by a minute of silence in memory of the father, the aunt, the grandmother of one of the players. It's intimate. For that minute, rivalries are suspended. Anger is dropped. Religion is cast away as Muslims, Greeks, Jews and Aussies from either team stand arm-in-arm in recognition of a life lost too soon. Any life, lost too soon. A life many at the sporting ground do not know and have never even met.
That's at a junior level.
On an international scale? A minute's silence is far less commonplace.
It's rare. And it's spine-tinglingly powerful.