Warning: This article contains information about suicide, which may be distressing for some readers.
Samuel Johnson's older sister Connie was just 11 years old when she was first diagnosed with cancer.
And the moment the family found out the news is an afternoon the Gold Logie award winner will never forget.
Speaking to comedian Anh Do on Wednesday night's episode of Anh Do's Brush With Fame, the 38-year-old revealed he can hardly remember his life before his sister was sick.
"I'll never forget the moment, the afternoon, when I found out," he told Anh Do as his portrait was being painted.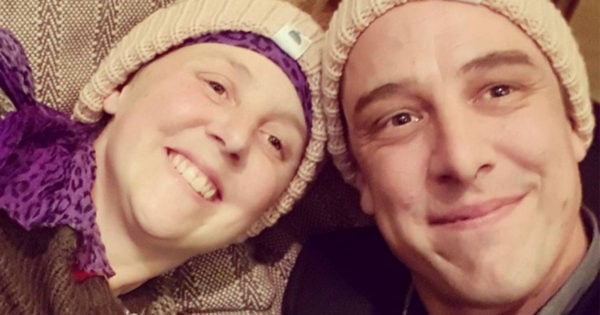 "I was waiting for my tennis lesson out on the front yard...and dad didn't turn up. It was very unlike dad to not be there if he said he was going to be there.
"It was my favourite part of the week and he wasn't there. He didn't turn up."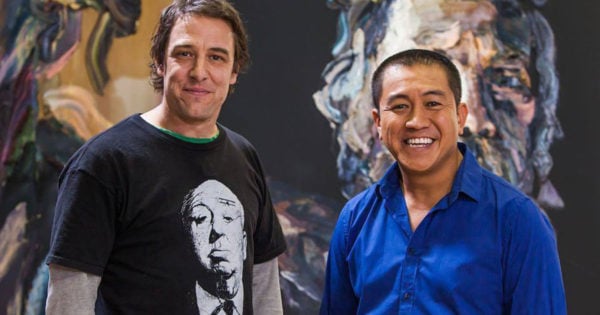 When Johnson saw his father's car pull into the driveway, he instantly knew something wasn't right.
"I looked through the window, and my sister was in the front seat [curled up].
"Then I looked over at my dad and dad was just white, he was just white.
"I thought, 'S***, something's gone wrong here'. I remember it so clear, so clear."
LISTEN: How Samuel Johnson lives with so much sadness and spends his time being there for others dealing with cancer.
Johnson's father then left Connie in the car and walked inside - completely ignoring Johnson on the way through.
When Johnson followed him inside, he found his dad curled up on the couch.
"He was...in the foetal position, just sobbing. Just weeping, just bawling," Johnson said.
Connie would go on to beat that bout of cancer, but now, at age 40, she's endured over 10 years of active cancer treatments for three different cancers.
In April, she made the heartbreaking decision to stop all her treatments, and is focused on spending her final weeks having quality time with her two young sons.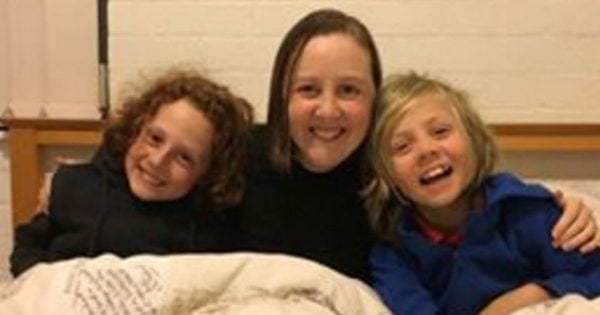 The actor's candid confession about the moment his family's life changed forever was just one of many shocking moments during his interview with Do.
He also opened up about the death of his mother, who took her own life when Johnson was just three years old.
"I was too young to really gauge the effects of it, but she had all kinds of psychosis, she was in and out of institutions," he said.
"She tried over and over again...countless times. By the time she eventually succeeded, I'm told there was a bit of relief, for her.
"According to my older sister, it was probably best that I didn't grow up with her."
Then, in 2006, Johnson's girlfriend - "the love of my life" - Lainie Woodlands also died by suicide.
It's a tragedy he said he feels "much more profoundly" than the loss of his mum.
"It's probably my life's biggest sadness," he said.
"You know how they reckon that you come to terms with your grief as you go along? Not with this one. With every year, it gets more profound, my sadness grows. "
Do then appeared to struggle with the depth of Johnson's tragedies.
"Sam — so you've lost your mum, your girlfriend, and now your sister is gravely ill — do you ever think ... how unfair is life?"
But despite a life marred by loss and grief, the actor refuses to see himself - or other members of his family - as a victim.
"You don't always get as much as you want of everything, you don't get as much of your loved ones as you want," he said.
"But you get them, don't you?"
If you or someone you know needs help you can call Lifeline on 131 114 or Beyondblue 1300 224 636.