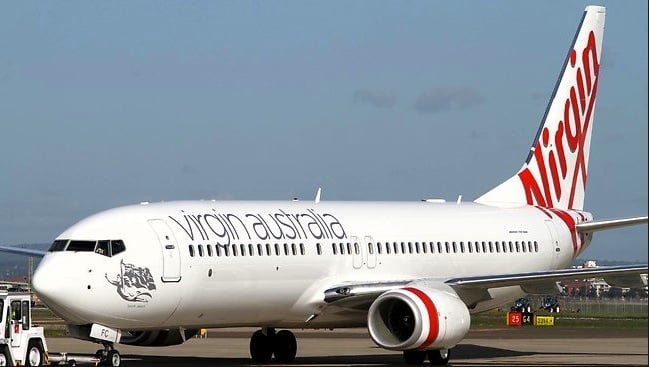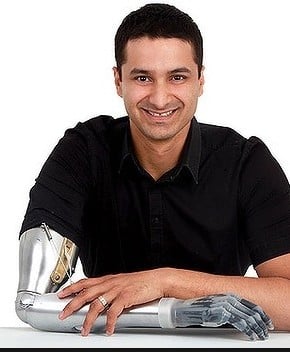 A passenger with a disability aboard a Virgin Australia flight has been forced to stand for three hours next to the toilet on an overnight journey from Perth to Brisbane.
The man who describes himself as a loyal Virgin Australia passenger and a frequent flier says he was stunned by the treatment.
Sam Cawthorn is used to adversity.
When he was involved in a major car accident in 2006, he was pronounced dead at the scene.
He was resuscitated but was left with an amputated right arm and a permanent disability in his right leg.
His fused leg means that he simply cannot fit into any old seat on an aircraft.
The former Young Australian of the Year for Tasmania is also tall – at 190 centimetres he usually upgrades to business class when he travels but on this particular flight last Friday it was too late.
He told News Limited that when he boarded the flight and sat down, he realised that the seat wouldn't work.
So he asked to be moved.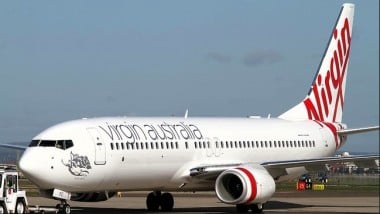 His new seat was located amidst a row of three empty seats but his leg, which doesn't bend, was left stuck out into the aisle. He was repeatedly hit by the attendant's trolley.
News Limited reports that he asked for another solution.
But despite seeing numerous suitable options, both in economy and business class, Mr Cawthorn claims the cabin supervisor refused to accommodate him due to "airline policy".

He even offered to pay for an upgrade but was denied. So Mr Cawthorn had no choice but to stand for three hours near the lavatory, which made his leg and back very sore.
He told the newspaper, "Having spoken in 12 countries regarding resilience, I'm shocked as to why one of Australia's best airlines would possibly put any of their passengers in a position where there was no choice but to stand for the duration of time between take off and landing. There were many other suitable seats to which the cabin supervisor did not permit a seat change."
But it seems like we hear stories like this all too often.
In 2009, Paralympian Kurt Fearnley was forced to crawl through an airport terminal after Jetstar staff refused to allow him to use his own wheelchair.
Fearnley, who famously crawled the Kokoka Track, was told by boarding crew that his wheelchair was not suitable and he needed to switch to a less-mobile wheelchair.
"I said there is not a chance that I am going to sit there and be pushed through an airport," he told The Daily Telegraph at the time.
"An able-bodied equivalent, a normal person's equivalent would be having your legs tied together, your pants pulled down and be carried or pushed through an airport."
"I made a choice and that was to make my own way to the gate," Fearnley said. "I jumped on to my brother's shoulder then I crawled."
Jetstar apologized and have since reviewed their wheelchair policies.
Just last year, a 21-year-old woman with cerebral palsy was pulled from a Jetstar flight because the cabin crew believed she could not understand instructions.
Ashley Papworth uses a wheelchair and hearing aid and was pulled from the flight after cabin crew said she didn't understand them.
Disability Discrimination Commissioner Graeme Innes told The Daily Telegraph that he was not surprised by the incident.
Mr Innes said people with disabilities were regularly discriminated against by airlines but he said the problem was particularly bad with low-cost and budget carriers.
For Sam Cawthorn, the incident is all too fresh.
He says he isn't bitter but he just wants to make sure it never happens to anyone else.
Virgin have since put out this statement:
"Virgin Australia sincerely apologises for any discomfort experienced by Mr Cawthorn on his recent flight. We take the comfort and safety of all guests very seriously and we ask guests that require special assistance to provide the information when booking to enable us to accommodate these requests. Unfortunately, this information was not provided in advance and therefore, while our crew endeavoured to assist Mr Cawthorn within safety policies and procedures, we were unable to meet his requests on this occasion. All guest feedback is important to us and we are committed to providing a safe and enjoyable travel experience."