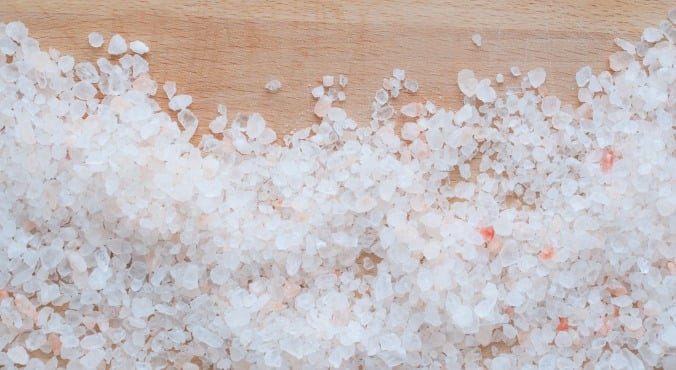 Image via iStock
I've been hearing a lot about salt therapy lately. Footballers, performers, kids with eczema, asthma-sufferers – my social media kept throwing me images of people having life-changing results from sitting in a salty room.
And Megan Gale did it. If it's good enough for Megan and her newborn baby, it's good enough for me. So I decided to give it a whirl.
RELATED:Why Megan Gale believes in salt therapy
As soon as you walk into the Salts Of the Earth centre, two things are apparent. One is salt. Everywhere. The air is salty, the walls look salty, salty salty salt salt. The other is relaxation. Soft music, low lighting – everything about this place feels like a treat.
As usual, I'm immediately skeptical. Salt? Surely I could just pour some table salt into my air conditioner and save a few bucks?
A lovely lady greets me. Her skin is so clear, she may actually be a smooth grain of salt. I fill in a quick form (it's laminated and reusable, environmental hurrah!) asking if I have any respiratory, skin, sinus or contagious (gah!!) conditions.
RELATED: The very unexpected health benefit of eating salt
I am slightly asthmatic and prone to bronchitis (admit it, you were DYING to know that about me) and I am also an actor, so breathing = good. Lovely Lady explains to me exactly how the treatment can help my situation, and what I might feel in the session. Potentially, I may get a runny nose and cough up some phlegm that gets broken down by the salts.
Note to self: Do not do salt therapy before a date.
I am told about the difference between the salt therapy salt, and table salt. Apparently, my air conditioner idea won't work. This salt is special, with no bleach or anti-caking agents (don't know what that is, but I am definitely pro-cake, so it can't be good), plus 84 good minerals and stuff. A little more complex than the rocks in my salt grinder.
I get little blue booties to put over my feet (because the salt cave ground is covered in more salt) and a blue cap for my hair (so that I can look extra stylish) and get lead into the salt cave.