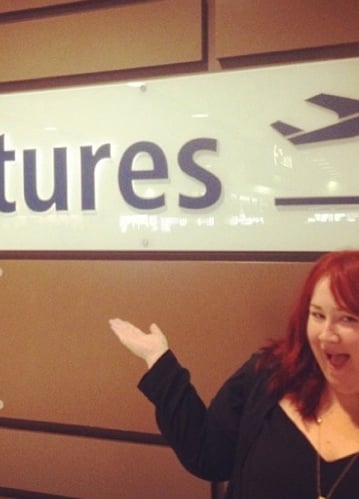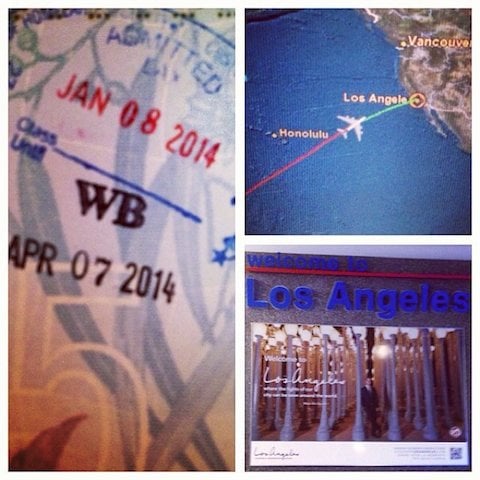 The first thing I noticed when I landed in LA was how similar it felt to Sydney. I've actually never travelled overseas before (except for a very brief period living in Hawaii when I was little – and all I remember about that is… nothing), so I can't really say what I was expecting.
I know that I'd already felt like the plane ride was the best part of my trip. I've only ever been to Perth, so the novelty of being on a fancy Qantas plane for 16 hours was like an attraction for me already. You basically get to sit in comfy chair, someone brings you free food and alcohol, and THERE IS AS MUCH TV AS YOU CAN WATCH. Seriously. There was all of Breaking Bad Season 5. I was in heaven. Qantas could've just flown me there and then flown me straight back and I would've thought it was an awesome holiday.
But, I was there for work. If you could call Qantas flying you to LA to go to some totally legit celeb parties 'work'. (If you haven't read about my red carpet adventures, you can do so here and here.)
And given it was my first time overseas at an age where my mum didn't have to hold me down to take my passport photo, I needed to cram in as much as I could.
Here are the (non-celeb, obviously) highlights from my trip to LA:
1. The Hotel
When we landed at LAX, myself and some other members of the press were taken to a CRAZY PLUSH hotel in Beverly Hills called Mr. C. Not only was it the nicest hotel room I've ever stayed in, it was probably just the nicest room I've ever stayed in, period. This place was NOICE.
The bed was like a freaking cloud and I had my own private balcony with a view of all of Los Angeles. I could see the Hollywood sign to my right and the entire city to my left. It was amazing.
2. Hollywood
Obviously, my first stop in LA had to be Hollywood. Still giggling that there was a 'Valet' who called me a cab and then put me in it, I struck up a really nice convo with my cabbie (from the Ukraine, trying to be an actor, missed mum) who gave me a bunch of tips on what I should do and see.
He took me right into the heart of Hollywood and told me not to take any CDs from people on the street. His advice made sense to me later when I counted at least ten randoms come up to me and tell me they were going to be the next big rapper/singer/producer/something and I should deifintiely get a photo and autographed demo from them – for $10. I refused, thanks to the sound advice I had received from my new Ukranian-American cabbie best friend, but I was still impressed with their balls.
There's something about the people in Hollywood; they're just all so optimistic. I mean, imagine the confidence it takes to ask someone for money for a CD on the basis that you are definitely going to be famous one day?
I checked out all the usual touristy things: the Walk of Fame, the foot and handprints and the Chinese Theatre, the Proactiv vending machine, the Dolby Theatre (where I'll graciously accept my Oscar one day), Sunset Boulevard… It's pretty surreal being in all the places you've only seen in movies growing up. Which brings me too…
3. The 'Movie Stuff'
I literally did not come into contact with any movie-making 'stuff' my whole time in LA. I wasn't really interested in going on a studio tour, so other than driving past the huge studio backlots, I could have easily not realised I was in the move-making capital of the world (leaving out, of course, the ridiculous and tacky Oscar-themed souvenirs I bought for EVERYBODY.)
4. The Room Service food
I was a little tipsy one night and it was quite late by the time I go back to my hotel room, so I ordered a cheeseburger from room service. IT BLEW MY MIND.
This is the Facebook status I left, because I felt like I needed to document the first moment in my life that I felt like royalty:
5. The Comedy Store
This was, far and away, my favourite thing I did in LA. The Comedy Store is pretty much one of the most famous stand-up venues in the world, and it's been one of my bucket-list dreams to go there ever since I can remember.
Telling my taxi driver to go to "the Comedy Store on Sunset please" was one of the best sentences that has ever come out of my mouth.
And I'm not exaggerating when I say this: It was one of the best nights of my life. I watched four straight hours of stand-up, by some comedians that I couldn't believe I was seeing in real-life. Then after the show, I went down to the bar and introduced myself to a couple of them and ended up having a really great night. Just, oh you know, hanging out and drinking beer WITH MY IDOLS.
It was one of the most surreal/awesome experiences of my life so far. (And I promised one great female comedian – after we spent a drunken hour talking slurring about really great female comedians – that I would mention her in my article and get her some Aussie fans. So follow @SarahTiana on Twitter and tell her I sent you!)
I don't even want to tell you what time I got home. It was late. And I was very intoxicated. So intoxicated actually, that I called not one, but TWO of my ex-boyfriends in the cab on the way home. But I promise it seemed perfectly logical at the time. Niether of them answered, thank Oprah and the heavens.
6. Tipping
I don't know if this one could be called a highlight, but it was definitely… weird.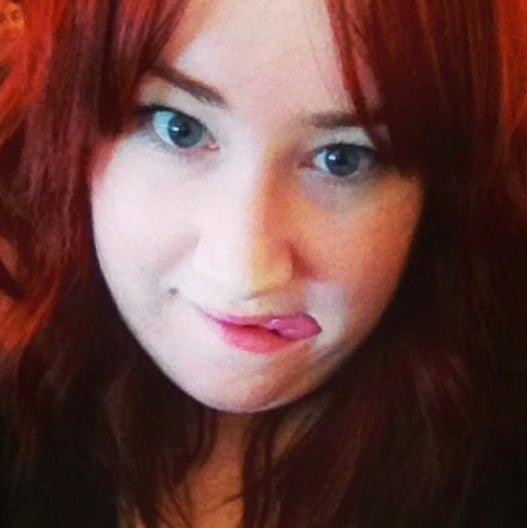 I'm going to be straight with you: I was one of those annoying tourists who could just not get my head around tipping. I just didn't get it. I didn't get how much to give, and I definitely didn't understand how to be smooth about giving it.
I kept forgetting tipping was a thing, then I would remember and get flustered, then I would feel bad about not giving enough, then I would ask what the right amount was (which everybody hated), then I would just give people whatever was in my wallet.
It was just all a big mess. In the end, I just started giving everybody five dollars for everything. Not the best system I'll admit, but I figured half the time people would be insanely happy because it was way too much, and that would make up for the other half of the time when I was totally stiffing people. Basically, when it came to tipping in LA: Nailed it.
So those were my highlights.
On my final day, the Golden Globes were on not far from my hotel, and as I was packing my stuff, I was watching the red carpet coverage on TV. The Good Year Blimp was outside my window, and the Hollywood sign was in the distance. It was all very LaLa land, and the perfect way to end my brief LA holiday.
I was almost sad to leave until I remembered: I had 16 straight hours of wine and unlimited TV ahead of me. Bliss.
And, oh alright, here's the gallery of all the celebs I hobnobbed with at some exclusive Qantas parties. I'm practically an A-Lister, you guys: