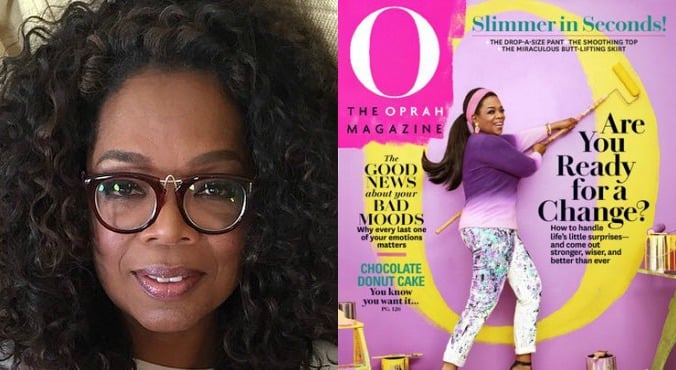 Image via Instagram (@oprah).
Given she's made a career out of inspiring and empowering women, you'd expect Oprah's publication, O Magazine, to do the same.
Which is exactly why Brooklyn-based writer Tamar Anitai was so shocked to come across this piece of advice in the pages of its April 2015 'selfie' issue.
RELATED: Kelly Clarkson is body shamed. Responds in the best way ever
"Surprised to see this level of #bodyshaming in Oprah Magazine. The feature is about women feeling healthy. Part of health is self-esteem and that's intrinsically connected to body image," she wrote, posting a screenshot of the advice on Instagram.
"Stop telling women what they CAN'T wear. We can wear and do and be ANYTHING that makes us feel strong, powerful, passionate and in charge of our own destinies," she continued.
"I hope young women and women of any age don't feel like they're restricted by editorially imposed fashion 'rules'. The only rules are there are no rules. Wear what you love, what makes you feel confident, and own it. Confidence is power, and it's contagious."
RELATED: #ProjectWomanKIND is all about body love, regardless of your shape or size.
Right. Bloody. On. Unsurprisingly, she's not the only one who is less than impressed.
In a post for her blog Style It, plus-size fashion blogger Sarah Conway expressed her disappointment at the magazine.
"I was shocked to see this kind of body shaming language from any magazine, much less one named after a woman who has had her weight scrutinised throughout her career," she wrote.
"Furthermore, I'd hoped in the era of the fatkini, plus size bloggers, and Instagram hashtags that we've moved beyond such a narrow-minded thinking. Flat stomachs are like thigh gaps - we're not all meant to have one. I know women who have worked out four hours a day, five days a week in pursuit of that dream only to be thwarted by genetics. But the good news is that crop tops can work for any woman," she says.
RELATED: "I can't stop laughing". Chrissy Teigan's response to body-shaming snark is all class.
To prove the point, she encouraged women to post pictures of themselves in their crop tops, quickly sparking the #RockTheCrop movement. (Post continues after gallery.)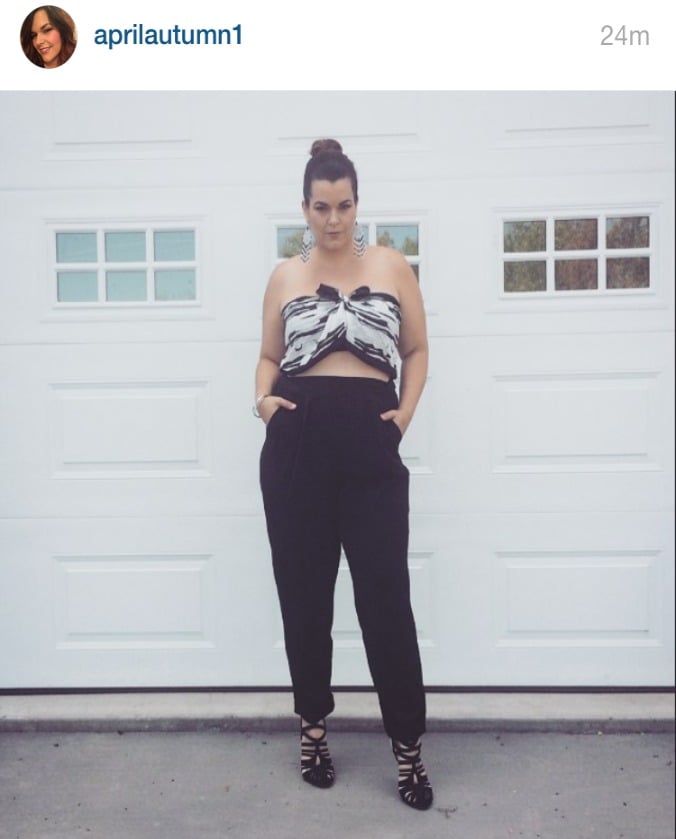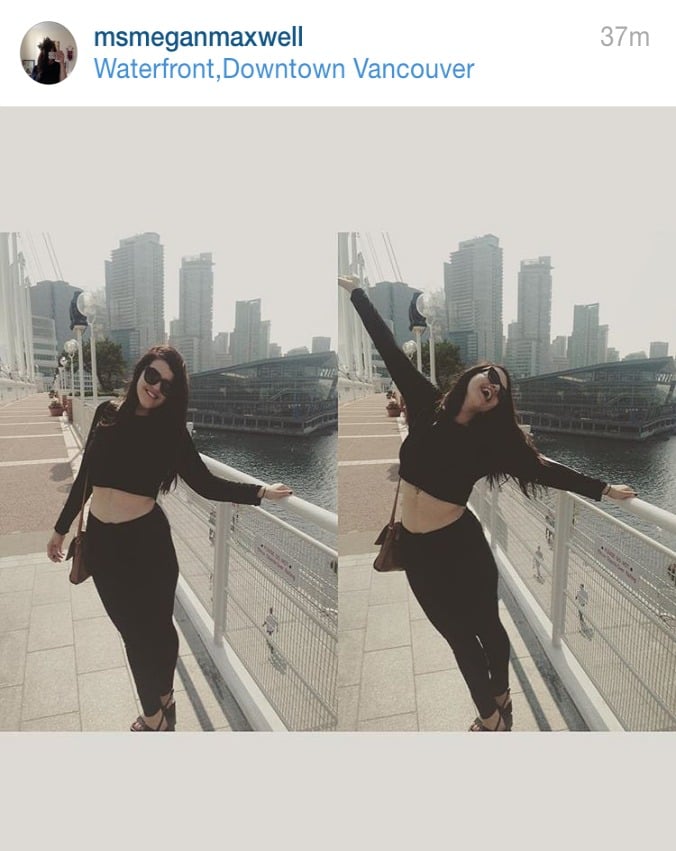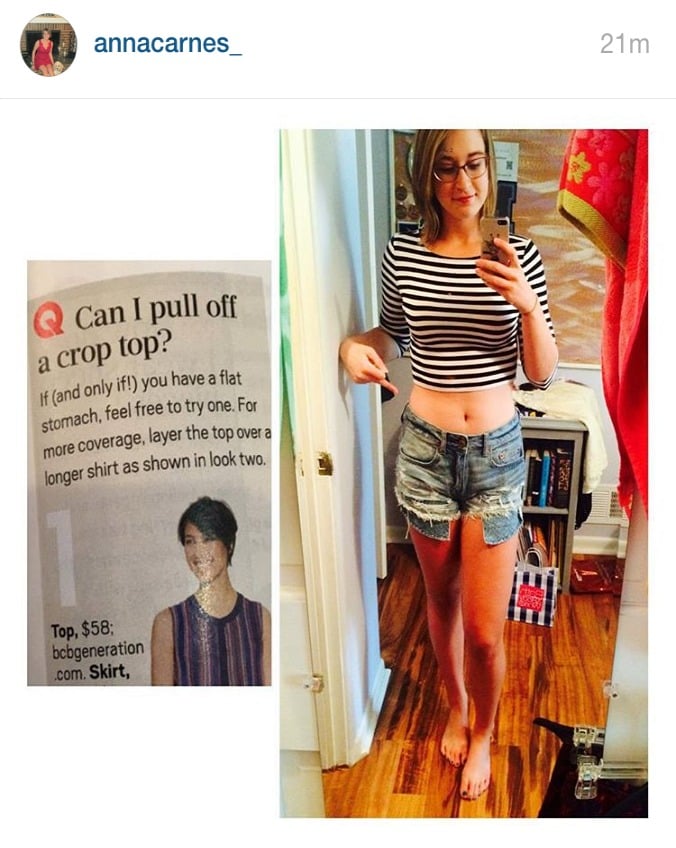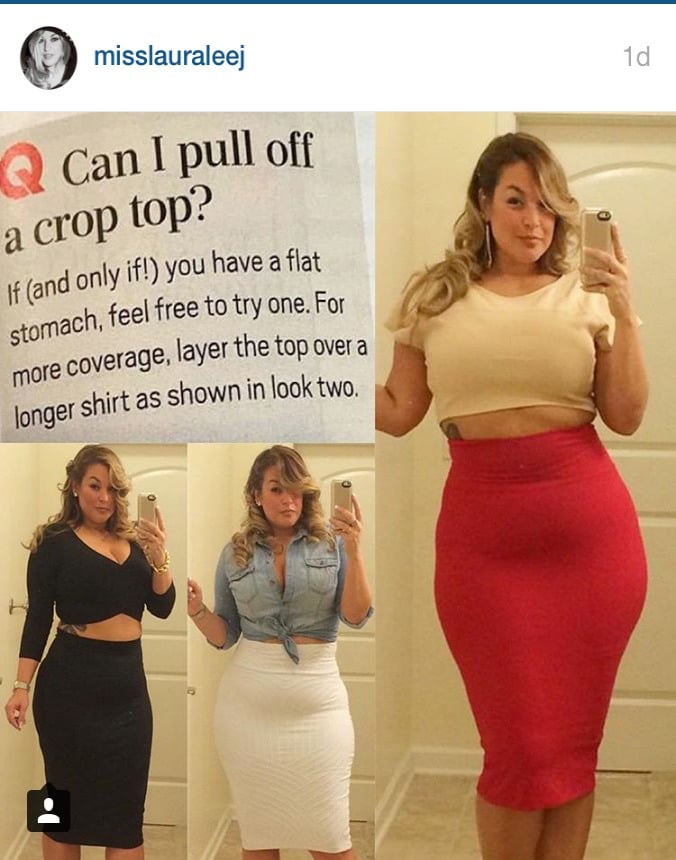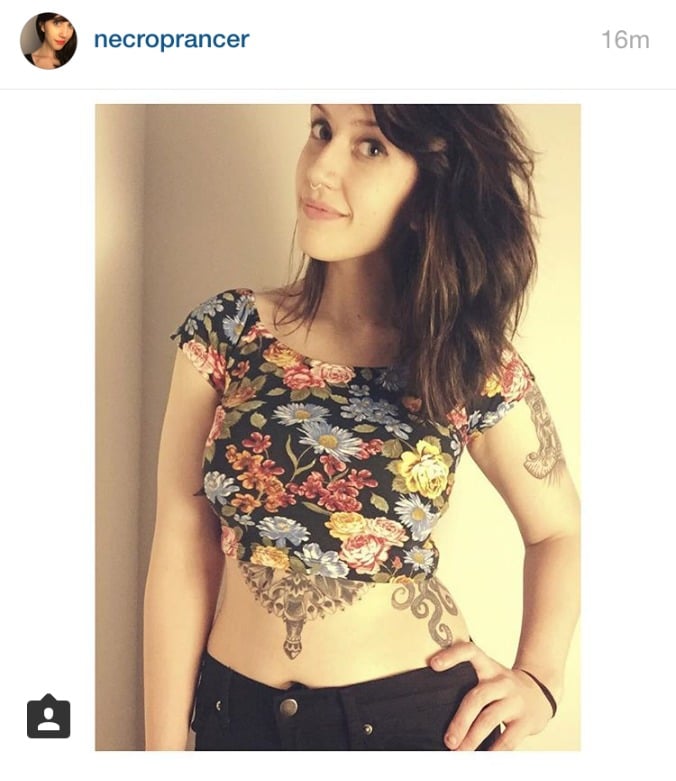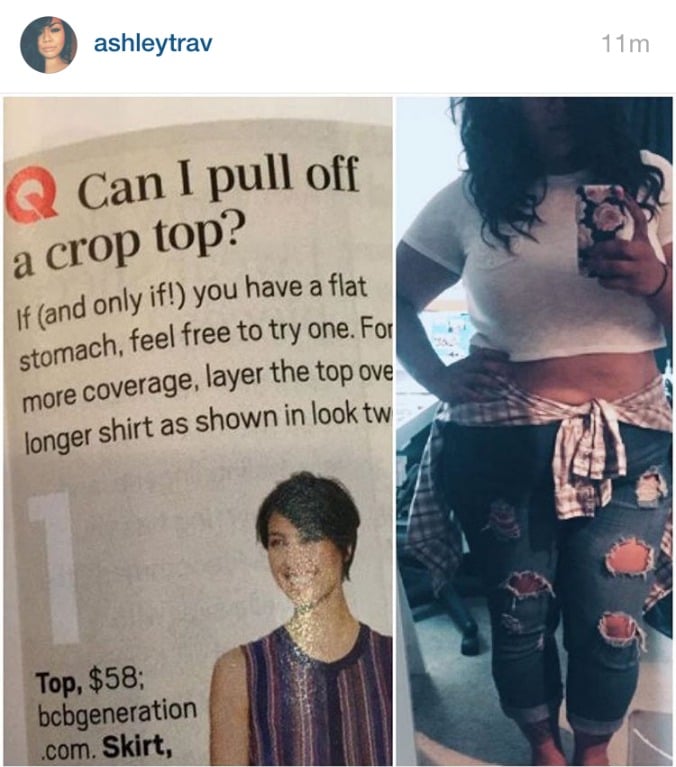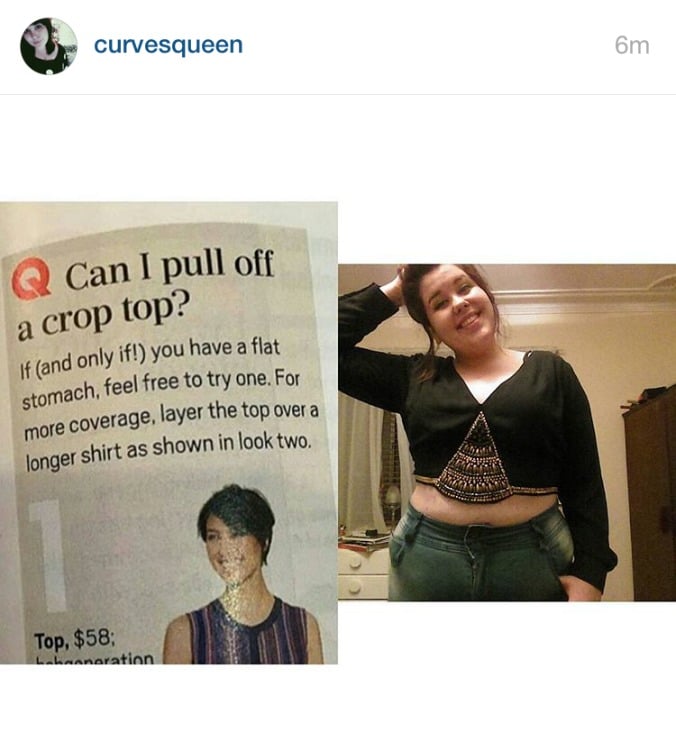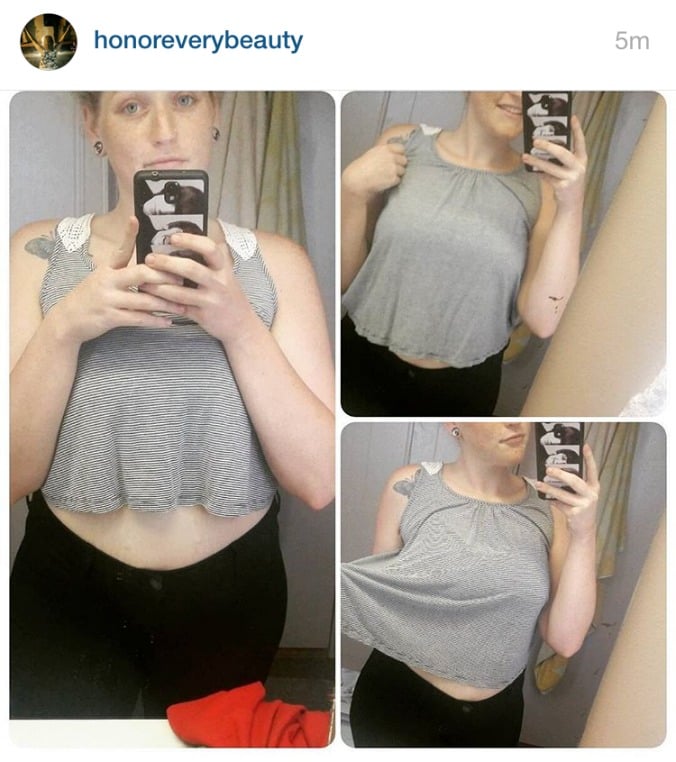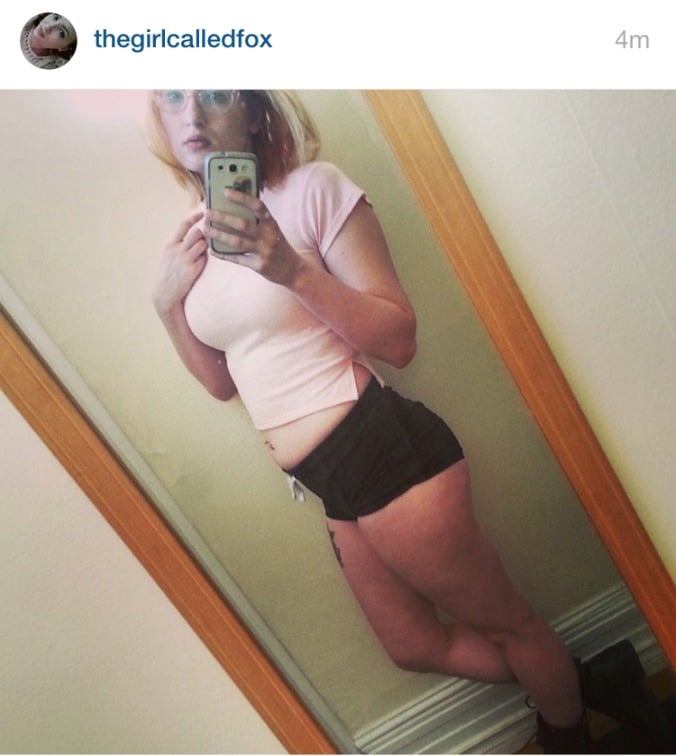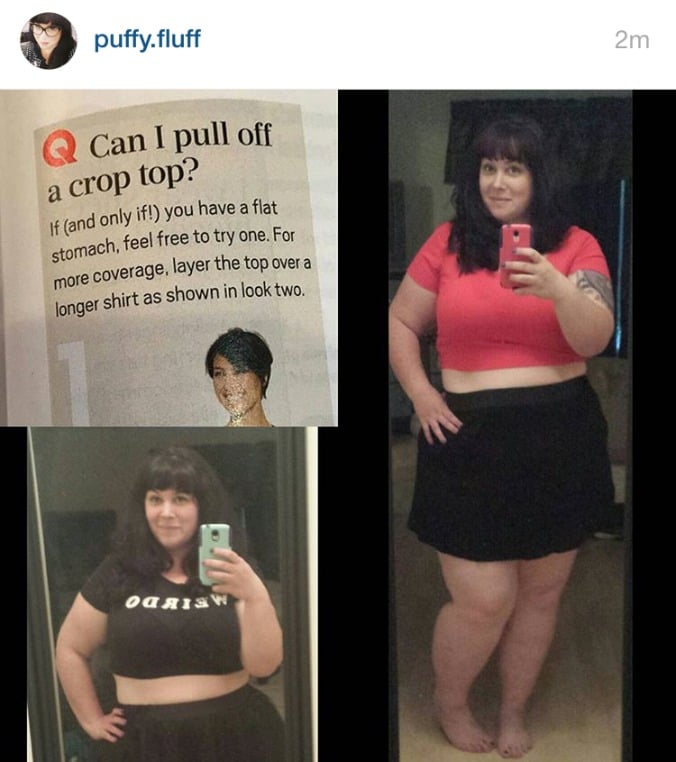 Hundreds of women are joining in on the movement, all expressing their anger at being told what they should and shouldn't wear, and raising a metaphorical (and in some cases literal!) middle finger to the magazine by showing off their crop tops in style.
In a statement obtained by People, a spokesperson for the magazine said, "We support, encourage and empower all women to look great, feel confident and live their best lives - in this case, we could have expressed it better. We appreciate the feedback and will be more mindful going forward."
While it's good to see they acknowledge their mistake by printing such insulting and outdated advice, as Conway says, it's disappointing that body shaming continues to exist in the first place.
RELATED: "What I say to my daughter when she asks me if she looks fat."
Chrissy Teigen, Pink, Kelly Clarkson, and Giuliana Rancic are all varying shapes and sizes and beautiful - yet have found themselves having to defend their bodies in recent months.
And while they've all responded with class and good humour, they shouldn't have to address it in the first place.
It's got to stop. (Post continues after gallery.)
We love these celeb quotes on body image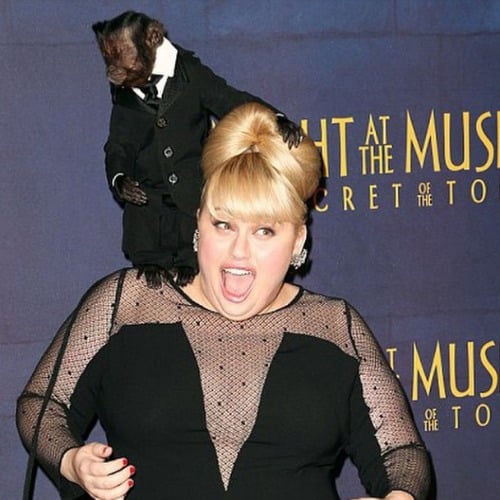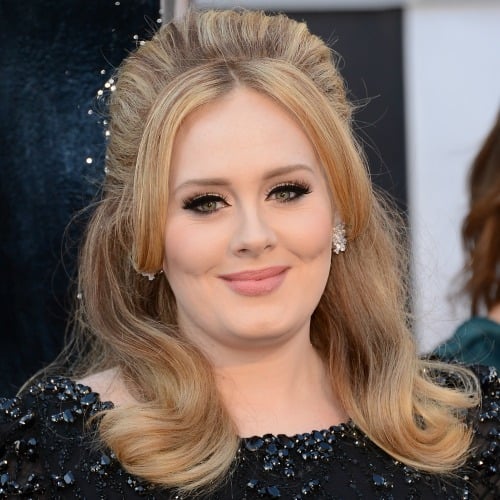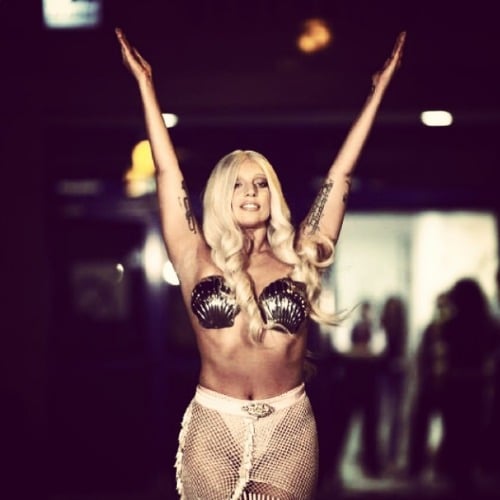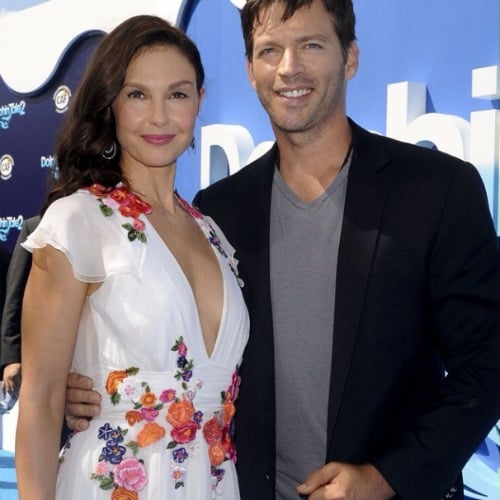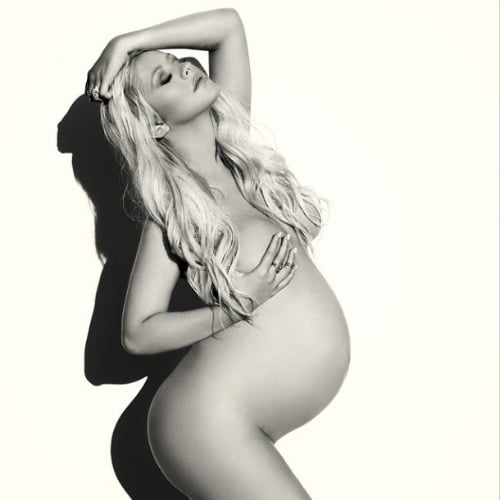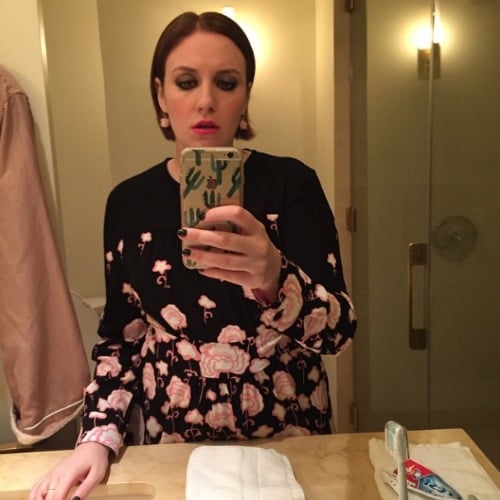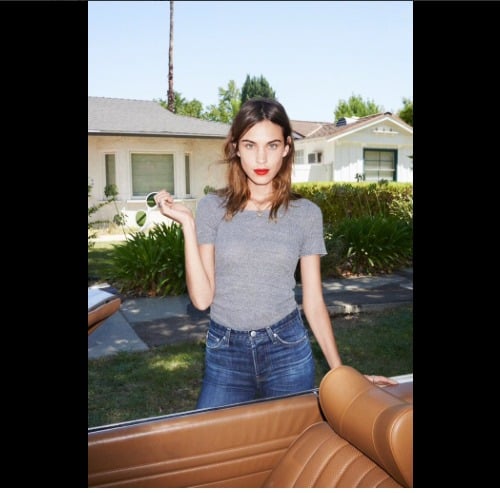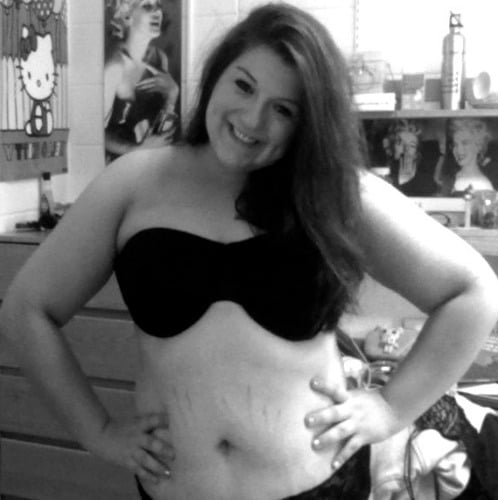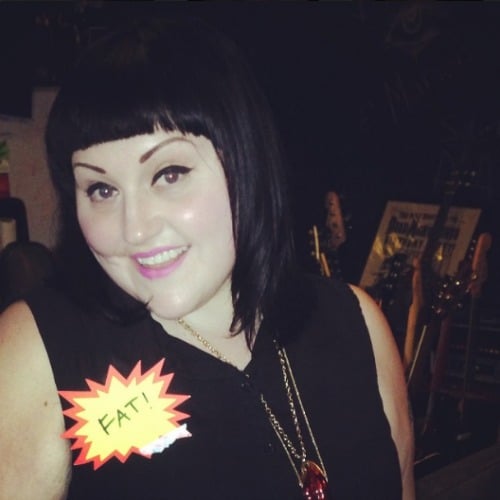 Whether it focuses on the clothes on top or the body underneath, this kind of attitude only creates another unnecessary anxiety for women to worry about - that only certain body types are "good enough" to wear certain clothing items.
Just as how you choose to do your makeup (or not!) and hair (or not!) is a creative expression of your personality and your personal choice, so too are your clothes.
RELATED: Ricki Lee addresses her body critics: "A lot of people still hate on me for changing."
And contrary to the fashion advisers at O Magazine, I'm actually of the mind that crop tops are one of the most versatile pieces of clothing you can have in your wardrobe. Yes they're good for layering but they also work just about every single other way - whether with high waisted skirts, jeans, shorts or whatever your feel like on the day.
And if you need further proof that EVERYONE can #RockTheCrop?
Just ask this fashion icon.
Are you disappointed by O Magazine's advice?
The advice we'd give our younger selves.