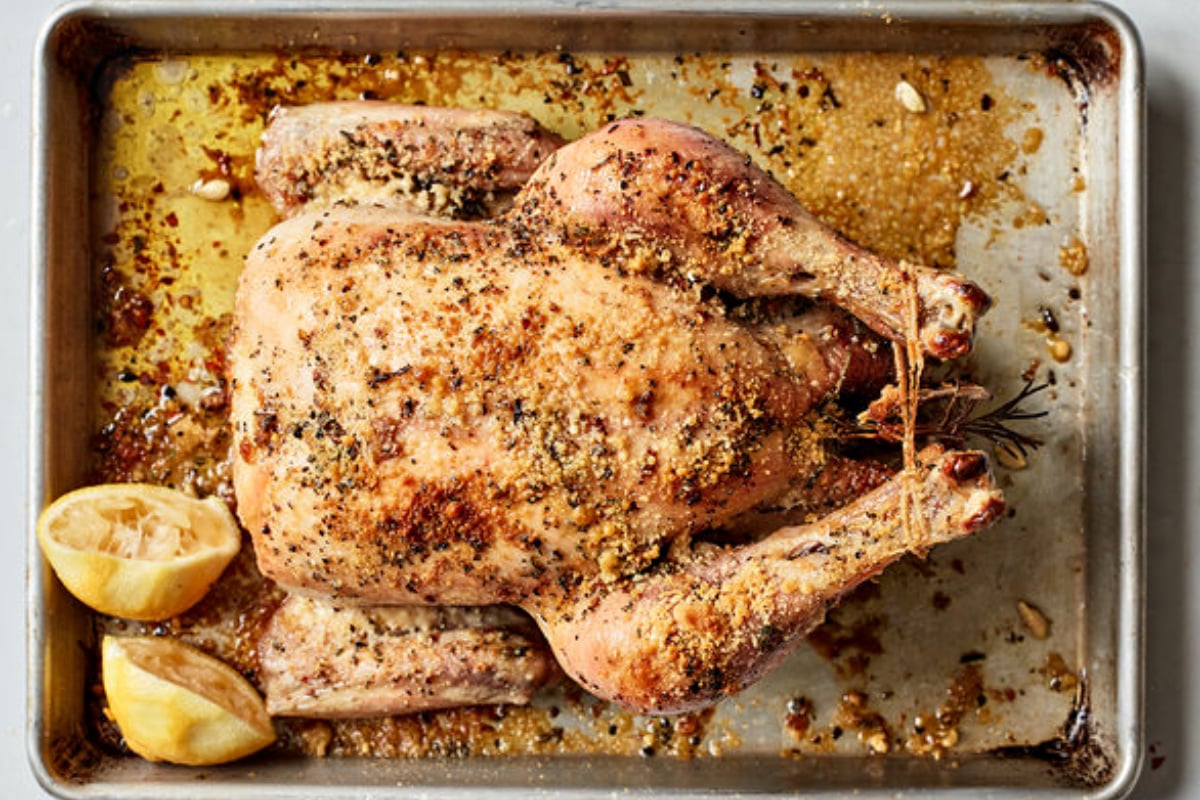 Crispy Parmesan Roast Chicken With Lemon
Total time: 1 1/4 hours, plus marinating
Yield: 4 to 6 servings
Sprinkling grated Parmesan over a whole chicken as it roasts yields extra-crisp, extra-savoury skin in this recipe, while chopped fresh rosemary and lemon zest perfume the meat through and through. Be sure to serve this with the lemony pan drippings, which make a bright, rich sauce for the tender meat. Heat lovers should feel free to add plenty of red-pepper flakes to the drippings — or serve red pepper on the side for individual spicing.
Ingredients:
1 small lemon
2 teaspoons kosher salt, plus more to taste
1 teaspoon black pepper
1 teaspoon chopped rosemary, plus 4 sprigs
Large pinch of chilli flakes, plus more for serving (optional)
1 whole chicken, patted dry
Extra-virgin olive oil, for drizzling
1/3 cup finely grated Parmesan
Preparation:
1. Finely grate 1 teaspoon zest from the lemon and place it in a small bowl. (Save the zested lemon for the drippings.) Stir in 2 teaspoons salt, pepper, chopped rosemary and chilli flakes, if using. Season the chicken inside and out with salt mixture. Let sit at room temperature for 20 minutes or refrigerate uncovered for up to overnight.
2. Heat oven to 220 degrees. Place chicken, breast-side up, in a large skillet, sheet pan or roasting pan. Stuff cavity of the chicken with rosemary sprigs. Drizzle breast with a little olive oil.
3. Roast chicken for 30 minutes. Sprinkle chicken all over with Parmesan, then continue roasting until bird's juices run clear when skin is pierced with a knife and the skin is golden, 25 to 30 minutes longer.
4. Let chicken rest for 10 minutes. Squeeze juice from the zested lemon, to taste, into the pan drippings and season with more salt and chilli flakes if you like. Carve and serve with drippings spooned over the meat.
Melissa Clark has been a columnist for the Food section since 2007. She reports on food trends, creates recipes and appears in cooking videos linked to her column, A Good Appetite. She has also written dozens of cookbooks. You can follow her on Twitter and Facebook here.
Melissa Clark/Johnny Miller & Rebecca Jurkevich, © 2020 THE NEW YORK TIMES.
Feature image: Supplied/The New York Times.