While Category 4 Cyclone Debbie hurls 250km/h winds at the Queensland coast, television journalists are venturing right into its path in an effort to report its devastating effects first-hand.
But according to Whitsunday Shire councillor Mike Brunker, it's about time they "pull their heads in" and take shelter, just like emergency services have advised.
"If a sign flies off a guide post in 120km winds it'll just cut your head off, and if that happens on live TV, how would you feel?," he told AAP.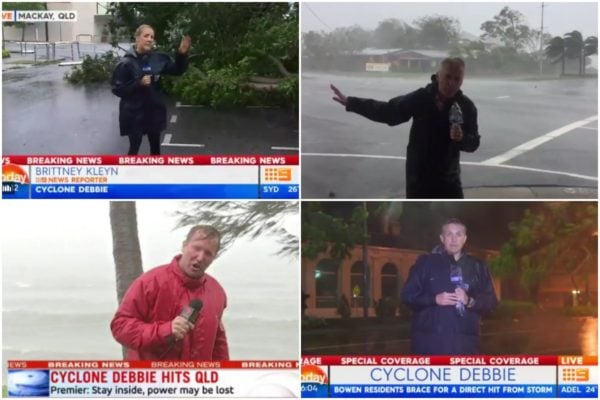 Both The Today Show and Sunrise this morning had reporters posted out in the elements, clad in raincoats and fighting against the gale-force winds.
Channel 9 reporter Brittany Kleyn was even forced to stop her live broadcast from Mackay when conditions deteriorated.
"We might just leave it there for a minute and go inside," Kleyn told Today co-host Lisa Wilkinson. "Just to make sure that our crew do remain safe."