"You've been coming to Australia now for many years," Channel 7 tennis commentator Jim Courer said, in conversation with Spanish tennis star Rafael Nadal at the Australian Open last year.
Nadal had just won his fourth round Australian Open match against the formidable Gael Monfils and had sidled up to Courier for his post-match interview.
Courier continued.
"This is the first time that you brought your girlfriend Xisca [Perello] down to Australia if I'm not mistaken, is that right? How has that been for you to have her with you here?"
After clumsily navigating the sudden interest in his private life, Nadal joked. Yes, it was true. Ten years of Open appearances and his girlfriend "finally gets a wildcard to come here".
Courier pushed a fraction more, but got little in return. "You know, uhhhh, better we stop here," Nadal concluded.
It was all in jest, the atmosphere was relaxed and as the camera panned to Perello, she smiled.
What became clear, however, was how the innocent fun and the awkward exchange secreted a real sense of embarrassment in Nadal —  he simply is not used to, nor interested, in speaking about his long-term girlfriend. And that's always been the way.
Their love, it seems, is one that is characterised by its refusal to play out in the spotlight. Their love is theirs, her life is hers, and his tennis? Well, that's ours.
But as all eyes zoomed in on Perello and our focus centred on her support, many began to want to know more. Who was this elusive, private partner of one of the most famous sports stars on the globe? For many more, it was the first time they realised Nadal had a girlfriend.
And he has. For some time. Nearing 11 years, many believe.
I was naturally intrigued. Perello seemed, different? In an information age where so much attention is given to the private lives of our celebrities, Xisca Perello, born Maria Francisca Perello, escaped our radar with the stealth and certainty of someone who knew what she was doing.
Digging a little deeper into Perello's time in the public eye, I found so very little. This in itself is notable feat. Their red carpet appearances are sparing, their talk of each other more so.
Perello is 28 and is widely known for her desire to stay put while Nadal tours the world playing tennis.
In my research, I found just the one occasion, in eleven years, where Perello speaks on record to an English source. It was an interview with The Telegraph back in 2011, and it's a telling one. When asked about why she does not accompany Nadal on tour, she was clear, if not totally unpretentious.
"The idea of me hanging around waiting on his needs all day wears me out. It would asphyxiate me," she said.
Even more than that, she touched on the other-worldly kind of bubble so much fame generates.
"It's not a world I want to be part of, nor do I think Rafa would have chosen to be with a woman who looked for that in life."
And it's clear, from all reports, that he didn't. 30-year-old Nadal is believed to have met Perello back in 2005 at school in their home town of Palma de Mallorca in Spain. She went on to study Business Administration and English in London, and previously worked as an insurance broker. Now, it's believed she does a lot of work for the Rafael Nadal Foundation.
Take fingers to keyboard and Google Perello's name, and this information isn't easy to come by. Many stumble over her age, it's hard to glean what she does with herself now and almost all of the photos of her that exist online are ones she has not posed for. Take a scroll through Nadal's own Instagram account, and Perello's face is a rare sight.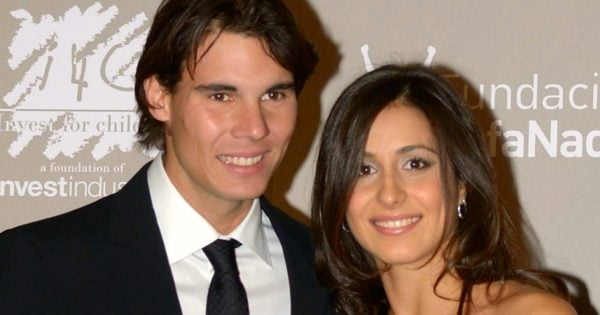 She does not have social media channels of her own (or at least, not public ones) but has accumulated multiple fan pages dedicated to her on almost every social media platform on the internet.
I'm not the only one who is curious.
From all reports, or perhaps lack of them, Perello breathes fresh air and meaning into the notion of being an enigma. In a realm where we are so totally obsessed with money, fame and identity, she seems to buck everything we thought was so.
Her relationship with Nadal, it seems, exists in spite of his tennis fame and fortune and not because of it. And it's that, perhaps, that's demanding the most attention of all.