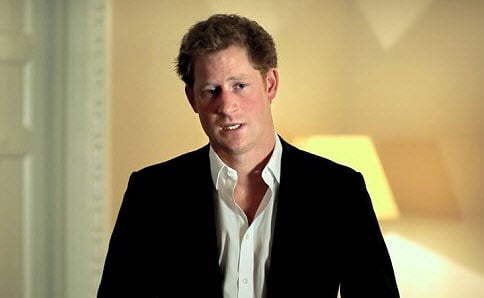 You would never guess it.
He's constantly in the public eye and undoubtedly spoken in front of many, so when Prince Harry revealed his greatest fear, we were all a little shocked.
As part of a campaign by Sentebale, a charity the fourth in line to the throne helped to establish in 2006, Harry revealed that he gets incredibly nervous during public speaking. Sentebale is a charity that helps children afflicted by HIV and Aids in the poverty-stricken African kingdom of Lesootho.
Harry, 30, made his confession in a video clips where he says, "On today, World Aids Day, my secret is, believe it or not, I get incredibly nervous before public speaking, no matter how big the crowd or the audience."
"Despite the fact that I laugh and joke all the time, I get incredibly nervous, if not anxious, actually, before going into rooms full of people when I am wearing a suit. And now I have confessed that I'll probably be even more worried that people are looking at me," Harry continued.