Please Like Me, the ABC comedy from Josh Thomas, is normally the kind of show you can just flick on and happily lose yourself in.
It's sharply written, wickedly funny and easily digestible, the hot chocolate of the Australian TV comedy scene. But a recent episode has turned this normally chuckle-inducing world on it's head and left a raft of loyal viewers in tears.
At the end of the recent episode Burrito Bowl,  Josh innocently wanders into his mum Rose's bedroom and finds her lying lifeless on the floor, a suicide note clutched in her hand.
The topic of suicide has been woven throughout the story-line of Please Like Me since the very first episode, but this death, coming right at the end of a lighthearted season four episode, added a whole new level of emotion.
Season one opened with Josh's mother's first suicide attempt and the character of Rose (played exceptionally by Debra Lawrance) continued to struggle with mental health throughout the show's run.
Listen to Rosie Waterland, Laura Brodnik and Mia Freedman discuss why this episode of Please Like Me was so hard to watch.  Post continues after audio.
When Josh Thomas first popped into The Binge, Mamamia's TV podcast, he told hosts Rosie Waterland and Laura Brodnik that "not very much happens", but, in this case, he really buried the lead.
Please Like Me is not the first TV show to depict suicide and nor is this the first time Australians have had to endure a characters death.
In this case, the source of our pain came from the familiarity of the situation. It was so raw, so simple and it happened within the walls of a home that could have been any Aussie suburban dwelling.
It wasn't some terrible accident, crime-laden subplot or supernatural monster. It was just everyday human pain and mental illness, two things we have no real fixes for.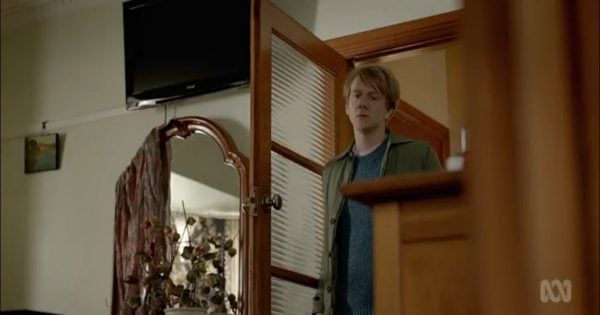 Rosie shared how the blase nature of previous scenes gave the event a sense of realism at its rawest point.
"I think the way it was done was so poignant because it was so real. It was just a day like any other day. He's joking about sex stuff with his friends," she said.
"He's just walking home, and he walks in and there's his mum on the floor."
"I thought this was the best acting I've ever seen by Josh Thomas in the whole show."
Mia spoke about how her death came in such strong contrast to the light playfulness she displayed in the previous episode.
"You really felt like she was getting things together. It's made me look at that episode in a whole other way now," she said.
The screening of the episode gave way to an outpouring of grief and celebration on social media as fans and celebrities shared their thoughts.
This was an exceptional episode of television. It's hard to watch, but life itself is hard to endure. And Please Like Me just reminded us all of that.
Hungry for more? Join Rosie and Laura as they discuss the best on TV and streaming services in Australia and overseas on our television podcast, The Binge.
You can watch Please Like Me on ABC iview.
If this story has brought up any issues for you, please call Lifeline on 13 11 14 or Beyond Blue on 1300 22 46 36.