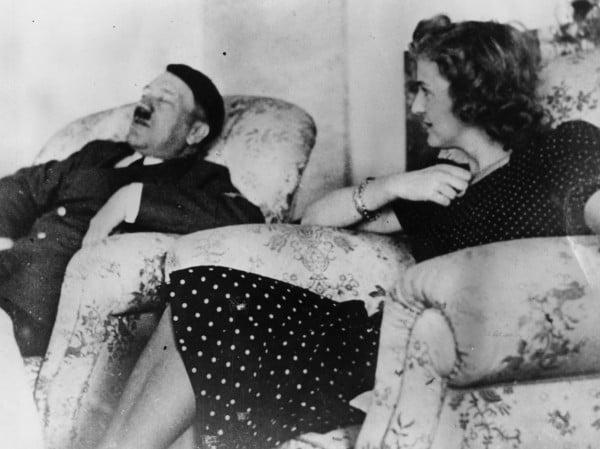 These are some of history's most astounding images: famous subjects snapped in the most unexpected circumstances.
A dictator dozes off. A star looks shocked at the spillover breasts of a rival. A young future president shaking hands with the man then leading the 'free world'.
Some are just beautiful, others heartbreaking.
And some might even make you question your perception of the world you thought you knew.
1. German dictator Adolph Hitler (1889 – 1945) asleep in an armchair watched by his mistress, Eva Braun, circa 1940.
In 1945, Hitler and Braun bit into thin glass vials of cyanide. As he did, Hitler also shot himself in the head with a 7.65mm Walther pistol. The German public was unaware of Braun's relationship with Hitler until after they died.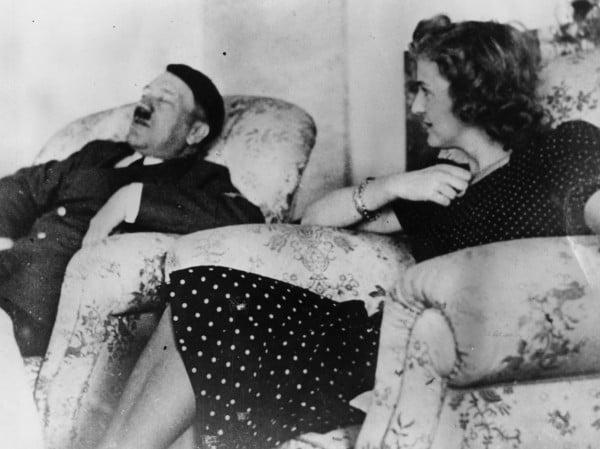 2. Sophia Loren and Jayne Mansfield at the 20th Century Fox Party
Years after this photo was taken, Loren told Vanity Fair: "Paramount had organised a party for me. All of cinema was there, it was incredible. And then comes in Jayne Mansfield, the last one to come. For me, that was when it got amazing. . .. She came right for my table. She knew everyone was watching. She sat down. And now, she was barely . . . Listen. Look at the picture. Where are my eyes? I'm staring at her nipples because I am afraid they are about to come onto my plate. In my face you can see the fear. I'm so frightened that everything in her dress is going to blow - BOOM! - and spill all over the table."