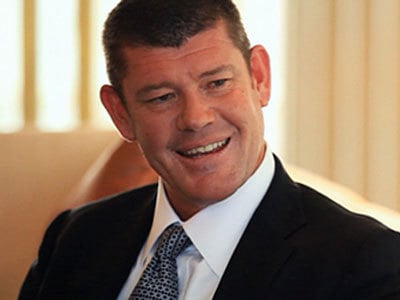 1. Packer Gyngell brawl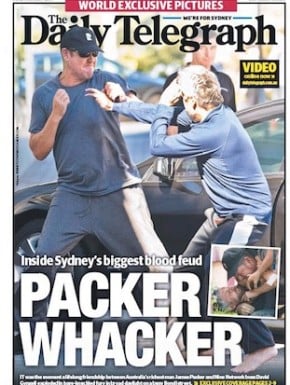 The front pages of the News Limited papers are blazoned with images of James Packer and David Gyngell in a public fist fight.
The brawl, which took place outside the home of James Packer, made news yesterday with a freelance photographer selling images of the fight to the highest bidder.
The images reportedly sold for $250,000.
The explanation for the argument is that James Packer was angry that a Channel Nine News truck was parked in the street in which he lives.
News Limited say Packer sent Gyngell a SMS asking him to have the truck moved as he returned from the airport.
"I didn't even know you were in f…ing Australia,'' David Gyngell is heard yelling in a video of the fist fight.
Meanwhile, a video of the brawl (heavily covered in News Limited logos) has emerged.
2. Nigeria abductions
For the first time, militant group Boko Haram has claimed responsibility for the abduction of over 200 girls from their school in Nigeria.
In an hour-long video, the leader of Boko Haram – which means "Western education is sinful" – claims:
"I abducted your girls, by Allah, I will sell them in the marketplace."
Nigerian President Goodluck Jonathan has now spoken for the first time about the abductions.
In a live TV broadcast, he said he did not know where the girls were but said everything was being done to find them.
Meanwhile, the BBC reports that the wife of the president of Nigeria has ordered the arrest of a woman leading the protests over the abduction of the girls.
Naomi Mutah is a representative of the community where the girls were abducted from their school two weeks ago.
She took part in a meeting with First Lady Patience Jonathan on Sunday, when the First Lady ordered her arrest.
3. Oscar Pistorius trial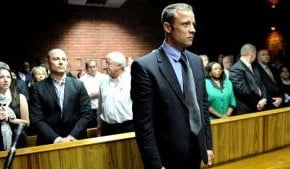 The trial of Oscar Pistorius has resumed after a two-week recess with the defence calling on evidence from two neighbours that Pistorius called after he shot his girlfriend Reeva Steenkamp.
Johan Stander and his daughter Carice Viljoen, neighbours and friends of Pistorius, testified that Pistorius called them two minutes after the shooting.
Viljoen testified that Pistorius said to Steenkamp as she lay on the floor dying, "Stay with me, my love, stay with me."

4. CCTV vision challenges Amanda Knox's alibi
An Italian current affairs program, Quarto Grado, has uncovered CCTV vision that challenges Amanda Knox's testimony that she was not home on the night Meredith Kercher, her British flatmate, was murdered.
The vision was time-stamped 20:53 on November 1, 2007, the night of the murder.
It shows a woman, for about 30 seconds, walking away from the house, wearing jeans and a long overcoat similar to one worn by Knox in the days after the murder.
Knox, who is appealing after she was convicted at a second trial of murder and sentenced in January to 28½ years, has always maintained that she was not at home on the night Meredith Kercher was killed.
5. Passenger with a disability forced to stand on Virgin flight
A former disabled Young Australian of the Year has been forced to stand for three hours on a flight because the airline could not find a suitable seat for him.
Sam Cawthorn was forced to stand on a Virgin overnight flight from Perth to Brisbane last Friday due to his disability.
For more, read this post here. "Disabled passenger forced to stand for three hours on flight."
6. Girl left behind from school excursion
In the Northern Territory, a four-year-old girl has been left behind after her preschool teachers forgot to take her on a school excursion.
The NT News has written that the Millner Preschool student was left in her classroom after teachers took the class to attend an Anzac Day excursion on April 24.
When they returned, the little girl was "distraught and screaming" in the classroom.
The school has now adopted "supervision strategies" to ensure this does not occur again.
7. Australian soldier shot a child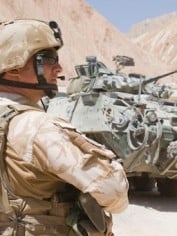 A Defence Force report has detailed the 2012 accidental shooting of a 13-year-old boy in Afghanistan.
An Australian soldier accidentally shot the child when he tried to fire at two unarmed men who had refused to stop moving.
The 13-year-old boy survived and was later discharged from hospital.

8. Tough welfare measures
The ABC reports that billionaire miner Andrew Forrest, who is finalising a government-commissioned review of Indigenous training and employment, is urging the Federal Government to include measures which would see young people stripped of welfare if they are not in school, work or training in next week's budget.
The measures are said to include all people under 19, whether they are Indigenous or not.
9. Police hunt gang rapists
The NSW police are hunting three men after a 20-year-old woman was allegedly gang-raped at Port Macquarie on the NSW mid-north coast on Sunday morning.
The police are looking for three men in their 20s, one of whom is described as being of Aboriginal/Torres Strait Islander appearance with short, brown spiky hair and bushy eyebrows, wearing a red and white striped shirt.
Anyone with information is urged to call Crime Stoppers on 1800 333 000.
10. Protestors temporarily halt Q&A
Last night's episode of ABC TV show Q&A had to temporarily abandon its live broadcast, when a group of students in the audience unfurled a banner and protested about education funding.
The interruption occurred about 20 minutes into the program during questioning of federal Education Minister Christopher Pyne about his proposed changes to higher education.
11. Court hears father burned baby's face in assault
A QLD court has heard that a jealous father allegedly burnt his 11-month-old son's face with hot milk and assaulted him as the father was jealous his ex-partner had gone out with friends.
The man has been charged with five counts of assault and one count each of assault while armed and child cruelty.
He has pleaded not guilty.
The child was also found to have suffered a broken rib, a broken lower leg bone and a missing tooth after spending the weekend in his father's care.
The man told the police he'd accidentally given the baby a bottle that was too hot and didn't know how the other injuries occurred.
12. Ariel Castro's kidnap victim's book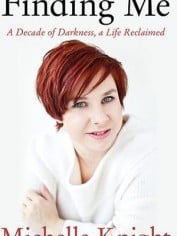 Michelle Knight, one of the victims of Ariel Castro, has released a new book on the anniversary of her escape from the Ohio kidnapper.
Knight reveals Castro beat her until she miscarried five times.
She told NBC's Dateline that she was terrified each time Ariel Castro raped her and beat her when he realised she was pregnant.
"He wanted to break me," Knight said.
"You can't break someone that's already been broken. You can only make them stronger."
13. Melissa Doyle's 7pm news axed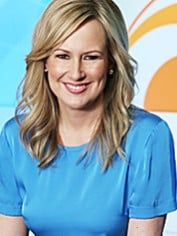 Melissa Doyle's role with the Seven Network seems to be ever shrinking, with news that the 7pm national bulletin on 7TWO channel has been axed.
When Doyle left Sunrise last year, it was to a "a great opportunity" of hosting a 4pm news bulletin with Matt White, who has since jumped to Network 10, and the 7pm national bulletin – which has now been axed.
What news are you talking about today?