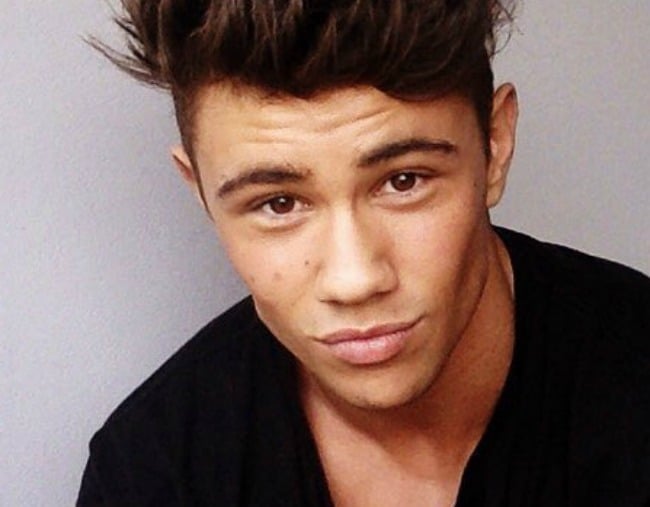 You might be more used to seeing him on our screens as Summer Bay's resident doctor-in-training Mason Morgan, but last year, the Home and Away star was instrumental in averting the attack of a woman, stopping her assailant mid-assault.
Speaking on Sunrise, the 25-year-old actor spoke of the incident that happened in the Sydney suburb of Surry Hills on Friday, the April 28 2017.
Pledger was walking home at night when he saw a man "with a hoodie" trailing a woman before the incident dramatically escalated.
"I just noticed a suspicious situation. There was a guy with a hoodie on [who] seemed like he was following someone. [Then I] saw a lady up in front and my gut instinct told me something was wrong," he said.
"I was taking the route anyway so I decided to be aware of the situation and out of nowhere he made a run for her and assaulted her and decked her to the ground.
"In that moment all this adrenaline came in and I kicked into action and I ran up to him and I was screaming and yelling at the top of my lungs and just 'Stop, stop, stop' and I grabbed onto him and I made sure that he got off her.
The man in question was 28-year-old Justin Bird, who this week was convicted of aggravated assault with the intent to rob, which carries a maximum sentence of 20 years. Bird has been refused bail and will have to wait until August to be sentenced.
Testifying as a witness, Pledger had to wait until the conclusion of the trial to speak about his version of events.
Speaking to The Daily Telegraph, the Sydney actor said that originally the assailant tried to escape the scene, but he made sure that didn't happen.
"He was trying to run away, but I had a hold of this guy, telling him 'You're not going anywhere'," he told the publication.
"I got him off her and I restrained him and I was screaming out to someone, to anyone who was nearby to give me help, to call the police.
"She screamed so loud. She was obviously frightened and hurt."
Moving from Melbourne to Sydney in 2016 for his current role on Home and Away, Pledger's acting resume to date includes a 37-episode stint on Neighbours and young-adult drama Silversun in 2004, as well as minor roles in Blue Heelers, McLeod's Daughters and The Secret Life of Us.
Looking back at the incident, a year on, the 25-year-old said he "just did what [he] thought was right".
"There was a split decision there was a moment where I thought wow this is actually happening, this is actually happening, I have never been in a situation like that," he told Sunrise's David 'Kochie' Koch and Samantha Armytage.
"Of course I had the choice but the way I have been brought up, my core beliefs… I didn't think of the consequences in the moment because all I saw was a person that was you know being threatened and I just needed to do what I could to help.
"To keep it simple I think I did what I hope most people would do in that situation."