Wedding dress shopping can be the highlight of the wedding-planning experience, or the bane of a bride-to-be's existence.
After all, those wedding photos last forever and no one wants to look back and cringe at a dress that was trendy at the time, but now looks horribly dated.
Somehow, we don't think the brides of 2017 are going to have that problem.
Pinterest has revealed the most popular wedding dress trend of 2017 so far is actually quite timeless.
Listen: A study shows being a bridesmaid is the equivalent of a full week's work. Is it time to ditch them? (Post continues…)

According to the popular photo-sharing social media site, off-the-shoulder gowns are the new go-to for bridal inspiration.
Pinterest's 2017 Wedding Report revealed pins for off-the-shoulder dresses have jumped by more than 158 per cent from last year.
Woah.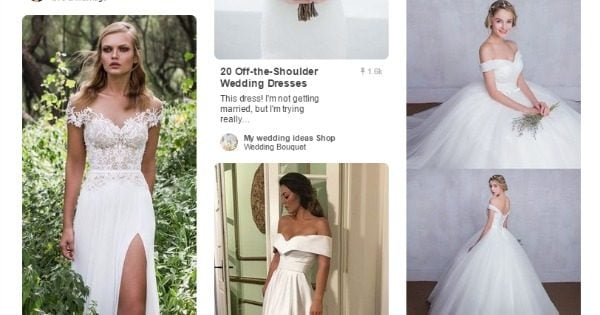 We can't say we're surprised, really - off-the-shoulder dresses and tops have been dominating clothing stores, catalogues and our Instagram feeds for months.
Add to the fact that off-the-shoulder often lends itself to vintage or retro silhouettes (another huge trend) and you have the perfect recipe for wedding photos that will never be cringed at.
What's your favourite style of wedding dress?
Want a wedding dress that's not-so-traditional? Click through the gallery for inspiration.
Non-traditional wedding dresses.