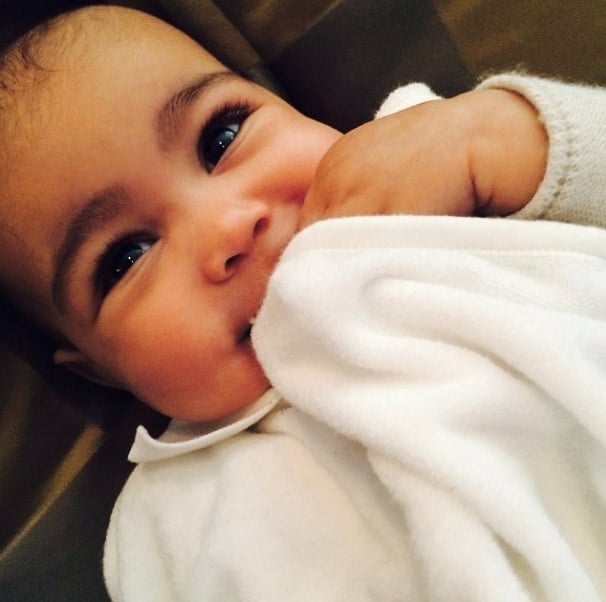 We once lived in a time when parents were not judged for every single move they made. These are not those times.
Kim Kardashian shared a photo of North West on Instagram and speculation has been rife this morning that she has waxed the six-month-old's eyebrows. Fans and/or haters took to social media to weigh in on unibrowgate.
"I'm not even kidding I think Kim Kardashian waxed her daughter's eyebrows," said one user @brittanie_x.
Kardashian has responded to the controversy be tweeting, "Do people really think I would wax my daughters eyebrows so young? Come on, I'd wait until she's at least 2 1/2!"
Cue more outrage from humourless Twitter users, forcing KK to again respond with another tweet: "I'm kidding!!! Its pretty sick for people to insinuate that I would wax my daughters eyebrows. They are thick, natural and amazing!"
Do people really think I would wax my daughters eyebrows so young? Come on, I'd wait until she's at least 2 1/2!

— Kim Kardashian (@KimKardashian) December 17, 2013
Katy Perry and John Mayer dish on their relationship.
Katy Perry and John Mayer are offically a couple, the pair dished on their real-life relationship for their first-ever TV interview on "Good Morning America."

"We don't quite know what kind of body language we should be exhibiting at the moment," Mayer said. "You get too close, it's too touchy feely. And then you get too far, it's 'I don't see chemistry.' "
Mayer revealed it was his producer who said Perry should feature on the Paradise Valley track.
"I had this little chorus for years and it was 'You love, who you love.' I thought that was always going to be great thing someday. And then it came out again and sometimes you have to play stuff for people; it's really nice to have an unbiased ear," he said. "And then [Don] said 'Why don't you get Katy to do it?'
"My very first thought was 'You can't do that.' The more I thought about just get music part of it, it made sense. Even if I didn't know Katy, it would have made perfect sense," he continued. "I went in the other room, called her phone."
"If the song is great, you're sort of in a bubble of authenticity," he said. "It's a pretty big moving target to be a couple and have a song, but I think there's an authenticity to it."
Perry added, "It transcends us. It's more about the message of the song."

Lisa Curry not happy about Grant Kenny and Fifi Box's baby news??
Alright, this is a little confusing so we're going to break it down for you.

1) Fifi Box and Grant Kenny (Lisa Curry's ex husband) have a baby together, Trixie.
2) Woman's Day ran a cover story, Fifi and Grant: Baby number two already!
3) The eagle eyes over at News Ltd spottedf that on the same day the Woman's Day issue came out, Lisa Curry updated her Facebook page with a cryptic message: "Breathe in … Breathe out … Repeat …" that could've pertained to well, anything really.
4) Three hours ago, Lisa Curry posted another status saying, "Seems SOME journalists are analysing my "cryptic" FB posts and making up more stories in the media….Well here's another one you can analyse….LEAVE GRANT ALONE."
5) Curry then told New Ltd the Woman's Day story was "untrue" and "I'm not sure how they can get away with headlines like that."
"Leave Grant, Fifi and poor little Trixie alone."
6) Woman's Day is now crediting a "close friend" as saying: "Fifi would love to have a baby boy with Grant. They're in a really good place and Fifi would love nothing more than to give Trixie a little brother. I know she's already discussed it with Grant, who is pleasantly surprised at just how much he's enjoying being a dad again."
Beyonce's new album shatters records because BEYONCE.
In case you haven't heard, Beyonce dropped her self-titled album on iTunes late last week without any pre-release promotion or fuss. And it's paid off, literally. A rep for Queen Bey told The Huffington Post that "Beyoncé" sold 828,773 copies over the weekend, a massive take considering the album was an iTunes exclusive for the duration of that period.
It's the fastest-selling album to ever hit iTunes and sold 617,213 copies in the US alone.
There are Hunger Games barbie dolls, and we want them.
Barbie has launched four dolls to mark the release of The Hunger Games: Catching Fire. Fans can buy Barbie versions of Katniss (Jennfier Lawrence), Peeta (Josh Hutcherson), Effie (Elizabeth Banks) and Finnick (Sam Claflin) on Amazon for AU$70.
Effie Trinket – "bold makeup and accessories, for the complete Effie-look""
Finnick Odair – "the young and handsome tribute from District 4"
Katniss Everdeen – "complete with her signature side-braid ponytail and bow and arrows"
Peeta Mellark – "the strong baker's son as he enters the arena again with Katniss"
This family's Christmas Card is going viral.
XMAS JAMMIES!
Haven't booked your Christmas Day luncheon yet?
Christmas Day at Watsons Bay is unbeatable. An opulent, 4-course Aussie feast (designed by Chef Luminary, Pete Evans), flutes of champagne, panoramic views of the harbour and a good dose of festive cheer means this will be an unforgettable Christmas lunch.
Sounds good to us!
Here is everything you need to know:
When: 25th December 2013, 12pm +
Where: The Sunset Room at Watsons Bay Boutique Hotel
What: Christmas Day Lunch – a feast that indulges in all the Christmas favourites and manages to weave in a modern Australian elements as well. Whiskey and Honey Glazed Kurabuta Organic Ham, Slow Cooked Lamb Shoulder with Quinoa, Pumpkin and Cranberries and Maple Roasted Sweet Potato with Candied Pecans, Chilled Seafood Platters, BBQ split Yamba Prawns with Garlic, Chili and Lemon, and finally… the Mango and Passion Fruit Smashed Pavlova with Mascarpone Cream.
Cost: $250 per adult, which includes a 4-hour beverage package.
$125 per child between the ages of 10-17  (Any child not requiring a seat is free.)
Check out the full menu here or make a booking here.