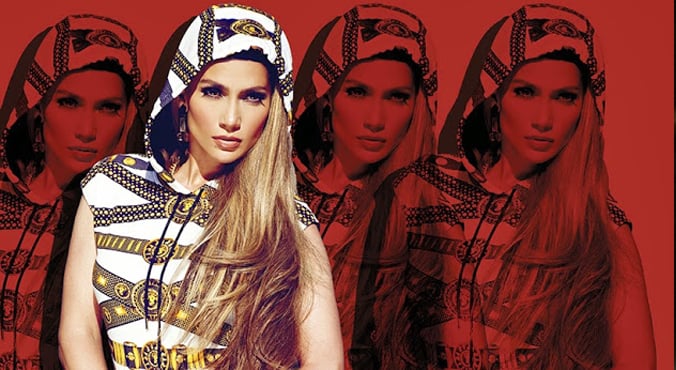 Image: Google Plus.
There are many great mysteries in life: the Bermuda triangle, why Stonehenge was created, the continued sightings of Tasmania Tigers. Equally important is the mystery of exactly how Jennifer Lopez seems younger every year.
It's like her skin has remained frozen in time since her 'Jenny From The Block' days. Frozen, but not frozen-in-a-freakish-plastic surgery type way. At 45, she's basically got the skin of a newborn and we want to know how she's doing it.
J-Lo's makeup artist Mary Phillips must have been feeling sorry for us mere skin mortals, because she's spilled her beauty secrets in a new interview with Byrdie.com.
Her first tip? You should start thinking about your skincare as your makeup.
"I'd say skin prep is the most important part of your makeup routine," she says. "…if your skin isn't in its prime condition, it hinders what I'm able to accomplish [as a makeup artist]."
Oh, so it's not some kind of amazing airbrushed-on foundation? J-Lo's skin is actually that radiant. Excellent.

But wait, she's mentioned creating the "airbrushed-face look". There is hope. Mary suggests using a soft foundation brush (she loves this Tom Ford one).
"You want to be soft and delicate, almost like you're an archeologist uncovering some dinosaur bones," she says. "[Applying it in] soft circles are fail-proof—take a little more time and be gentle!"
Oily-skinned girls will be especially interested in her shine-free tips. It's not groundbreaking but she swears by blotting papers. Her favourties? Tatcha, Serge Lutens and Mai Couture.
But if there's one takeaway product point from this interview, it's facial mists. She counts Jurlique's Rosewater Balancing Mist as one of her go-tos.
"They're one of my ultimate must-haves and I can never have enough—I think everyone should own one if you truly want to glow."
Yes, yes, we want to glow. Glow like J-Lo.
Here is everything Mary uses on J-Lo's face (that we can buy in Oz):
L'Oréal's Age Perfect Glow Renewal Day Lotion, $39.99.
L'Oréal's RevitaLift Moisture Blur, $34.99.
L'Oréal's True Match Foundation, $29.95.
Perricone's No Foundation Foundation, $55.
Jane Iredale Concealer, $45.90
Make Up For Ever's 5 Camouflage Cream Palette, $38.
Bobbi Brown's Retouching Powder $60.
Tatcha blotting papers, $16.
Serge Lutens blotting papers, $18.
Mai Couture blotting papers $17.
Tata Harper's Hydrating Floral Essence, US$85.
Jurlique's Rosewater Balancing Mist, $29.75.
Omorovicza's Queen of Hungary Mist, $86.
Tatcha's Luminous Dewy Skin Mist, $48.