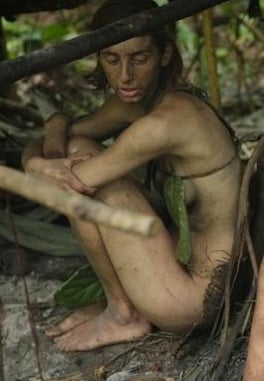 They take your shoes. They take your clothes. They throw you into the jungle with a member of the opposite sex and force you to survive with no help at all for 21 days.
That's the bizarre premise of new Discovery Channel TV show Naked and Afraid.
This is how it's described on the website:
Naked and Afraid takes "survival of the fittest" to the next level. Each week, a new pair of complete and total strangers – one man and one woman – will find themselves stranded in and, quite literally, exposed to some of the world's most extreme weather environments. Each duo will be left high and dry with no food, no water…and no clothes. They must survive on their own for a full 21 days, with nothing but one personal item each and the knowledge that the only prize is their pride and sense of accomplishment.
Um, WTF? The only prize is pride and a sense of accomplishment?
Looks like fun
Who in their right mind would want to experience a bizarre Hunger Games/Blue Lagoon style nightmare for 21 freaking days unless there was some kind of cash money prize at the end?
A lot of people apparently. The show is already casting for its second season.
But before you yell "where do I sign" you might want to know that contestants have broken toes, been covered in infected sores and not eaten for days.
One woman was so desperate for food she was apparently 'fishing with her vagina'. (Like, seriously – they had no bait to lure the fish, so contestant Kellie Nightliner got in the water, spread her legs to use her lady-parts as bait and then clamped her thighs together when the fish came in for a feed. Wait… Is this the best show of all time?).