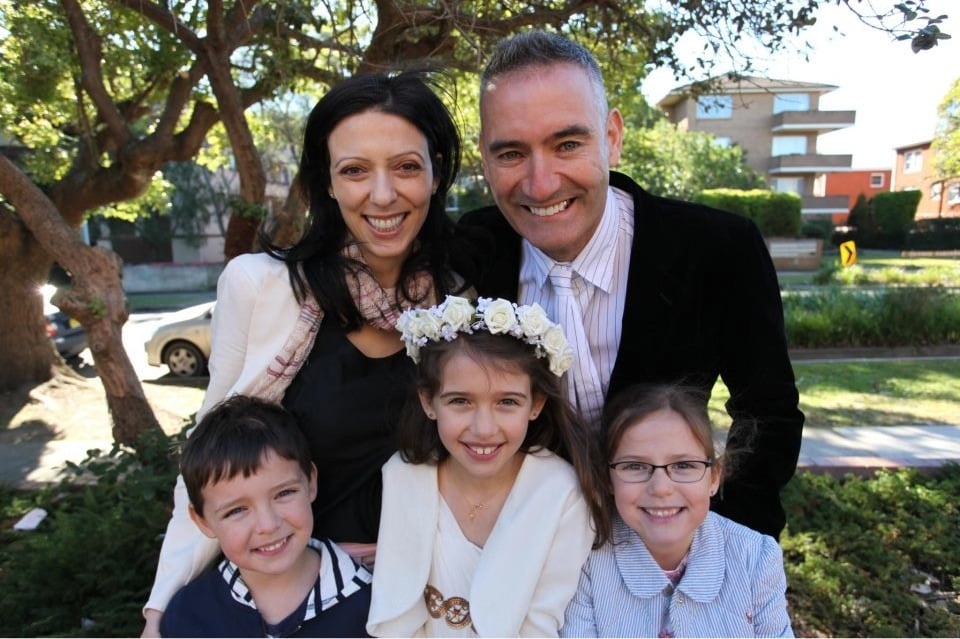 Welcome to the summer series of Mum vs Life. Each week we'll bring you our favourite celebrity mum who will take us through their day. This week we talk to Miki Field, mother-of-three, business owner and wife of Blue Wiggle Anthony Field.
MIKI FIELD
WAKE UP: "I'm thinking about investing in a tin whistle…"
This used to be my worst part of the day largely due to sleep deprivation. Bringing up three kids under the age of four can take its toll but nowadays I have learnt to embrace it. I quite happily fall out of bed in the morning, usually around 6.30am. It sometimes takes a few goes getting our kids out of bed (especially school days), so I'm thinking about investing in a tin whistle, as my mamma voice sounds so tired sometimes.
BREAKFAST: "I blame him entirely for my caffeine addiction…"
Mmmm. I love breakfast. Can't go on without it… and coffee. My dad is a coffee manufacturer (Griffiths Coffee) and I have been drinking coffee since i was seven years old! Yes, I blame him entirely for my caffeine addiction and I still love it.  I have two coffees per day but I have to have my first hit before 10am.  I always make breakfast the biggest meal of the day and it usually consists of bircher muesli with rice milk, half an apple and banana. On weekends, I do tend to relax more and enjoy my indulgent sourdough toast with honey, banana, walnuts and cinnamon, mmmm…
BATH vs SHOWER: "This is where the day begins and ends for me…"
Shower time is a time to reflect, meditate, drown sorrows and to cherish the peace that I can't get from anywhere else other than my bathroom. Keeping in mind however that my children have a tendency to barge into the inner sanctum at any time they feel privy to but overall, this is it. This is where the day begins and ends for me.
GETTING DRESSED: "I love being barefoot…"
I don't have time to get dressed in the mornings. I am usually racing out the door with my bed socks still on my feet, shoes in my handbag just in case I feel a need to wear them, as I love being barefoot.  I do love getting dressed for any occasion and I do love understated glamour. It works well for me and I will always choose to dress unsuitably for all occasions. Style is setting yourself aside with confidence. If the trend is to wear platform boots, i'll wear pretty flats instead. I don't follow trends, I am a great believer of individual style. It makes a lot more sense when you look at yourself in the mirror.
WORK: "The importance of loving what you do…"
Two and a half years ago when I was touring The Wiggles shows with Anthony, I was fit and had to maintain it, as I was dancing in the show as well as doing trapeze, which I absolutely loved. It's like ballet on a bar, it's so fluid and requires a lot of discipline. I always felt that as I was growing up, the greatest sense and understanding of discipline that I ever maintained was through dancing and music. This led me to understanding the importance of loving what you do. So my goal this year is to do the same. Find work where I can share my thoughts, ideas, creativity, as well as relate to, dedicate and manage to see my family all rolled into one. Any ideas?
FOOD AT WORK: "Refined sugar is so incredibly bad for you…"
When I was touring (I refer to this again as it was the last job I had), I would always ensure that I have a great healthy and hearty breakfast, as smaller lunch as it would usually between shows and would consist of no sugar or gluten. Refined sugar is so incredibly bad for you. I consider it a type of poison and when you are training, you feel the difference. If I would have a few lollies as a quick meal replacement, I would feel giddy and sometimes quite nauseous. So, eating lots of sushi, salads, brown rice and generally the most unprocessed foods I could find would always end up making me feel the best. I also perform better when I am eating better. What you put into your body, will always affect what comes out of it.
CHILDREN AND WORK: "Ideas have been spilling out of my brain lately…"
I am currently working on creating many craft projects from jewellery design, to crocheting, home furnishings and upcycling old furniture, pot plants and myriad of other ideas that have been spilling out of my brain lately.
EVENINGS: "We try and squeeze in a few date nights for ourselves…"
I am the local taxi for our three beautiful children, Lucia, Maria and Antonio who have a very abundant interest in the world outside of school, so I'm always driving them to all their activities. Other than the usual, we don't have too much of a routine. I do like to mix it up a bit and we take them out to dinner during the week sometimes, or they all get in their PJs and we drive over to Messina's for a delicious ice-cream treat on a weekend or sometimes weeknight. When Anthony is home, it is a little more chaotic with lots of spontaneous happenings. We also try and squeeze in a few date nights ourselves and go out for dinner, or become avid film critics when we get into the swing of things.
HELP: "Anthony travels at least seven months of the year…"
I used to get ample help from my sister-in-law and Anthony's auntie when the kids were younger. We couldn't have done it without them. Our kids are 20 months and 18 months apart, so it was a bit crazy for a while. Anthony travels at least seven months of the year, so I couldn't rely on him too much for day to day maintenance so, the more help I got the better. When I started touring, I was so reliant on family for help and they always came to the rescue. I think a lot of women suffer from post natal depression, as there is too much expected of them. Child rearing, work and, for a lot of mothers, there isn't that close proximity to family that we used to have growing up ourselves. I have an appreciation, understanding and respect for single mothers. Being on my own quite a bit, I understand the demands of being a single parent. However, the difference is that I do get the emotional support from Anthony.  So the moral of this story is, if someone offers you help, put your hand up!
BEDTIME: "I do my best and this is the only routine I enforce…"
Not much fun here. I do my best and this is the only real routine I do try to enforce with our kids. I have realised over the years that kids can live a while without food, without their toys, without television and DS games but whatever you do, do not deprive them of sleep! Oh, the places you'll go when your kids are rested. I get them to bed at a reasonable time, read a book and rest.
TIME MANAGEMENT: "I do manage to get everything done…"
Again, I don't really have a routine of what I need to get done, but I do manage to get everything done for the most part. Mother of three… how inefficient can you be?
The Wiggles continue to entertain children around the world. Find out the latest at The Wiggles website.
Keep reading our fabulous Mum vs Life series: Amanda Kellar "I have help and I choose not to feel guilty"