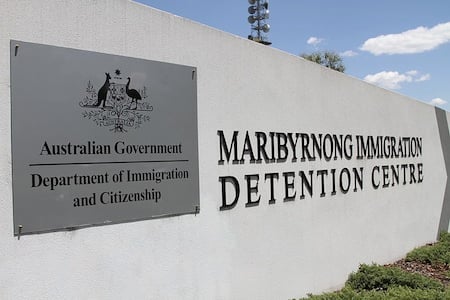 A mother of five is pleading for a second chance.
A second chance so she can be a mother to her kids.
A second chance so she can live her life free of drugs or crime.
But she might be too late as the Federal Government is planning on deporting her to England under laws meaning foreign nationals who have served more than 12 months' jail face mandatory deportation.
If deported she says she will be forever separated from her five children.
Kelly Webb has five children.  Image via Facebook.
Kelly Webb, 30, came to Australia in 1988 when she was aged two. She was raised in Tasmania and Geelong by her mother and stepfather but was never naturalized meaning she falls under the laws for foreign nationals.
The mother of five has just about finished a jail sentence of 18 months for a 2014 burglary she committed while armed with a steak knife.
But her criminal history before that was lengthy.
As a young woman Webb had a childhood with "monstrous" domestic violence, which culminated in her and a friend killing her alcohol-affected stepfather with a kitchen knife and a hockey stick.
The Herald Sun reports that she was convicted of manslaughter but given a good behaviour bond after the court heard details of domestic abuse over more than seven years.
She was diagnosed with post-traumatic stress and she turned to the drug ice to cope.
According to the report Webb has a criminal history including stealing, receiving stolen goods, robbery, making a false document, trespassing, and drink driving. In 2012, she was sentenced for intentionally causing injury and affray.
Webb wants to be here for her children. Image via Facebook.
Webb had five children over nine years - Tyson, 9, twins Nakita and Chase, 6, Matthew, 5, and Shae-Lee, 1.
Three of the children live with their paternal grandmother in Geelong after their father died in a motorbike accident, while another son lives with his father in Perth, but regularly speaks to Webb online, the youngest is being cared for by Webb's mother, Cheryl, 51.
Webb says her recent incarceration was a wake-up call and has given her time to be drug free for two years now.
"If they send me there (to England), I will die. I will die of a broken heart, because my kids will be here,'' she told The Herald Sun.