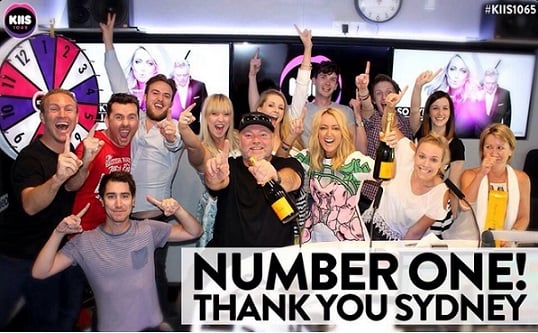 Your speedy update on all the day's big stories: Tuesday, March 11, 2014
Kyle & Jackie O's knock-out KIIS
The most-talked-about radio deal of the decade has paid off for Kyle Sandilands and his partner in crime, Jackie O. The first 2014 ratings survey results are in and have seen their new bosses ARN, come out on top in Sydney. ARN's KIIS FM and Amanda Keller and Brendan 'Jonesy' Jones on WSFM have both tied in first place in what Jackie O said is 'the best scenario ever.' During celebrations, Kyle joked, 'Now they're all amazed but I knew it was the way.' Amanda described the outcome as being 'Like a wacky races where your two best teams win.' Since Kyle and Jackie's controversial split from 2DAY FM, that station's new show with Jules, Soph, Merrick and Mel B has slumped. In Melbourne, Triple M's Hot Breakfast with Eddie McGuire, Luke Darcy and Mick Molloy still holds onto its number one spot, with Fox FM's Fifi Box and Dave Thornton in second place.
Passengers' phones ring out on missing plane 
Fingerprints of the two mystery passengers with stolen passports on board missing Malaysia Airlines flight MH370 are currently being analysed by the FBI. The pair were reportedly Iranians who were planning on starting a new life in Europe. For now, the focus of the search for the missing flight is on the passengers on board. Relatives of these passengers have signed a petition demanding that their questions be answered by the Chinese government and more informative news be provided by Malaysia Airlines who they think are withholding crucial details. Many relatives have also reportedly been able to call the mobile phones of passengers, which have apparently rung out until disconnecting.
Oscar Pistorius vomits during reading of new evidence

As Oscar Pistorius' murder trail continues, new evidence proved to be too much for the accused to handle. The paralympian was seen vomiting while new details of Reeva Steenkamp's autopsy were read out in court. The pathologist responsible for Steenkamp's autopsy explained that she was shot dead using a method that makes bullets mushroom on impact and cause severe damage. The evidence was not broadcast on television, as the rest of the trial has been, because it was deemed too distressing and graphic.  The pathologist also revaled that Steenkamp had been bruised with a 'blunt instrument'.
Australia's first autism-only daycare
Autism Family First Day Care, an autism specific day care centre, has opened up in Camden, Sydney, and is the first of its kind in our country. Dennys Martinez, who runs the program at his family house at

Harrington Park, has two children diagnosed with autism. Eric and Maya were Mr Martinez's inspiration for creating the day care centre, which he says is 'a place where they are understood and can be nurtured and not be left behind. The fact that it is about assisting children in their own way is what is most important because no one child is the same.' The service includes yoga, art, martial arts and music and is managed by many volunteer therapists.