Miley Cyrus has drawn the ire of luxury Italian fashion house Dolce & Gabanna after publicly criticising their political views.
The singer's musician brother, Braison, walked in the luxury label's Spring 2018 show at Milan Fashion Week over the weekend.
While Cyrus used Instagram to praise her sibling for "trying something new" she was also quick to take aim at the brand.
"I love you Prince Suga Bear and seriously congratulations on your experience! I am so proud of you always," the 24-year-old wrote.
"PS D&G, I STRONGLY disagree with your politics…. but I do support your company's effort to celebrate young artists & give them the platform to shine their light for all to see!"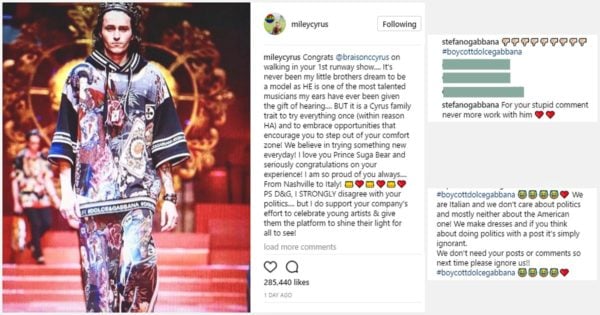 It's believed the singer's comment was in reference to Dolce & Gabbana's support of Melania Trump.